Con il comunicato stampa di seguito allegato, Inno3D ha annunciato la video card non reference GeForce GTX 470 Hawk, una soluzione basata sulla gpu NVIDIA GTX 470, dotata di un cooler sovradimensionato, che include due ventole da 80mm tra le quali il maker ha installato una ventola da 90mm, il cui regime di rotazione varia da un minimo di 900RPM a un massimo di 2000RPM. Tutti i cooler sono ottimizzati al fine di garantire un livello di rimore sempre molto contenuto, compreso nel range 18dBA - 29dBA.
In accordo al produttore, una simile struttura, abbinata a 5 heat pipe, consente di ottenere una resistenza termica di 0.36/Watt e più in generale una riduzione della temperatura operativa che può raggiungere i 22° C rispetto al sistema di raffreddamento reference; è evidente che una simile feature da un lato rende consigliabile questa scheda agli overclocker e dall'altro garantisce una lunga durata della componentistica e del prodotto più in generale.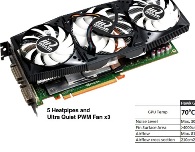 [Immagine ad alta risoluzione]

Inno3D have been back to the drawing board to brainstorm new ideas for the GTX470 with outstanding results - Inno3D proudly presents you with Hawk! The GTX 470 Hawk is equipped with two 80mm PWM fans with a 90mm PWM fan between them that run from 900 to 2,000 RPM. Together with five heatpipes and 3x ultra quiet PWM fans, GTX 470 Hawk achieves a thermal resistance of 0.36°C/Watt. This exceptional cooling performance will not only bring enthusiasts an ultimate overclocking experience, but it also extends the service life of your valuable graphics card.
Despite boasting three enormous PWM fans, the GTX 470 Hawk manages to keep the noise level extremely low. Controlled by PWM signal, the fans run just the necessary speed in order to offer sufficient cooling at the lowest possible noise level. Even at full fan speed, the GTX 470 Hawk generates only 18-29dBA, a much quieter and better performance than the standard cooler and other aftermarket coolers. With an incomparable cooling/noise ratio, the GTX 470 is without a doubt the best cooler in the market for Inno3d GeForce GTX 470.
Specifications
Cooler Dimensions: 260 x 114 x 53mm
Fan Dimensions: 9015
Weight: 561g
Fan Speed: 900-2000RPM
Max. Air Flow: 35CFM
Noise: 18-29dBA
Thermal Resistance: 0.36/Watt
Life Time: 40000Hrs
Ball Bearing
The chart illustrates the cooling performance of two Inno3D GeForce GTX 470's - one equipped with the reference cooler and the other with the triple fanned Hawk. Both cards were tested under the same platforms enduring full load testing to see how each performed respectively. Clearly the Hawk cooler performed 24% better than the reference cooler at full load with the reference showing signs of stress at 92°C





Source: Inno3D Press Release
Links


Tags: