A-DATA Technology – www.adata-group.com leader mondiale nella produzione di memorie, annuncia oggi la disponibilità delle nuove memorie per server DDR3L ("L" che sta per Low Voltage a basso voltaggio) a 1066 / 1333 MHz, 1,35 volt R-DIMM "Registered" e DDR3L 1066/1333 MHz a 1,35 volt ECC DIMM.

"Le aziende necessitano di prodotti affidabili e performanti per operatività 24x7" afferma Richard Shen, responsabile del dipartimento product management di A-DATA. "Siamo fieri di poter offrire le nostre memorie DD3L 1055/1333 MHz R-DIMM e DD3L 1055/1333 MHz ECC DIMM a basso voltaggio specifiche per sistemi server, e certificate da Intel per il mercato enterprise, che raggiungono altissimi livelli di affidabilità e prestazioni, basso consumo energetico riducendo i costi delle aziende oltre a rispettare l'ambiente".

I nuovi kit di memoria per server a basso voltaggio sono disponibili nelle versioni R-DIMM e ECC-DIMM da 1066 / 1333 MHz nelle versioni da 1, 2 o 4 GB.
Velocità: DDR3 1066 / 1333 MHz
240 pin
Voltaggio: 1.35 V
Sensore termico ODT
Altezza: 3 cm
Configurazione IC: 128x8, 256x8
Capacità 1 / 2 / 4 GB
Conformi alle specifiche JEDEC DDR3 per memorie a basso voltaggi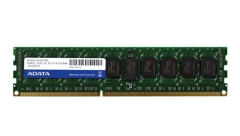 [Immagine ad alta risoluzione]

A-DATA Technology Co., Ltd., the worldwide leading manufacturer in high-performance DRAM modules and flash application products, today announced its DDR3L ("L" for low voltage) 1066/1333 (1.35volt) MHz Registered DIMM and DDR3L 1066/1333 MHz (1.35volt) ECC DIMM low voltage server memories have been certified by Intel, that able to perform lower power consumption with great reliability to increase better efficiency on Westmere-EP processor-based server.
"Enterprise often requires 24x7 operations from server memory for data accessing and collecting with reliability and performance requirements," said Richard Shen, manager of A-DATA product management department. "We are proud to offer our DDR3L 1066/1333 MHz R-DIMM and DDR3L 1066/1333 MHz ECC DIMM low voltage server memory that has certified by Intel to enterprise customers, which delivers high performance and great reliability with less power consumption to meet enterprise's critical requirements, as well as to protect and to preserve the environment."
Specifications of A-DATA DDR3L 1066/1333 MHz ECC RDIMM:
Speed: DDR3 1066/1333 MHz
Pin Count : 240 pin
Voltage: 1.35V
Thermal Sensor: ODT
Height: 1.18 inch
IC Configuration: 128x8,256x8
Capacity: 1GB/2GB/4GB
Conform to JEDEC standard of DDR3 low-voltage memory
Limited lifetime warranty
Specifications of A-DATA DDR3L 1066/1333 MHz ECC DIMM:
Speed: DDR3 1066/1333 MHz
Pin Count : 240 pin
Voltage: 1.35V
Thermal Sensor: ODT
Height: 1.18 inch
IC Configuration: 128x8,256x8
Capacity: 1GB/2GB/4GB
Conform to JEDEC standard of DDR3 low-voltage memory
Limited lifetime warranty
More information of A-DATA DDR3L 1066/1333 MHz R-DIMM and DDR3L 1066/1333 MHz ECC DIMM low voltage DRAM module can be found on the company's website at: http://www.adata-group.com. For information on Intel certification, please visit: http://www.intel.com/technology/memory/index.htm





Source: A-DATA Technology Press Release
Links


Tags: