Con il comunicato stampa di seguito allegato, la nipponica EIZO ha annunciato due nuovi monitor LCD appartenenti alla gamma ColorEdge: si tratta del modello con diagonale da 30" siglato ColorEdge CG303W e della variante da 22" siglata ColorEdge CG223W. I nuovi prodotti sono consigliati per il video editing, l'elaborazione fotografica e la post produzione.

Il ColorEdge CG303W è realizzato a partire da un pannello di tipo IPS (in-plane switching), supporta nativamente la risoluzione di 2560 × 1600 in widescreen e riproduce il 98% della gamma di Adobe RGB. La luminosità massima è pari a 260cd/m2, il rapporto di contrasto è di 850:1, e l'angolo visivo è pari a 178°. L'interfaccia di ingresso è implementata mediante due porte DVI-D; sarà commercializzato a Marzo.

Il ColorEdge CG223W (cfr. la foto seguente) è dotato di un pannello VA (Vertical Alignment) ed ha una risoluzione nativa in widescreen pari a 1680 × 1050. Riesce a riprodurre il 95% dello spazio dei colori Adobe RGB e rende disponibili due porte DVI-I e una DisplayPort. In queste ore il prodotto sta arrivando presso i depositi dei distributori.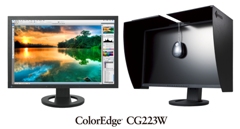 [Immagine ad alta risoluzione]

Hakusan, Japan, February 15, 2010 - Eizo Nanao Corporation (TSE: 6737) today introduced two monitors to its ColorEdge series of hardware calibratable LCD monitors. The 30" ColorEdge CG303W and the 22" ColorEdge CG223W are designed for still and moving image work such as pre-press, digital photography, video editing, and post production.

The ColorEdge CG303W features an IPS (in-plane switching) LCD panel with a native resolution of 2560 × 1600 (16:10 aspect ratio) and reproduces 98% of the Adobe RGB color space. The maximum brightness is 260 cd/m2, contrast ratio is 850:1, and the viewing angles are 178°. Dual DVI-D (digital) inputs are included for connection to two PCs.

The ColorEdge CG223W uses a VA (vertical alignment) panel LCD panel with a native resolution of 1680 × 1050 (16:10 aspect ratio) and reproduces 95% of the Adobe RGB color space. It has a maximum brightness of 270 cd/m2, contrast ratio of 950:1, and viewing angles of 178°. DisplayPort and dual digital/analog DVI-I inputs are included for connection to three PCs.

Both monitors accept 10-bit PC signals and can display 1.07 billion colors simultaneously from a pallet of 68 billion.1 This is 64 times more than the typical 16.7 million colors shown with 8-bit display.

The CG303W and CG223W offer hardware calibration so the monitors themselves are calibrated rather than the computer's graphics card. This ensures no color tones are lost in the calibration process and results in more predictable on-screen color. EIZO's ColorNavigator calibration software2 is used for setting the target values for brightness, white point, and gamma and generating an ICC profile. ColorNavigator works with a measurement device3 to use the monitors' 12-bit look-up table for accurate calibration in under five minutes.

EIZO's Digital Uniformity Equalizer (DUE) function is included to counteract brightness and chroma uniformity errors that are characteristic of LCD panels. This ensures the ColorEdge CG223W has a Delta-E difference of 3 or less and the ColorEdge CG303W a Delta-E difference of 3 or less except along the perimeter of the screen.

EIZO has outfitted both monitors with ergonomic stands. The ColorEdge CG303W's stand offers 118 mm height adjustment, 40° tilt, 70° swivel, and 90° pivot for portrait display. The ColorEdge CG223W comes with EIZO's FlexStand which offers portrait display, 174 mm height adjustment, 30° tilt, 344° swivel, and a quick release feature so the body can be easily removed from the stand for reconfiguration on a separate mounting device. Three new features are included with the ColorEdge CG223W that ensure proper display of brightness and color tones in various ambient environments and over the life of the monitor. The first is a new EIZO-patented function that stabilizes the brightness level after the monitor starts up or comes out of power saving mode. The second is an automatic brightness correction circuit that automatically corrects changes in the backlight's brightness that occur over time. The third feature counteracts the influence that changes in ambient temperature can have on the display of color tones.

The ColorEdge CG223 is equipped with an EIZO-developed 3D-look up table (LUT) that improves the panel's additive color mixture (combination of red, green, and blue), a key factor in its ability to achieve gray balance or neutral gray tones. Whereas a typical 1D LUT adjusts colors on separate tables for each red, green, and blue, the 3D LUT accomplishes this on a single, mixed-color cubic table.

The ColorEdge CG223 includes an illuminated on-screen button guide that simplifies adjusting the OSD menu in a dimly lit working environment. It also offers four preset color modes that reproduce common color spaces used in broadcasting and digital cinema: Rec709, EBU, SMPTE-C, and DCI.

Additional Features of Both Models

6-bit internal processing for smooth display of grayscale tones.
Simulation of two types of red-green color vision deficiency – protanopia and deuteranopia – for verification of how color schemes appear to those with color blindness.4
Monitor hood to shield the screen from ambient light and screen cleaner are bundled.
Five-year manufacturer's warranty5.
Availability
The ColorEdge CG223W is now shipping and the ColorEdge CG303W will begin shipping in March. Date of availability for both models varies by country so please contact the EIZO subsidiary or distributor in your country for details.



Source: EIZO Press Release
Links


Tags: