Con il comunicato stampa di seguito allegato, AMD ha annunciato al grande pubblico una nuova scheda grafica che va ad arricchire la già ampia linea di video card ATI Radeon HD 5000.
L'ultima arrivata in casa AMD è la ATI Radeon HD 5570, una soluzione low-profile e low-power, indirizzata ai computer desktop di tipo HTPC (Home Theater PC) e, più in generale, a quelli di tipo SFF (Small Form Factor PC), con la quale AMD punta a permettere una elaborazione grafica di alto livello, in ambito gaming, HD playback a 1080p e grafica applicativa, con i sistemi di cui sopra.

Al pari delle altre varianti ATI Radeon HD 5000, anche la ATI Radeon HD 5570 supporta le tecnologie ATI Eyefinity, ATI Stream e naturalmente le librerie grafiche DirectX 11 di Microsoft e Windows 7.

In accordo al produttore, la nuova video card, che è compatibile con HDMI 1.3a e audio in Dolby TrueHD e DTS-HD Master, performa al meglio delle sue possibilità se abbinata alla recente cpu AMD Phenom II X4 905e e a un chipset della gamma AMD 7-series.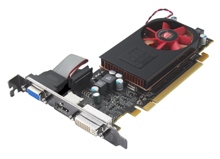 [Immagine ad alta risoluzione]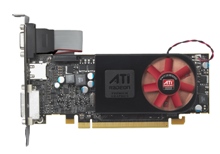 [Immagine ad alta risoluzione]

SUNNYVALE, Calif. - 2/9/2010 AMD (NYSE: AMD) today introduced the ATI Radeon HD 5570 graphics card, perfect for end-users seeking an energy efficient, low-profile DirectX 11 card for small form factor PCs. The ATI Radeon HD 5570 graphics card joins the award-winning line of AMD graphics that fully support DirectX 11, as well as ATI Eyefinity multi-display technology1 and ATI Stream capabilities.2 This latest offering completes a full DirectX 11 refresh of AMD discrete graphics products, bringing customers a choice of cutting-edge graphics cards to match every budget and form factor.
"AMD recognizes that small form factor PCs are becoming more popular and low profile graphics upgrade options have been limited to date," said Matt Skynner, vice president and general manager, AMD Graphics Division. "Customers purchasing small form factor PCs are looking for improved performance while gaming, watching HD video or working with the latest productivity applications.  The ATI Radeon HD 5570 graphics card delivers all of this at a price that won't break the bank."
In addition to ATI Eyefinity and DirectX 11 support, the ATI Radeon HD 5570 also delivers full 1080p HD playback3 and supports ATI Stream technology,2 helping to boost performance for video playback and productivity applications, all while enabling a full Microsoft Windows 7 experience.4
A sleek, energy efficient PC based on ATI Radeon HD 5570 graphics, combined with new AMD Phenom II X4 905e processors at 65W and AMD 7-series chipsets, can power immersive gaming and vivid digital entertainment. These platforms are an excellent choice for system builders and home theater enthusiasts seeking Eye-Definition entertainment.
Advanced performance, affordable price: The ATI Radeon HD 5570 graphics card provides great game play in DirectX 11 titles such as Codemaster's Colin McRae: DiRT 2, EA Phenomic's BattleForge , GSC Game World's S.T.A.L.K.E.R: Call of Pripyat and Battlefield: Bad Company 2 as well as DirectX 9, DirectX 10, DirectX 10.1 and OpenGL titles. The ATI Radeon HD 5570 delivers up to a 60 percent performance improvement over the closest competing product in its class.5
Expanding the Desktop: The latest in ATI Eyefinity technology enables up to three displays to be used with a single ATI Radeon HD 5570 graphics card,1 delivering a highly immersive gaming experience, and helping to boost productivity in home and office applications.
Accelerate with ATI Stream technology: ATI Stream technology helps to speed up video transcoding and to improve video playback performance with applications such as Adobe Flash.  ATI Stream technology also delivers video enhancements that help enable better visual quality and sharper, more vibrant images.2
Immersive HD multimedia experience: The ATI Radeon HD 5570 graphics card delivers the same rich HD multimedia capabilities as the enthusiast-class ATI Radeon HD 5870, with features such as HDMI 1.3a with Dolby TrueHD and DTS-HD Master Audio for a premium media PC experience.
Supporting Resources




Source: AMD Press Release
Links


Tags: