Con il comunicato stampa di seguito allegato, Rockstar Games ha annunciato la disponibilitÓ, fissata per il prossimo 30 marzo, dei DLC (DownLoadable Content) "The Ballad of Gay Tony" e "The Lost and Damned" per le edizioni del game Grand Theft Auto IV dedicate al supporto delle piattaforme PC e Playstation 3.

In accordo a quanto giÓ avvenuto per la Xbox 360, console per la quale il DLC "Lost and Damned" Ŕ stato rilasciato a febbraio 2009 mentre "The Lost and Damned" a ottobre, a fronte di un ingente impegno economico da parte di Microsoft, i nuovi DLC saranno scaricabili individualmente o in coppia, inclusi nel bundle "Grand Theft Auto: Episodes from Liberty City".

I DLC saranno distribuiti mediante i circuiti PlayStation Network e Games for Windows LIVE; al momento lo sviluppatore non ne ha reso noto l'MSRP.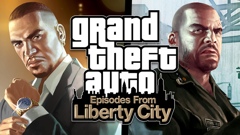 [Immagine ad alta risoluzione]

We are happy to announce the much anticipated release of Grand Theft Auto: Episodes from Liberty City for the PlayStation3 computer entertainment system and Games for Windows - LIVE on March 30, 2010. For the first time, PlayStation 3 and Games for Windows - LIVE players will have the opportunity to experience the last two thrilling chapters of the Grand Theft Auto IV saga.

The two action packed episodes will also be available for download on the PlayStation Network and Games for Windows LIVE on March 30, 2010. Each episode boasts the same detailed and immersive Liberty City we all know and love. Games for Windows - LIVE players can enjoy 32-player multiplayer matches and an advanced video editor, and all fans will have the chance to once again listen to the dulcet tones of Liberty City Radio.

The Lost and Damned is a dark trip through Liberty City's seedy underbelly as outlaw biker, Johnny Klebitz, fights to keep his gang together as a rift in the gang's leadership threatens to tear the brotherhood apart. In The Ballad of Gay Tony, players explore Liberty City's high-end nightlife as Luis Lopez, struggling to balance the temptations of money and vice against loyalties to family and friends. Both episodes feature a slew of new vehicles and weapons, and each episode adds new activities including cage fighting, gang wars and BASE jumping.





Source: Rockstar Games Press Release
Links


Tags: