Con il comunicato stampa di seguito allegato, AMD ha annunciato la scheda grafica ATI Radeon HD 5670, una soluzione orientata al mainstream che va ad ampliare la già ricca linea di controller grafici DirectX 11 denominata HD 5000 Series, che già include la ATI Radeon HD 5970, e le famigie ATI Radeon HD 5800 Series e ATI Radeon HD 5700 Series.

La scheda, che nella sua implementazione reference può vantare un MSRP di $99, è comunque dotata di tutte le tecnologie più recenti, con cui sono equipaggiati i modelli superiori: tra esse citiamo, oltre al supporto di DirectX 11 e, quindi, dei game più recenti come Colin McRae: DiRT 2 e BattleForge, le funzionalità proprietarie ATI Eyefinity e ATI Stream.

In accordo al produttore, la nuova ATI Radeon HD 5670 può assicurare una potenza di calcolo massima pari a 620 GigaFLOPS ed esibire l'adozione di memoria locale di tipo G-DDR3: tali feature rendono, a nostro parere, questo prodotto particolarmente indicato come soluzione per l'upgrade delle configurazioni hardware non recentissime.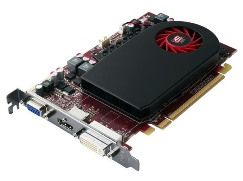 [Immagine ad alta risoluzione]

AMD (NYSE: AMD) today introduced the ATI Radeon HD 5670 graphics card, the latest addition to the award-winning line-up of the world's first and only graphics products to fully support Microsoft DirectX 11 gaming and computing, as well as new innovations such as ATI Eyefinity technology. Priced at less than USD $100,1 the ATI Radeon HD 5670 graphics card enables a superior HD gaming experience in the latest DirectX 11 titles, employs ATI Stream technology to boost performance in video playback and productivity applications,2 and helps enable the full Microsoft Windows 7 experience.
Big performance, small price: The ATI Radeon HD 5670 graphics card delivers up to 620 GigaFLOPS of compute power and GDDR5 memory, delivering unprecedented gaming performance for under USD $100 in the latest DirectX 11 titles such as Codemaster's Colin McRae: DiRT 2, EA Phenomic's BattleForge , GSC Game World's S.T.A.L.K.E.R: Call of Pripyat and Battlefield: Bad Company 2 as well as DirectX 9, DirectX 10, DirectX 10.1 and OpenGL titles. In some of today's most popular games, the ATI Radeon HD 5670 graphics processor showed a more than 20 percent performance improvement over the closest competing product in its class.3
Panoramic computing hits the mainstream: The latest in ATI Eyefinity technology enables up to three displays to be used with a single ATI Radeon HD 5670 graphics card4, delivering the most immersive gaming experience with a graphics card for under $100. Accelerate with ATI Stream technology: ATI Stream technology speeds up video transcoding and improves video playback performance with applications such as Adobe Flash, and helps to deliver video enhancements that produce better visual quality with sharper, more vibrant images.2
"AMD recently celebrated the shipment of its two millionth DirectX 11 graphics chip. AMD has already enabled DirectX 11 support for the majority of the PC market and today's introduction of the ATI Radeon HD 5670 graphics card is yet another clear indication of AMD's commitment to address the strong market demand for DirectX 11-capable graphics cards," said Matt Skynner, vice president and general manager, AMD Graphics Group. "Combined with the successful launches of the ATI Radeon HD 5970, ATI Radeon HD 5800 series and ATI Radeon HD 5700 series, AMD has defined the DirectX 11 gaming experience like no other, bringing graphics innovations like ATI Eyefinity technology and ATI Stream technology to millions of consumers worldwide."
"DICE prides itself on delivering the best possible experience to gamers, and ATI Radeon graphics cards help us to do that with Battlefield: Bad Company 2 through the use of DirectX 11 and our Frostbite engine," said Johan Andersson. "The fact that AMD has now shipped two million DirectX 11 graphics processors demonstrates how excited gamers are by the awesome performance and feature set of the latest ATI Radeon products."



Source: AMD Press Release
Links


Tags: