Con il comunicato stampa di seguito allegato, NVIDIA ha lanciato ufficialmente il suo processore Tegra di nuova generazione, "il primo processore al mondo progettato ad hoc per l'applicazione Web eseguita mediante device mobile, come i tablet". Tegra è in grado di assicurare grafica ad alta risoluzione, accelerare in hardware i video in High Definition a 1080p e Adobe Flash Player 10.1, supportare GUI per l'interfaccia utente in 3D e garantire una lunga durata della batteria, in virtù del suo ridotto consumo di potenza.

Con questo prodotto NVIDIA vuole mettere la propria firma su quelli che saranno le device portatili del 2010, ovvero i tablet: per far ciò ha rivisitato l'architettura Tegra ottenendo una soluzione che è quattro volte più veloce della prima revisione di Tegra e fino a dieci volte più veloce dei processori che equipaggiano gli smartphone attualmente sul mercato.

Inoltre, il processo di fabbricazione a 40nm, che è stato materialmente eseguito da TSMC, ha permesso la realizzazione di un chip ultra low-power, che, in accordo al produttore, ha un autonomia di 16 ore con la riproduzione dei video in HD e di 140 ore con il playback audio. NVIDIA promette con il nuovo Tegra un gaming coinvolgente come non mai, foto e video altamente definiti e audio cristallino ("Immersive gaming, vivid photos and video, and crystal-clear audio").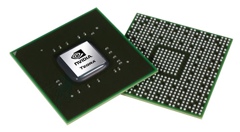 [Immagine ad alta risoluzione]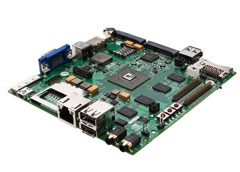 [Immagine ad alta risoluzione]

2010 INTERNATIONAL CONSUMER ELECTRONICS SHOW (South Hall 4 – Booth #35912), Las Vegas — Jan. 7, 2010—NVIDIA today launched its Next Generation Tegra, the world's first processor for the mobile web, specifically designed for the high-resolution needs of tablets.
Consumers have been waiting for a truly portable, high-resolution, no-compromise Internet experience. NVIDIA's new Tegra processor delivers that by combining lightning-quick browsing, streaming 1080p video and Adobe Flash Player 10.1 acceleration with an immersive 3D user interface and days of battery life.
"Without question, 2010 is going to be year of the tablet," said Tim Bajarin, President, Creative Strategies, Inc. "The new NVIDIA Tegra processor has a unique feature set critical for tablets - fast web browsing with fully rendered pages, uncompromised graphics, snappy user interface and HD video - all with the battery life we've only seen with cell phones."
Key to Tegra's capabilities are eight independent processors, including the world's first dual core CPU for mobile applications. These processors are used together or independently to optimize power usage at all times. With its ultra low-power design, Tegra delivers over 16 hours of HD video or 140 hours of music—on a single charge.1
Highlights / Key Facts:
Tegra is the power behind the new generation of tablets, offering:

3D touchscreen user interfaces
Amazing battery life— always-on and always-connected
Adobe Flash Player 10.1 acceleration for streaming video and 3D mobile games
Resolution ranging from four-to-eight times that of smartphones
Form factors and screen sizes ranging from 5-15 inches
Immersive gaming, vivid photos and video, and crystal-clear audio
Next Generation Tegra is a leap in mobile computing performance with:

The world's first dual-core ARM Cortex A9 CPU running up to 1GHz
Eight independent processors to handle web browsing, HD video encode and decode and mobile 3D gaming
10x faster than the processors used in smartphones today, and up to 4x the performance of the previous generation Tegra processor
Advanced TSMC 40nm process with active power management
Next Generation Tegra is now in production. Developers can order the Tegra Developer Kit to create applications for Tegra-powered devices such as tablets, smartbooks and smartphones at developer.nvidia.com/tegra.
At CES 2010, NVIDIA is hosting many revolutionary new tablets that leverage the power of the next generation Tegra. Visit NVIDIA's booth in South Hall 4 #35912 to see the latest designs.
Quotes:
"Consumers can now get the tablet experience they've always dreamed of and they can leave the power cord at home. Only NVIDIA Tegra can make this happen. We're driving tomorrow's tablets today."

- Michael Rayfield, General Manager of the Mobile business, NVIDIA
"We are pleased with the quality of Flash based videos, games and other rich Web based content that we see with NVIDIA's Tegra mobile processor. Mobile devices like tablets, smartbooks, and smartphones are now able to play smooth, HD content delivering hours of stutter-free video without draining your battery."

- David Wadhwani, vice president and general manager, Platform Business at Adobe
"ASUS' newest tablet designs are packed with innovation, demanding sophisticated graphics processing capabilities, quick touchscreen UI performance, with very low power consumption for long battery life. The next generation NVIDIA Tegra processor has been chosen because it measures up to the stringent design requirements of our products. These products will continue to embody the innovation and forward thinking that ASUS is known for."

- Samson Hu, Vice President at ASUS
" NVIDIA has been a great partner over the years and with Tegra they're bringing their brand of graphics features and performance to next generation mobile devices. We're very excited to partner with NVIDIA to demonstrate Unreal Engine 3 on Tegra here at CES."

- Mark Rein, Vice President, Epic Games
"We are very excited by what NVIDIA is doing for mobile gaming. Tegra will open a whole new set of mobile devices for our awesome 3D technology."

- David Helgason, Founder and CEO of Unity Technologies
Useful Links:
www.nvidia.com/tegra
www.nvidia.com/tegra_250
http://www.youtube.com/tegrabynvidia
developer.nvidia.com/tegra
http://www.nvidia.com/object/mobile_games_demos.html



Source: NVIDIA Press Release
Links


Tags: