RSNA 2009, Chicago (McCormick Place - Lakeside Center-Padiglione D, stand 825) — 30 nov. 2009 - Oggi NVIDIA e Siemens Healthcare hanno dato dimostrazione di una nuova esperienza di visione a ultrasuoni in 3D estremamente coinvolgente che, indossando occhiali 3D, permette ai futuri genitori e ai loro medici di vedere i nascituri con un livello incredibile di dettaglio.
Grazie a una tecnologia derivata dalle soluzioni che hanno permesso di creare i nuovi e stupefacente successi di Hollywood in 3D, il nuovo software di gestione delle immagini a ultrasuoni Siemens fourSight si avvale degli occhiali stereoscopici NVIDIA 3D Vision e delle soluzioni di grafica professionale di fascia alta NVIDIA Quadro FX per creare sensazionali immagini prenatali in 3D/4D.
Le immagini cliniche, ottenute con il sistema a ultrasuoni ACUSON S2000, sono ulteriormente perfezionate con il rendering amnioscopico, una tecnologia esclusiva di Siemens che produce immagini prenatali fotorealistiche e in 3D. Mentre le tecnologie ultrasoniche in 3D tradizionali si avvalgono di monitor bidimensionali per la visione di immagini tridimensionali, la tecnologia NVIDIA 3D Vision permette agli di vedere le immagini in 3D effettivo, migliorando nettamente l'esperienza complessiva.
"Immaginate la straordinaria emozione dei futuri genitori che, indossando occhiali 3D, potranno vedere l'aspetto del proprio figlio nei minimi dettagli e in alta risoluzione", ha dichiarato Jeff Brown, General Manager, NVIDIA Professional Solutions. "La tecnologia NVIDIA Quadro permette ai nostri partner, quali ad esempio Siemens Healthcare, di rendere possibile anche l'impossibile, offrendo esperienze 3D spettacolari a costi accessibili ai medici."
"Questa tecnologia porta l'imaging ultrasonico 3D/4D a un livello superiore di efficacia", ha dichiarato Barbara Del Prince, Global Segment Manager, della divisione Obstetrics and Gynecology di Siemens. "La nostra postazione attiva fourSight, combinata con le soluzioni di grafica professionale NVIDIA Quadro e la tecnologia 3D Vision, offre certamente un'emozione imperdibile ai futuri genitori, ma garantisce anche vantaggi medici tangibili." Questo miglioramento della qualità visiva può fornire ulteriori informazioni al personale medico, agevolare la comunicazione tra medici e pazienti e facilitare la pianificazione dei cicli di cure o delle operazioni chirurgiche.
Le possibilità indicate sono state dimostrate praticamente all'assemblea e riunione annuale della Radiological Society of North America, la vetrina delle ultime novità scientifiche, formative e tecnologiche nell'ambito della radiologia e dell'imaging medicale. La nuova postazione attiva Siemens fourSight, in grado di gestire e coordinare immagini cliniche, videoclip e dati 3D/4D in modo da ottimizzare le attività operative di un reparto, si avvale di una workstation Dell Precision T5500 e di una soluzione grafica professionale NVIDIA Quadro FX 3800, di un monitor LCD compatibile con 3D Vision Samsung 2233RZ da 22 pollici e di occhiali NVIDIA 3D Vision per dimostrare in che modo i pazienti e i loro medici possano vedere straordinari sonogrammi tridimensionali in alta risoluzione.
Occhiali e display in 3D stereoscopico, gestiti dalle soluzioni di fascia alta o altissima NVIDIA Quadro FX, permettono di abilitare la stereoscopia quad buffer. Per ulteriori informazioni sugli occhiali e i display supportati, ad inclusione di NVIDIA 3D Vision, visitare http://www.nvidia.co.uk/object/quadro_pro_graphics_boards_uk.html.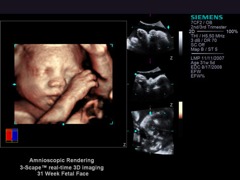 [Immagine ad alta risoluzione]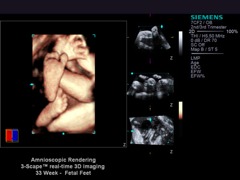 [Immagine ad alta risoluzione]

RSNA 2009, Chicago (McCormick Place - Lakeside Center-Hall D, #825) — Nov. 30, 2009 — NVIDIA Corp. and Siemens Healthcare demonstrated today a new, immersive 3D ultrasound viewing experience that enables expecting parents and their medical caregivers to view the fetus with incredible detail using 3D glasses.

Utilizing technology that has its roots in immersive 3D movies, the new Siemens ultrasound fourSight Workplace* image management software uses NVIDIA 3D Vision stereoscopic glasses and NVIDIA Quadro FX high-end professional graphics solutions to create the most stunning 3D/4D images of an unborn baby.

The clinical images, obtained with the ACUSON S2000 ultrasound system, are further enhanced using Amnioscopic Rendering, a Siemens- exclusive technology that produces photo-realistic 3D images of the fetus. While conventional 3D ultrasound technologies use two-dimensional monitors for the evaluation of 3D images, utilizing NVIDIA 3D Vision technology, users can experience 3D images in real 3D, vastly improving the overall ultrasound experience.

"Imagine the absolute thrill of an expectant mom and dad putting on 3D glasses and being able to really see what their baby looks like in vivid, high-resolution detail," said Jeff Brown, general manager, NVIDIA Professional Solutions. "NVIDIA Quadro technology enables our partners like Siemens Healthcare to make the impossible possible—offering remarkable 3D visual experiences that are also cost-effective for physicians."

"This technology takes 3D/4D ultrasound imaging to the next level," said Barbara Del Prince, Global Segment Manager, Obstetrics and Gynecology at Siemens. "Our fourSight Workplace, combined with the NVIDIA Quadro professional graphics solution and 3D Vision technology, offers a truly remarkable experience that's rewarding for parents and their doctors, while also delivering practical benefits in medicine." This quality improvement may provide additional information to the physician and assist in communication with surgeons and patients or to aid in treatment or surgical planning.

The experience was demonstrated at the Radiological Society of North America's Scientific Assembly and Annual Meeting, which showcases the world's most cutting-edge science, education, and technology in radiology and medical imaging. Siemens' fourSight Workplace, which manages clinical images, clips and 3D/4D volume data to enhance department workflow, utilizes a Dell Precision T5500 workstation driven by an NVIDIA Quadro FX 3800 professional graphics card, a Samsung 2233RZ 22-inch, 3D Vision-ready LCD, and NVIDIA 3D Vision glasses to demonstrate how patients and their doctors can view remarkable, high-resolution, three-dimensional sonograms in true 3D.

Quad buffered stereo is enabled with 3D stereoscopic glasses and displays, driven by NVIDIA Quadro FX high-end and ultra-high end solutions. For more information on supported glasses and displays, including NVIDIA 3D Vision, please visit http://www.nvidia.com/object/quadro_pro_graphics_boards.html.





Source: NVIDIA Press Release
Links


Tags: 3d | medicina | nvidia | siemens