Sono state diffuse dal sito Bit-tech i requisiti di sistema minimi e consigliati (riportati di seguito in lingua originale) per l'esecuzione del prossimo game Mass Effect 2, sviluppato da Bioware e pubblicato da Electronic Arts, il cui arrivo sul mercato è stato fissato per il 26 Gennaio 2010 in due edizioni dedicate alle piattaforme PC e Xbox 360.
---
Minmum System Requirements
Processor: 1.8GHz Intel Core 2 Duo or equivalent AMD CPU
Memory: 1GB RAM for Windows XP / 2GB RAM for Windows Vista and Windows 7
Video Card: 256MB (with pixel Shader 3.0 support)
Supported Chipsets: NVIDIA GeForce 6800 or greater; ATI Radeon X1600 Pro or greater
Hard Drive: 15GB
OS: Windows XP SP3/ Windows Vista SP1/ Windows 7
DVD ROM: 1x Speed
Sound Card: DirectX 9.0c compatible
DirectX: DirectX 9.0c August 2008 (included)
Input: Keyboard/ Mouse
Recommended System Requirements

Processor: 2.6+ GHz Core 2 Duo Intel or equivalent AMD CPU
Memory: 2GB RAM
Video Card: ATI Radeon HD 2900 XT, NVIDIA GeForce 8800GT, or better recommended
Sound Card: 100% DirectX compatible sound card and drivers
DirectX: DirectX August 2008
OS: Windows XP SP3/ Windows Vista SP1/ Windows 7
Note: Intel and S3 video cards are not officially supported in Mass Effect 2. NVIDIA GeForce 7300, 8100, 8200, 8300, 8400, and 9300; ATI Radeon HD 3200 and HD 4350 are below minimum system requirements.
---
Come si evince dai requisiti consigliati, per giocare su buoni livelli con Mass Effect 2 è dunque necessario un PC con processore Core 2 Duo di Intel avente un clock pari ad almeno 2.6GHz (o Phenom II di AMD "equivalente"). Inoltre, molte schede grafiche GeForce e Radeon sono tagliate fuori; stesso destino per le video card di Intel e S3 Graphics.
Seguono gli screenshot più recenti pubblicati dallo sviluppatore del titolo.
[Immagine ad alta risoluzione]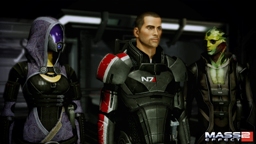 [Immagine ad alta risoluzione]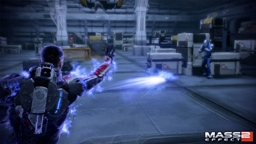 [Immagine ad alta risoluzione]





Collegamenti