Con il comunicato stampa di seguito allegato, ZOTAC International ha annunciato la scheda grafica ZOTAC GeForce GT 220 ZONE Edition, una soluzione mainstream che va ad infoltire la già ricca linea di schede grafiche di ZOTAC caratterizzate dalla dotazione di un cooler di tipo passivo.

Costruita intorno alla gpu GeForce GT 220 di NVIDIA, la cui frequenza di clock è pari a 625MHz mentre quella delle unità shader è pari a 1360MHz, la card è equipaggiata con 1GB di RAM DDR2 a 800MHz; il bus che collega il core grafico con la memoria on board è a 128-bit.

La GeForce GT 220 ZONE Edition supporta le librerie grafiche DirectX 10.1 con Shader Model 4.1 e OpenGL 3.2, oltre alle tecnologie NVIDIA CUDA, PhysX e PureVideo HD. La dotazione di I/O include un connettore DVI dual-link, uno HDMI e uno VGA.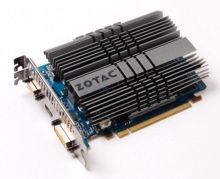 [Immagine ad alta risoluzione]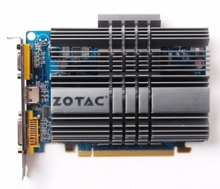 [Immagine ad alta risoluzione]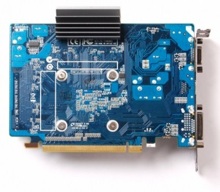 [Immagine ad alta risoluzione]

HONG KONG – Nov. 24, 2009 – ZOTAC International, a leading manufacturer of motherboards and graphics cards, today unleashes its latest silent mainstream graphics card – the ZOTAC GeForce GT 220 ZONE Edition. The new ZOTAC GeForce GT 220 ZONE Edition pairs a high-performance graphics card with a passive heatsink for absolute silent operation while delivering an unmatched performance value.
Powered by a high-performance NVIDIA GT 220 graphics processor with 48 CUDA cores and 1GB of high-speed DDR2 memory, the ZOTAC GeForce GT 220 ZONE Edition packs plenty of performance ready to take on the latest Microsoft DirectX 10.1, DirectCompute, OpenGL 3.2 and NVIDIA CUDA powered games and applications for lightning-fast video conversion, precise GPU-accelerated image editing and immersive gaming.

"ZOTAC is one of the leading manufacturers of silent graphics cards. Our lineup of ZOTAC GeForce ZONE Edition graphics cards has won many awards for the combination of performance and silent operation," said Carsten Berger, marketing director, ZOTAC International. "The ZOTAC GeForce GT 220 ZONE Edition is the latest addition to our award-winning lineup that also brings support for Microsoft DirectX 10.1 and HDMI 1.3a technology for the best quiet computing experience for the price, whether you're gaming or using it for a home theater PC."

HDMI 1.3a with xvYCC, DeepColor, digital 8-channel LPCM audio output and NVIDIA PureVideo HD technologies transform the ZOTAC GeForce GT 220 ZONE Edition graphics card into the ultimate graphics card for home theater PCs by delivering richer colors, crystal clear multi-channel audio from loss-less Dolby TrueHD and DTS-HD: Master Audio tracks and GPU-accelerated high-definition video playback for VC-1, H.264, MPEG-2 and WMV video formats.
It's time to play with the silent ZOTAC GeForce GT 220 ZONE Edition!
General details
New passive ZOTAC GeForce GT 220 ZONE Edition
Core clock: 625 MHz
48 CUDA cores
Shader clock: 1360 MHz
1GB DDR2 memory
128-bit memory interface
Memory clock: 800 MHz
Dual-link DVI output
HDMI output (w/8-channel LPCM audio)
VGA output
PCI Express 2.0 interface (Compatible with 1.1)
HDMI 1.3a technology with xvYCC and DeepColor support
DirectX 10.1 with Shader Model 4.1 compatible
OpenGL 3.2 compatible
NVIDIA CUDA & PhysX ready
NVIDIA PureVideo HD technology




Source: ZOTAC International Press Release
Links


Tags: card | geforce | gt | video | zone edition | zotac