Con il comunicato stampa di seguito allegato, Toshiba America Consumer Products L.L.C. - ben noto sostenitore del formato HD DVD nell'ambito dei dischi per i contenuti multimediali in High Definition, che ha poi ceduto il passo al formato antagonista, il Blu-ray - ha annunciato il suo primo home player di Blu-ray.

Il dispositivo (cfr. la foto seguente) Ŕ siglato BDX2000 ed Ŕ stato progettato per fornire in output il segnale video in Full HD (1080p). Tra le feature dichiarate del BDX2000 vi sono le tecnologie AVCHD, BonusView (per la modalitÓ PIP, Picture In Picture, ndr), BD-Live, Dolby True HD e DTS HD MA. Il player include una porta Ethernet ed uno slot per memory card di tipo SD; tuttavia non Ŕ equipaggiato con una memoria di massa built-in.

Il BDX2000 sarÓ commercializzato a Novembre: il suo MSRP Ŕ pari a $249.99.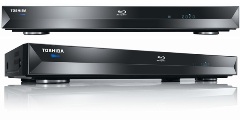 [Immagine ad alta risoluzione]

WAYNE, N.J., Sept. 3 /PRNewswire/ -- Toshiba America Consumer Products L.L.C. ("Toshiba"), a market leader in home entertainment products, underscores its commitment to high-definition entertainment with the introduction of its first Blu-ray Disc player. The BDX2000 provides Full HD 1080p digital output that when coupled with a REGZA(R) LCD TV, enables consumers to enjoy the superior quality of high-definition audio & video content.
Supporting BD-Live (Profile 2.0), the BDX2000 allows users to take advantage of interactive features through an Ethernet connection. With interactive content enabled on select Blu-ray discs and Bonus View support for picture-in-picture capability, Toshiba's Blu-ray player offers state-of-the-art home entertainment.
Complementing the player's stunning picture quality, design is an integral component of Toshiba's home entertainment products. This new Blu-ray Disc player boasts a faceted design featuring a smoked mirrored front panel. The stylish front panel dropdown door conceals the player's primary functions, allowing for a smooth, clean facade.
"Toshiba is a technology leader in high definition products," said Jodi Sally, Vice President of Marketing, Digital A/V Group. "From listening to our consumers we know they demand access to full high definition content. With the introduction of our BDX2000 we are offering consumers what they want with a breath-taking HD viewing experience to meet the needs of today's home theater."
Using the REGZA-LINK(R) function, the new BDX2000 can connect with a REGZA LCD TV via a HDMI cable and display full high definition content with a single remote control. For added convenience, the BDX2000 features a SD card slot, making it an entertainment hub in the home by allowing consumers to showcase photos and videos with ease.
Additional Product Features:
BD-Live (Profile 2.0)
1080p/ 24 fps Full HD Video Output
AVCHD Playback
Toshiba REGZA-LINK(R) (HDMI-CEC)
Support for enhanced audio formats from Dolby(R) True HD and DTS-HD Master Audio | Essential Playback
Bonus View
SD Card Slot
ENERGY STAR(R) Certified

Pricing and Availability:
Toshiba Blu-ray Disc Player
BDX2000 (available November, MSRP $249.99)