Con il comunicato stampa di seguito allegato, AMD ha annunciato l'immediata disponibilità del nuovo processore a sei core della gamma Opteron denominato commercialmente AMD Opteron EE, che può vantare un valore dell'ACP (Average CPU Power) pari a 40W in accordo al produttore.

Ed è proprio l'aspetto energetico - oltre alle prestazioni ottenibili in ambito multi-threading con i suoi sei core e in ambito virtualizzazione con l'ausilio della tecnologia AMD Virtualization (AMD-V) - quello su cui AMD insiste maggiormente.

Il chip maker esalta infatti il rapporto tra performance e potenza dissipata offerto dalla sua nuova cpu, concepita per l'ambito enterprise e per i server che pubblicano applicazioni compliant con Web 2.0 in primis, che è superiore di circa il 31% rispetto a quello esibito dai precedenti Opteron quad-core.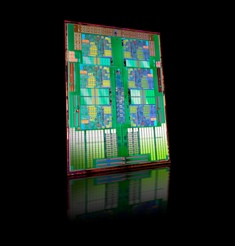 [Immagine ad alta risoluzione]

SUNNYVALE, Calif. - 8/31/2009 AMD (NYSE: AMD) today announced the immediate availability of the new Six-Core AMD Opteron EE processor at 40W ACP.  Delivering up to 31 percent higher performance-per-watt over standard Quad-Core AMD Opteron processors¹, the Six-Core AMD Opteron EE processor is tailored to meet the demands of customers who need strong performance, but must trim out every watt possible in a server system and reduce the datacenter's power draw.
Many customers requiring this very low power processor deploy dense, large-scale IT projects where system power trumps raw performance and every watt of power savings can have significant positive impact on the bottom line.
AMD offers a wide range of energy-efficient processors; customers now have 15 low and very low power server processor choices available.
All of AMD's low power processors are fully-featured and available with the same AMD Virtualization (AMD-V) technology and AMD-P features for advanced virtualization and power savings capability as standard power versions.
This 40W ACP processor is currently being integrated in custom solutions programs and will be available from system builders for cloud and Web 2.0 customers where density and low power are key considerations.
"It's important for our industry to look at how technology is being used and where customers have emerging needs," said Patrick Patla, vice president and general manager, Server and Workstation Division. "The AMD Opteron EE processor enables OEMs to deliver energy-sipping servers that don't compromise on power management, virtualization or performance features.  It is specifically designed to help address the challenges that are generating a great deal of discussion these days - building and running very dense data centers for Web services, while doing more with less."





Source: AMD Press Release
Links


Tags: acp | amd | core | ee | opteron | processore