Milano, 25 Giugno 2009 – Seagate (NASDAQ: STX) annuncia tre nuovi prodotti della famiglia BlackArmor: lo storage di rete BlackArmor NAS 220, il drive esterno per workstation BlackArmor WS 110 e l'unità portatile il BlackArmor PS 110. I tre nuovi prodotti ampliano il portfolio di soluzioni per l'archiviazione esterna destinato alle piccole imprese, già composto dai server BlackArmor NAS 440 e BlackArmor NAS 420. Le nuove soluzioni e quelle già presenti nella linea BlackArmor sono provviste della stessa suite di applicazioni per il backup destinato ai professionisti e all'utilizzo da parte dei piccoli uffici.

"In un contesto economico difficile, le piccole imprese richiedono soluzioni IT integrate, affidabili e di alta qualità e al tempo stesso economiche", ha dichiarato Ben Woo, Vice President, Enterprise Storage Systems Research, IDC. "Garantire la flessibilità di scegliere tra una vasta gamma di soluzioni che supportano i bisogni e fornire un percorso strategico di crescita con un investimento addizionale minimo sarà molto attraente per questo segmento di mercato."

Accessibilità e sicurezza in tutta tranquillità
Dotate di caratteristiche come un sistema di backup automatico e il software SafetyDrill+, una funzione di recupero bare metal, la famiglia di soluzioni di storage esterno BlackArmor offre una protezione potenziata. Dato che i dischi esterni BlackArmor creano automaticamente una copia esatta dei dati dell'intero Pc, il software SafetyDrill+ è pronto a ripristinare l'intero sistema in caso di perdita di dati, attacco di virus, guasto a livello hardware o crash del Pc. Il software SafetyDrill+ è già precaricato su tutti i prodotti della famiglia BlackArmor e non necessita di una ulteriore installazione. Per aumentare la protezione dei dati dei file su cui è stato effettuato il backup, il software possiede anche l'AES 256- bit, ossia una protezione usata a livello governativo.

Soluzioni che si aggiungono alla famiglia BlackArmor

Con uno storage di rete centralizzato e un accesso remoto sicuro in un design compatto, il server di rete BlackArmor NAS 220 è una piccola soluzione di storage network attached specifica per i piccoli uffici, progettata per fornire protezione dati ad un massimo di 20 Pc1. Con una capacità di storage condiviso fino a 4 TB, il BlackArmor NAS 220 è in grado di soddisfare i bisogni dei piccoli uffici e dei liberi professionisti e si configura come un prodotto adatto per le reti casalinghe.
Il drive esterno per workstation BlackArmor WS 110: progettato per piccolo uffici sia con professionisti che condividono lo stesso luogo di lavoro sia con un lavoro da remoto, il BlackArmor WS 110 è un potente, completo e sicuro sistema di archiviazione direttamente collegato e una soluzione di backup. La doppia interfaccia eSATA e USB 2.0 consente un accesso rapido ai dati. Dotato di un involucro di colore nero, il BlackArmor WS 110 è progettato per essere posizionato in verticale e in orizzontale e integrarsi perfettamente all'ambiente di lavoro.
L'unità portatile BlackArmor PS 110: i professionisti che viaggiano con file di tipo business critical possono aver la certezza che i loro dati siano protetti. L'applicazione di backup business-grade unita a un affidabile hard disk Seagate molto sottile (12,5 mm) rende il BlackArmor PS 110 una potente soluzione di storage per questo tipo di utenza.
Disponibilità e prezzi
Tutti i prodotti possono essere acquistati tramite i partner di canale e i rivenditori autorizzati.
Seagate BlackArmor NAS 220 - $449.99 per 2TB e $699.99 per 4TB – disponibile a partire dal 9 Settembre 2009
Seagate BlackArmor WS 110 - $159.99 per 1TB e $309.99 per 2TB - disponibile a partire dal 15 Settembre 2009
Seagate BlackArmor PS 110 - $159.99 per 500GB - disponibile a partire dal15 Settembre 2009
Per maggiori informazioni sui prodotti della famiglia BlackArmor possono essere trovate al seguente link http://media.seagate.com/seagate-blackarmor-media-kit/.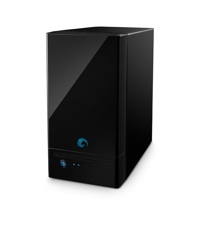 BlackArmor NAS 220
[Immagine ad alta risoluzione]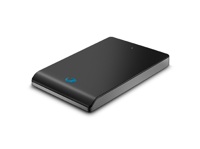 BlackArmor PS 110
[Immagine ad alta risoluzione]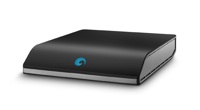 BlackArmor WS 110
[Immagine ad alta risoluzione]

SCOTTS VALLEY, Calif. - June 22, 2009 -
Strengthening its external storage portfolio for small business Seagate (NASDAQ: STX) today announced three additional BlackArmor product offerings: the BlackArmor NAS 220 storage server, the BlackArmor WS 110 external drive workstation and the BlackArmor PS 110 portable drive. Joining the existing network attached storage line up – the BlackArmor NAS 440 and BlackArmor NAS 420 storage servers – these new solutions share the same suite of robust backup applications for business professionals and home office use.
"In challenging economic conditions, small businesses are demanding that high-quality, integrated, reliable IT solutions be delivered in economical packages," said Ben Woo, vice president, Enterprise Storage Systems Research, IDC. "Providing the flexibility to choose from an array of solutions that support current needs and provide a strategic growth path with minimal additional investment will be very appealing to this market segment."
Security, Accessibility and Peace of Mind
With features like automated full-system backup and SafetyDrill+ software , a bare metal recovery feature, the BlackArmor family of storage solutions delivers enhanced data protection. Since BlackArmor external drives automatically create an exact copy of everything on your PC, SafetyDrill+ software is ready to restore your entire system if a data disaster such as a virus attack, hardware failure, or PC crash were to occur. SafetyDrill+ software comes preloaded on all BlackArmor products and does not require any additional installation. For increased data protection of backed-up files, the software also features an AES 256-bit government-grade encryption.
"For over 30 years, Seagate has been the trusted provider of reliable storage technology to companies of all sizes," said Terry Cunningham senior vice president, Seagate Branded Solutions and i365. "The BlackArmor family of products gives small businesses, those with home offices, and more advanced recreational users an easy-to-use yet robust storage solution at an affordable price point."
Additions to the Seagate BlackArmor family:
BlackArmor NAS 220 Storage Server : Delivering centralize network storage and secure remote access in a compact design, the BlackArmor NAS 220 storage server is a small-business-specific network attached storage solution designed to provide data protection for up to 20 PCs¹. With up to 4TB of shared storage capacity, the BlackArmor NAS 220 storage server can meet the needs of small offices and self-employed professionals as well as home networks.

BlackArmor WS 110 Workstation External Drive : For small office, home-based professionals or remote staff, the BlackArmor WS 110 external drive is a powerful, complete and secure direct attached external storage and backup solution. The dual interface of eSATA and USB 2.0 provide quick access to data. With a piano black enclosure, the BlackArmor WS 110 external drive is designed to lie flat or stand vertically to blend seamlessly into a work environment.
BlackArmor PS 110 Portable Drive : With the BlackArmor PS 110 portable drive employees who travel with business critical files can do so with the peace of mind that their backed-up data is protected. The business-grade backup application coupled with a reliable Seagate hard drive in an exceptionally slim, 12.5mm package, which makes the BlackArmor PS 110 portable drive a powerful storage solution for traveling professionals.
Availability and Pricing
All products can be purchased through channel partners and select retailers at the following manufacturers' suggested retail prices (MSRP):
Available in late July, Seagate BlackArmor NAS 220-- $449.99 for 2TB and $699.99 for 4TB
Available now, Seagate BlackArmor WS 110--$159.99 for 1TB and $309.99 for 2TB
Available now, Seagate BlackArmor PS 110--$159.99 for 500GB
More detailed information about the Seagate BlackArmor family of solutions can be found at http://media.seagate.com/seagate-blackarmor-media-kit/ .





Source: Seagate Press Release
Links