Con il comunicato stampa di seguito allegato, AMD ha lanciato il chip grafico, o gpu, ATI Radeon E4690 destinato all'equipaggiamento dei sistemi embedded utilizzati negli apparati più disparati, come i sistemi di gaming arcade e quelli tipicamente presenti nei casinò.
Alla base delle feature offerte dalla soluzione ATI Radeon E4690, AMD cita innanzitutto il livello di performance offerto dal dispositivo, che è pari a circa 3 volte quello ottenibile con i precedenti chip AMD. E inoltre, ATI Radeon E4690 può essere integrato direttamente sulla motherboard, e dunque riduce i costi di produzione rispetto al caso in cui la gpu è parte di una scheda aggiuntiva (il package da 35mm del chip ATI Radeon E4690 include 512MB di RAM G-DDR3 a 700MHz). Infine, la capacità di decomprimere ed eseguire in hardware i filmati HD è utile per liberare la cpu dal carico computazionle connesso a tali funzionalità.
ATI Radeon E4690 supporta le tecnologie Microsoft DirectX 10.1, OpenGL 3.0 e AMD Unified Video Decoder di seconda generazione, o (UVD 2.0), che fornisce l'accelerazione hardware per H.264, VC-1 High-Definition e MPEG-2.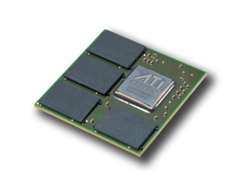 [Immagine ad alta risoluzione]

SUNNYVALE, Calif. - June 1, 2009 -AMD (NYSE: AMD) announced the ATI Radeon E4690 graphics processor unit (GPU) designed to enable a whole level of new reality for embedded graphics applications with more than triple the 3D graphics performance of prior AMD embedded products. Arcade system manufacturers will appreciate the long term support and lower cost of placing the GPU chip directly on the motherboard instead of a separate add-in graphics card. This product will enable digital signage manufacturers to decode and play multiple high-definition videos in hardware, offloading all the decoding from the CPU. Casino system manufacturers will be amazed by triple the graphics performance to help attract players while increasing overall entertainment value with incredibly realistic 3D graphics, plus two-monitor support.
The ATI Radeon E4690 GPU is packed with the latest graphics features, including support for Microsoft DirectX 10.1 and OpenGL 3.0.
The second-generation AMD Unified Video Decoder (UVD 2.0) includes hardware acceleration of H.264 and VC-1 high-definition (HD) video as well as MPEG-2, enabling multiple HD video streams and freeing the CPU for other tasks.
The ATI Radeon E4690 is designed to simplify board design and speed time-to-market by incorporating 512 MB of 700 MHz GDDR3 graphics memory on chip.
The ATI Radeon E4690 comes with AMD's commitment of 5 years of planned supply availability. Technical support is provided by a dedicated team of application engineering experts.
"The ATI Radeon E4690 sets a new bar for embedded graphics performance," said Richard Jaenicke, director of embedded graphics at AMD. "Blazingly fast graphics and HD video capabilities enhance the appeal of applications − such as arcade, casino, digital signage and more. With the industry's only embedded graphics chip that offers DirectX 10.1 and UVD 2.0 support, the ATI Radeon E4690 enables competitive advantages for AMD's embedded customers."
"The ATI Radeon E4690 is the perfect solution for the digital signage market," said Dwight Looi, product manager at iBASE Technology, Inc. "The ATI Radeon E4690 combines phenomenal graphics performance, full hardware HD video decode acceleration and 512MB of very fast GDDR3 memory into a compact 35 mm package, which enables us to offer a high-end digital signage solution in a previously impossible, booked-sized system."
"With the on-chip memory and responsive technical support from AMD, we were able to bring our Condor 2000 product, featuring ATI Radeon E4690, to market in just six weeks from the time we received the design documents," said Selwyn Henriques, president of Tech Source, Inc. "Based on the product specifications, TechSource expects the resulting product to significantly outperform existing products in the industry."
Supporting Resources
Product webpage: http://www.amd.com/radeonE4690
iBASE webpage: http://www.ibase.com.tw/2009/si-28.html
Tech Source webpage: http://www.techsource.com/




Source: AMD Press Release
Links


Tags: amd | ati | embedded | gpu | radeon