Dopo Zotac, anche Point of View, partner storico di NVIDIA in qualità di maker di schede grafiche basate sulle gpu di classe GeForce, ha messo a punto una motherboard mini-ITX, siglata POV/ION330 e basata sulla piattaforma Ion (cfr. le foto seguenti), anche se le due soluzioni sono molto distinte dal punto di vista topologico, il che equivale a dire che NVIDIA ha rilasciato un schema reference molto versatile.
La soluzione di Point of View è basata sul chipset MCP7A del produttore statunitense e può essere abbinata ad una cpu Intel Atom 230 o 330; sono due gli slot per l'installazione della memoria centrale di tipo SO-DIMM, la quale può raggiungere una capacità massima di 2GB e lavorare a 667MHz oppure a 800MHz.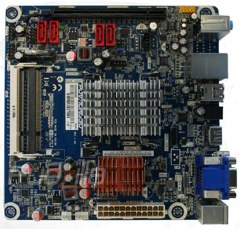 [Immagine ad alta risoluzione]
Forte della sua tradizione di produttore di video card, Point of View ha inserito uno slot PCI-Express x16 ed un connettore per l'alimentazione a 24-pin.

[Immagine ad alta risoluzione]

La dotazione della nuova POV/ION330 include quattro porte SATA, sei porte USB, le uscite video DVI, D-Sub e HDMI, e una porta di rete compatibile con Gigabit LAN; la sezione audio è stata implementata mediante il chip Realtek ALC662 a 5.1 canali. POV ha applicato due cooler passivi distinti al processore e al chipset. Al momento non sono noti nè il prezzo nè la data di commercializzazione di questa motherboard.





Collegamenti


Tags: foto | ion330 | motherboard | nvidia | point of view | pov