Inno 3D ha annunciato la realizzazione di tre nuove schede grafiche GeForce 9 E-Save Edition ottimizzate dal punto di vista della riduzione del consumo di potenza, pur senza rinunciare alle performance e al supporto delle tecnologie, come NVIDIA PhysX, CUDA, SLI e PureVideo HD, che sono tipiche di tali soluzioni.
Si tratta in particolare di una GeForce 9800GT, una GeForce 9600GT e una GeForce 9600GSO: tutte le card sono basate su un processore grafico prodotto a 55nm e capace di operare con una tensione ULV (Ultra Low Voltage) pari a 1V. Inoltre, le nuove soluzioni non richiedono alcuna potenza dalla PSU del sistema il che ha permesso di rimuovere il connettore per PCI-Express a 6-pin.
L'ottimizzazione dal punto di vista del consumo di potenza ha indotto i progettisti a rivisitare non soltanto lo stadio di alimentazione ma la gran parte del PCB. Seguono la foto ufficiale delle schede video e le specifiche dichiarate dal maker.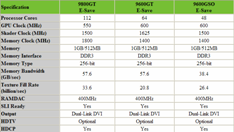 [Immagine ad alta risoluzione]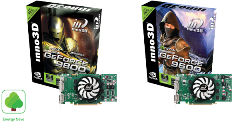 [Immagine ad alta risoluzione]

Hong Kong 4th May 2009 – Inno3D launches the energy efficient Inno3D GeForce 9 series E-save edition build ready for CUDA technology and delivers a best-in-class gaming experience. The effects of Global warming are concerns to people all over the world and now it is time for PC users to also save energy. The outstanding benchmark performances for the Inno3D GeForce 9 series E-save edition will continue to outwit competition while consuming less power energy.
Inno3D GeForce 9 series VS Inno3D GeForce 9 series E-Save
Uses G94-350/359 55nm GPU
Enables idle mode
Enable Phase switching with new PCB design
Runs at 1.0V core at Ultra Low Voltage
Removes the 6-pin power connector
Excellent features for Inno3D GeForce 9 series E-Save include:-

NVIDIA PhysX Ready: Inno3D GeForce GPU support for NVIDIA PhysX technology - enabling a totally new class of physical gaming interaction for a more dynamic and realistic experience.

NVIDIA CUDA Technology: CUDA technology unlocks the power of the GPU's processor cores to accelerate the most demanding system tasks - such as video transcoding - delivering incredible performance improvements over traditional CPU's.

NVIDIA SLI Technology: Delivers up to 2x the performance of a single GPU configuration for unequaled gaming experience by allowing two graphics cards to run in parallel. The must-have feature for performance PCI Express graphics, SLI dramatically scales performance on today's hottest games.

NVIDIA PureVideo HD Technology: Delivers unprecedented picture clarity, accurate colour, smooth video, and precise image scaling for movies and videos with the high-definition video decode acceleration and post-processing working together.

The Inno3D GeForce 9 series E-Save edition saves power efficiently and designed for mainstream PC gaming and home entertainment. Take your part to prevent the effects of Global warming and experience extraordinary graphics with Inno3D GeForce 9 series.

For more information please visit www.inno3d.com or contact our sales representative.





Source: Inno3D Press Release
Links


Tags: 3d | card | geforce | video