AMD ha ampliato la gamma di processori di classe Phenom II con il processore quad-core più veloce di sempre, tra quelli presenti nel suo catalogo: il Phenom II X4 955 Black Edition. Il produttore statunitense ha configurato per questo chip una frequenza di clock pari a 3.2Ghz per core ed ha implementato il pieno supporto della memoria RAM di tipo DDR3 e della tecnologia proprietaria OverDrive, che ne permette l'overclock con estrema efficienza e semplicità, qualora questo dovesse essere necessario.
La cpu è compatibile non soltanto con le nuove motherboard dotate del socket AM3, ma anche con quelle presenti attualmente sul mercato, che sono equipaggiate con il socket AM2+; con queste ultime, naturalmente, il Phenom II X4 955 Black Edition può essere abbianto a RAM di tipo DDR2 e non DDR3.
Il nuovo chip va ad ampliare le potenzialità della piattaforma Dragon di cui è parte e che, lo ricordiamo, può essere implementata con una motherboard basata su un chipset della linea AMD 7 e con una scheda grafica ATI Radeon HD 4890.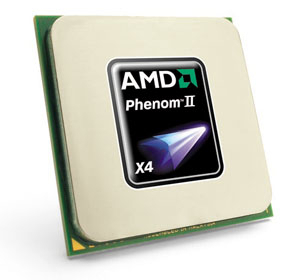 -- April 23, 2009 --
WHAT: AMD announced a platform refresh today for Dragon platform technology, including the new AMD Phenom II X4 955 Black Edition processor. As AMD's fastest ever quad-core processor, it brings all the capabilities gamers, enthusiasts and do-it-yourselfers have come to expect from AMD, including world record setting performance, high-speed DDR3 memory support and AMD OverDrive 3.0 technology, giving users more control over their computing experience.
The Dragon technology refresh consists of the new AMD Phenom II X4 955 Black Edition processor, AMD 7-Series chipsets and award winning ATI Radeon HD 4890 graphics. With this platform refresh, AMD is combining its fastest processor with the massive graphics processing muscle of its most powerful GPU to deliver high definition video entertainment and "beyond HD" resolutions3 that allow gamers to take the latest games to the extreme.
WHY: AMD is committed to bringing high-performance desktop PCs to the enthusiast, gaming and DIY communities. To best meet the needs of these communities, AMD is taking a balanced platform approach, providing optimal CPU, graphics and chipset performance all at an affordable price.
BENEFITS: Running at a frequency of 3.2 GHz, the new AMD Phenom II X4 955 Black Edition processor joins Dragon platform technology to give users speed with plenty of headroom. With speed, you need control, and the new AMD OverDrive 3.0 software delivers with a few new features:
AMD Black Edition Memory Profile lets users create custom profiles that can easily overclock known DDR3 memory to quickly and easily achieve optimum high speed DDR3 performance.4
AMD Smart Profiles can automatically tune performance for specific applications, whether for max performance or quiet operation. Choose from pre-defined application profiles or create your own to personalize the experience.
With AMD, consumers have the option to upgrade when the time is right for their budget and overall experience. Socket AM3 processors, such as the latest AMD Phenom II CPUs, are backwards compatible with existing AM2+ platforms running DDR2 memory, and can also transition to AM3 motherboards that support DDR3 memory when the time is right. Unlike the competition, AMD users can upgrade without having to purchase multiple new components.

For more information on the latest Dragon platform technology and where you can get it – Check it out!

See what AMD's Ian McNaughton has to say about this new processor here.





Source: AMD Press Release
Links