Con il comunicato stampa di seguito allegato, NVIDIA ha annunciato una nuova linea di schede grafiche di classe Quadro orientate all'impiego nell'ambito professionale. La versione flag-ship è rappresentata dalla Quadro FX 5800, che, con i suoi 4GB di RAM on board, NVIDIA ha presentato come il nuovo riferimento della sua categoria di appartenenza. Questo l'elenco completo delle nuove video card:
NVIDIA Quadro FX 580
NVIDIA Quadro FX 4800
NVIDIA Quadro FX 3800
NVIDIA Quadro FX 1800
NVIDIA Quadro FX 580
NVIDIA Quadro FX 380
The Quadro NVS 295
Il maker statunitense pone l'accento sulle tecnologie proprietarie NVIDIA SLI Multi-OS, che permette di virtualizzare gli ambienti 3D, e NVIDIA SLI, che, utilizzando una architettura multi-gpu, incrementa le prestazioni del software e la qualità dell'immagine.
Le nuove NVIDIA Quadro sono già disponibili nelle workstation dei principali system builder internazionali come Dell, Fujistu-Siemens, HP e Lenovo. I partner ufficiali di NVIDIA nell'ambito dei board maker sono PNY Technologies (U.S. e EMEA), Leadtek (APAC) e Elsa (Giappone).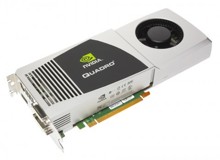 [Immagine ad alta risoluzione]

SANTA CLARA, CA. — MARCH 30, 2009 — Whether designing the next aircraft or delivering seven-day weather forecasts, today's professionals seek a reliable, robust visualization platform designed to address their unique challenges and needs. Highlighting a decade of innovation, driven by the needs of the most demanding professionals, NVIDIA today introduced its most powerful and advanced top-to-bottom line of Quadro professional GPU solutions in the Company's history.
"Our mission with Quadro is to help customers solve the world's most challenging visual computing problems," stated Dan Vivoli, executive vice president of marketing at NVIDIA. "We learn every day from them and are humbled by their brilliance. The new lineup, with the flagship Quadro FX 5800, sets the stage for the next ten years of innovation."
Spanning from sub-$100 entry-level to standalone visual computing systems, this new series includes:
NVIDIA Quadro FX 5800 – the industry's first and only 4GB, ultra high-end solution delivers the highest visualization performance and capabilities, enabling professionals to work with large-scale models and datasets.
NVIDIA Quadro FX 4800 – ultra high-end solution provides professionals with the most complete toolset to dramatically push the boundaries of realism, performance, and quality.
NVIDIA Quadro FX 3800 – single slot solution with a robust feature set and added capabilities such as SLI Multi-OS and SDI support to enable a no-compromise, high-performance, interactive visualization experience.
NVIDIA Quadro FX 1800 – mid-range solution offers the best price performance for workstation graphics and provides the optimal blend of quality, precision, performance, and programmability.
NVIDIA Quadro FX 580 – best-in-class entry-level solution boosts productivity for a variety of industry-leading volume CAD and digital content applications.
NVIDIA Quadro FX 380 – an affordable professional-class graphics solution extends energy efficiency while delivering 50-percent faster performance.
The Quadro NVS 295 – capable of supporting up to two 30-inch digital displays at maximum resolutions, taking business graphics to a new level visual perfection.
"Once again, NVIDIA has set new graphics performance standards for professionals in the product design and development community," said Laurent Laloy, director, 3DVIA User Experience, Dassault Systèmes. "This latest generation of Quadro professional solutions will allow our customers to drive innovation and design with unprecedented 3D visual quality."

This new line-up also brings the introduction of NVIDIA SLI Multi-OS, a ground-breaking technology that enables, for the first time, 3D workstation virtualization on the Quadro GPU. With SLI Multi-OS, applications and users are able to optimize productivity and costs through the use of multiple Quadro GPU technologies from a single workstation in a virtualized environment. Users can also enable native SLI technology support on key partner platforms to accelerate application performance, scaling and higher image quality.

Availability
NVIDIA Quadro solutions are widely available through leading system manufacturers such as Dell, Fujistu-Siemens, HP and Lenovo; leading workstation system integrators; and NVIDIA channel partners PNY Technologies (US and EMEA), Leadtek (APAC) and Elsa (Japan). For additional information about the complete lineup of NVIDIA Quadro professional solutions, please visit: www.nvidia.com/quadro.

"The new family of powerful NVIDIA GPU solutions are an ideal match for the new HP Z Workstations, which have been totally reinvented from the core outward for breakthrough performance, value and serviceability," said Jim Zafarana, Vice President and General Manager, HP Workstations. "This powerful combination can tackle the most challenging visual computing problems that exist for today's demanding professionals."

"As the worldwide leader in workstations, Dell looks to partner with only the best companies to deliver the solutions that workstation professionals demand," said Greg Weir, senior manager, product group. "The power of Dell Precision and NVIDIA graphics represents a step-change in what customers can expect from a reliable, powerful and ISV-certified workstation with performance gains at levels beyond what customers could have imagined."





Source: NVIDIA Press Release
Links


tag: card | gamma | nvidia | quadro | video