Software per il setup e il tweaking delle schede video 3dfx Banshee, Velocity, Voodoo3, Voodoo4 e Voodoo5 dotato di supporto di tutti i Sistemi Operativi Windows a 32 bit. Molto utile per configurare al meglio il bus PCI/AGP, modificare la frequenza di refresh ed overcloccare la video card senza riavviare l' OS.

Questa release (v. 1.82, 376kb in versione zippata) risolve alcune criticità evidenziatesi con Windows 95 e le schede grafiche multi-chip.

Win32 (Windows 95,98,Me,NT4,2000,XP) utility for controling 3dfx graphics adapters. Currently supports 3dfx Voodoo Banshee, Velocity, Voodoo3, Voodoo4, Voodoo5. Will enable custom refreshrates, overclock on the fly, restore desktop icon positions, and save registry tweaks as presets. Refreshrates and graphic processor speeds are controled by programing hardware directly. This utility will help fix Windows 2000,XP 60Hz issues with 3dfx GLIDE™, Direct3D, and OpenGL.

This release (v. 1.82 beta, 376kb zipped) fixes issues with Widows95 OS and multi-chip boards.

Screenshots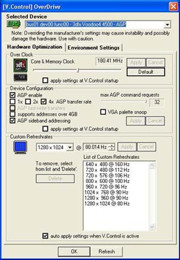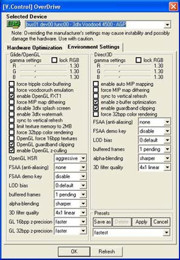 Useful Links