TUL Corporation ha annunciato, mediante il comunicato allegato di seguito, la realizzazione di una nuova scheda grafica che arricchisce la propria gamma di controller grafici con gpu AMD/ATI, che è commercializzata con il brand PowerColor. Si tratta della video card X1550, che è disponibile sia in versione per bus PCI-Express (cfr. foto seguente) che per bus AGP.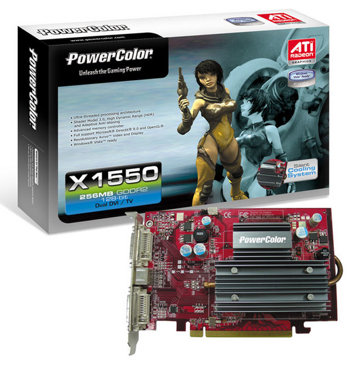 [Immagine ad alta risoluzione]
TUL punta a conquistare con la X1550, che sostituisce la X1300, una discreta fetta di utenti particolarmente sensibili all'acquisto di soluzioni appartenenti alla fascia entry-level del mercato, avendo realizzato un prodotto più veloce di quelli omologhi offerti dai competitor in virtu della frequenza di clock del core della gpu che, essendo pari a 600Mhz in condizioni di default, presenta un funzionamento in regime di lieve overclock (in accordo alle specifiche reference il core della X1550 opera a 550MHz, ndr).
Completano la dotazione della Powercolor X1550 i 256Mb di memoria locale di tipo DDR2 a 800MHz, il supporto delle tecnologie CrossFire (solo la versione PCI-E), DirectX 9c, OpenGL 2.0 e Shader Model 3.0. La scheda è naturalmente "Vista Ready" ed in grado di riprodurre i filmati in High Definition.

Taipei, Taiwan – January 17 th , 2007 – TUL Corporation, a leading provider of AMD/ATI graphic cards, today announced the PowerColor X1550 in PCI-E, AGP and Silent Cooling System (SCS) variations. These models replace the X1300 brand in an effort to re-emphasize the complete support of AMD/ATI-based graphic cards for Windows Vista platform; particularly for the entry level segment. PowerColor's X1550 comes with a factory overclocked core of 600MHz, with memory speed of 400MHz (800MHz effective) and 256MB of DDR2 RAM.
The X1550 Silent Cooling System edition is a passive solution with zero compromise on performance. It comes complete with same specifications as the standard version. As with the entire X1K series, PowerColor X1550 is CrossFire ready and supports DirectX 9c, Open GL 2.0 and Shader Model 3.0; enabling anti-aliasing with HDR. Avivo engine also ensures accelerated video decode and encode of the latest video formats and support for High-Definition (HD) videos.
" The X1550 is an extremely important model, as it becomes the easiest way of upgrading existing systems to running Windows Vista TM." says Ted Chen, CEO of TUL Corporation.
Key Features of PowerColor X1550
Factory Overclocked from 550MHz to 600MHz
CrossFire ready
Support for DirectX 9c, Open GL 2.0 and Shader Model 3.0
Simultaneous Anti-Aliasing with HDR for smooth graphics
H.264 playback with ATI's Avivo Video- & Display Engine
Windows Vista ready




Source: TUL/Powercolor Press Release
Links


Tags: agp | card | pci-e | powercolor | tul | video | x1550