Con il comunicato stampa di seguito allegato, Club 3D ha annunciato la video card HD4890. Equipaggiata con il processore grafico ATI RV790, che integra 800 stream processor e lavora a 850MHz, e con 1GB di RAM G-DDR5 operante a 3900MHz (tali componenti sono interfacciati con l'ausilio di un bus a 256-bit, ndr), la nuova soluzione Club 3D ricalca fedelmente la topologia dello schema reference e si fa notare per la dotazione di un sistema di raffreddamento custom.
In accordo al produttore, quest'ultimo è in grado di assicurare un livello di rotazione della ventola molto basso, e dunque una rumorosità molto bassa, in corrispondenza di carichi computazionali limitati mentre garantisce tutto il necessario smaltimento del calore durante l'esecuzione delle applicazioni 3D, come il 3D Gaming.
Dal punto di vista delle porte di uscita, la Radeon HD4890 di Club 3D è dotata di due connettori DVI e di una uscita per HDTV; inoltre la scheda può essere collegata a device con ingressi VGA, o D-Sub, e HDMI mediante gli adattatori DVI to VGA e DVI to HDMI inclusi nel suo bundle.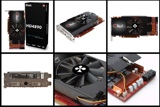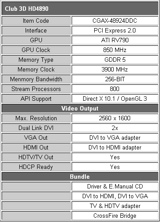 Club 3D global market leader for graphics cards, today announced the release of its new HD4890 graphics card designed specifically for gamers and HD video enthusiasts. The new Club 3D HD4890 delivers High-end performance to users at excellent value. The custom cooling design stays quiet in low demanding operations and cool in heavy 3D applications to ensure safe operating during all your tasks.

Additionally, adopters of the new HD4890 graphics card will find a wide range of adapters bundled inside the retail package to ensure a trouble free integration with HDMI, VGA and DVI displays. Make use of the bundled CrossFireX Bridge by setting up a CrossFireX system to max out your games in any situation and resolution. By maintaining the high quality and reliability standards of existing Club 3D products, the new HD4890 graphics card rewards users with a high performance product.

Enthusiasts should also watch out for the flagship of HD4890 Series the Club 3D HD4890 Superclocked Edition, which offers the best performance in its class and pushes the specifications to unprecedented levels!





News Source: Club 3D Press Release
Links