Con il comunicato stampa di seguito allegato, la californiana NVIDIA ha annunciato due prodotti orientati al mondo dei professionisti, e dunque alla realizzazione di workstation in virtù della certificazione per le applicazioni DCC (Digital Content Creation) e CAD Computer-Aided Design), pur essendo caratterizzati da un ridotto MSRP, qualora questo sia confrontato con quello delle altre soluzioni della medesima categoria.
NVIDIA ha lanciato, in particolare, il chipset Quadro FX 470, progettato per l'implementazione delle motherboard con processore grafico integrato e ad alte prestazioni, e la gpu Quadro FX 370 LP, che invece è destinata ad equipaggiare le schede grafiche discrete Quadro di fascia entry-level.
ASUS è tra i primi partner di NVIDIA in grado di comercializzare una workstation, la TW100-E5 iQuadro, costruita a partire da una motherboard, la P5N-VM WS (cfr. la foto seguente), basata proprio sul chipset Quadro FX 470.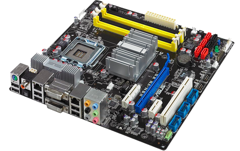 [Immagine ad alta risoluzione]
Anche la video card Quadro FX 370 LP, che non fa uso di un dissipatore attivo, è già sul mercato. Il suo MSRP è pari a $149.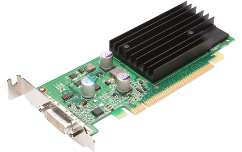 [Immagine ad alta risoluzione]

SANTA CLARA, CA-NOVEMBER 6, 2008 -With today's traditional workstation model pricing, many organizations can only afford to deploy professional graphics solutions to select designers and engineers, leaving a significant portion of the workforce with sub-optimal products. This is about to change as NVIDIA Corp. announced today NVIDIA Quadro FX 470, the first integrated professional motherboard GPU, and NVIDIA Quadro FX 370 Low Profile (Quadro FX 370 LP), an entry-level Quadro graphics boards for small form factor systems.
Honoring NVIDIA's commitment to tailor its Quadro professional line to the specific needs of the end user, the Quadro FX 470 and Quadro FX 370 LP GPU deliver high performance and flexibility at entry-level pricing for computer-aided design (CAD) and digital content creation (DCC) applications.
"In today's competitive global marketplace, engineers, traders, designers and power office users demand more functionality and reliability from their desktop computing solutions," said Jeff Brown, general manager, Professional Services, NVIDIA. "The Quadro FX 470 and the Quadro FX 370 LP are precisely tested, certified and designed to maximize productivity and deliver the cost-effective, professional-quality solution these users require on a daily basis."
Increasing performance and reliability at a ground-breaking price, both systems are certified for key DCC and CAD applications from independent software vendors such as Autodesk and Adobe. Designed to fit seamlessly in a space-saving configuration, the Quadro FX 370 LP GPU has a MSRP at $149 USD and offers professional graphics performance with fanless cooling for a quieter work environment. The Quadro FX 470 GPU expands end customer access to professional graphics by enabling systems to achieve a price point under $700 USD.
"The Quadro FX 470 integrated chipset is a landmark achievement for professional graphics," said Tom Lin, general manager, Server Business Unit, AsusTek COMPUTER Inc. "By offering Quadro FX 470 graphics in our new ASUS TW100-E5 iQuadro workstation, we are giving our customers an entirely new way to get the performance advantages of a Quadro GPU at entry-level pricing. It's a powerful graphics option that we believe the CAD and design communities will eagerly embrace."
Delivering the quality and reliability that the market expects from NVIDIA Quadro solutions, the Quadro FX 470 motherboard GPU and Quadro FX 370 LP feature 128-bit precision graphics pipeline, 32-bit floating point precision, filtering and blending, advanced color compression and early z-culling for improved bandwidth and rendering efficiency, and full-scene antialiasing. Additional features include:
Industry-First Unified GPU Architecture – Dynamically allocates geometry, shading and pixel processing power for high performance in OpenGL, Microsoft DirectX 10 applications
NVIDIA CUDA Technology – Revolutionary parallel computing processor architecture exposed through an extended C language environment, and a tool suite for high-performance visualization
Shader Model 4.0 Support – Enables ultra-realistic, real-time visualization applications
NVIDIA nView Advanced Display Software: The nView hardware and software technology combination delivers maximum flexibility for single-large display or multi-display options and provides unprecedented end-user control of the desktop experience
I/O Scalability and Performance – Extensive I/O slot support enables peripherals like SAS and dual GbE, which lengthen platform life cycle and performance
The Quadro FX 470 motherboard GPU is available from NVIDIA System Integrator partners. The Quadro FX 370 LP GPU is available today, with a MSRP of $149 USD. For more information on NVIDIA Quadro technologies and products, please visit: www.nvidia.com/quadro.





Source: NVIDIA Press Release
Links


Tags: fx | low profile | nvidia | quadro