Con il comunicato stampa di seguito allegato, Palit Microsystems ha lanciato la scheda grafica Palit Radeon HD 4870 1GB Sonic Dual Edition che si fa notare per le prestazioni velocistiche al top della categoria in virtù dell'adozione, da parte del produttore, di un profilo frequenziale per gpu e memoria on board con valori più elevati di quelli indicati da AMD con lo schema reference.
La gpu della card lavora normalmente infatti a 750MHz e la RAM (1GB di G-DDR5) a 3.8GHz; tuttavia, mediante la funzionalità Smart Switch, implementata con il ricorso ad una configurazione dual-bios ed attivata con un pulsante (cfr. la seconda delle foto che seguono), è possibile spingere la componentistica ad operare fuori specifica ovvero in modalità "Turbo Mode" (clock della gpu a 775MHz e RAM G-DDR5 a 4GHz), pur senza rinunciare alla stabilità operativa in virtù del sistema di raffreddamento a doppia ventola adottato dal board maker.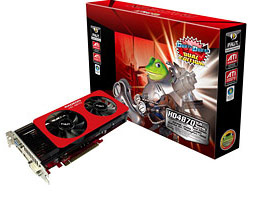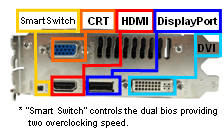 Palit Microsystems, leading graphics card manufacturer, today proudly announces Palit Radeon HD 4870 1GB Sonic Dual Edition with pre-overclocked 750 MHz core speed and 3.8 GHz memory speed. This innovative Sonic Dual Edition card features the overclocking friendly "Smart Switch" allowing users to easily turbocharge the card to 775 MHz core and 4GHz memory speed.
Overclocking is easy and friendly! With its dual bios design, Palit Radeon HD 4870 1GB Sonic Dual Edition has a core frequency of 750 MHz and 1024 MB of cutting edge GDDR5 memory at 3.6 GHzand is able to turbocharge to 4GHz memory speed and 775 MHz core speed with the "Smart Switch"! Every user can be an enthusiast! The revolutionary Palit designed dual-fan cooling system releases users from the worries of overheating. Furthermore, Palit HD 4870 1GB Sonic Edition is equipped with advanced DisplayPort and HDMI making it a future proof graphics card.
Palit Radeon HD 4870 1GB Sonic Dual Edition with pre-overclocked core and memory speed combined with 1024MB king-size memory provides astonishing graphics performance while offering extra memory buffer, allowing users to enjoy extreme performance improvements while playing the latest DX10 PC games under HD large screen and high quality image (such as 8xAA).Palit Radeon HD 4870 1GB Sonic along with the latest PCI-Express 2.0 platform and Microsoft DirectX 10.1 Shader Model 4.1 technology deliver the best gaming, video playback and computational GPU solution. If you want 2X the performance of Palit Radeon HD 4870 1GB Sonic, it supports ATI CrossFireX Technology!
Features
DisplayPort: The advanced DisplayPort output is the future connector standard; it is the state-of-the-art digital audio/video interconnect supports a maximum of 10.8 Gbit/s data rate and 2560×1600 resolution.
Enhanced Anti-Aliasing & Anisotropic FilteringHigh performance anisotropic filtering and 24x custom filter anti-aliasing (CFAA) smooth jagged edges and create true-to-life graphics, for everything from grass to facial features.
CrossFireXTM TechnologyUpgrade to even greater 3D performance quickly and easily thanks to plug-and-play ATI CrossFireX technology with up to quad-GPU support.
PCI Express 2.0 Support:Designed to run perfectly with the new PCI Express 2.0 bus architecture. PCI Express 2.0 products are fully backwards compatible with existing PCI Express motherboards for the broadest support.
Power to SpareThis GPU has the brute processing power needed for physics, artificial intelligence, stream computing and ray tracing calculations.
ATI PowerPlay TechnologyATI PowerPlay Technology delivers high performance when needed and conserves power when the demand on the graphics processor is low.
AvivoTM HD VideoFully integrated HD audio capabilities and supports playback of multi-channel (5.1) audio streams. Avivo HD enables a one-cable HDMI connectivity solution to high definition home theaters.
HDCP CapableDesign to meet the output protection management (HDCP) and security specification of the Blu-ray Disc and HD DVD formats, allowing the playback of encrypted movie content on PCs when connected to HDCP-compliant displays.
4-in-one DisplayCRT, HDMI, Dual-link DVI, and DisplayPort




Source: Palit Microsystems Press Release
Links


Tags: hd | palit | radeon | sonic