Con il comunicato per la stampa di seguito allegato, Point of View ha reso noto di aver ampliato la propria gamma di schede grafiche di classe GeForce 9 con la nuova GeForce 9400 GT, disponibile in ben quattro varianti, di seguito elencate con le informazioni inerenti il product number, la denominazione commerciale, la tipologia del cooler e le uscite in dotazione:

R-VGA150915, GeForce 9400 GT 1024MB, Active, DVI + VGA
R-VGA150914, GeForce 9400 GT 512MB, Active, DVI + VGA
R-VGA150915-P, GeForce 9400 GT 1024MB, Passive, DVI + VGA
R-VGA150914-P, GeForce 9400 GT 512MB, Passive, DVI + VGA


Il core delle 9400 GT lavora a 550MHz mentre gli shader inclusi nella gpu lavorano invece a 1375MHz; Point of View ha poi abbinato al processore grafico un PCB equipaggiato con 512MB o 1024MB di RAM DDR2, la cui frequenza di clock è pari a 800MHz nel primo caso e a 666MHz nel secondo.

Pur trattandosi sostanzialmente di soluzioni low-cost ed entry-level in termini prestazionali, il produttore ne sottolinea l'elevato grado di idoneità per la realizzazione di sistemi Media Center in virtù del ridotto consumo di potenza, della bassa temperatura operativa e della rumorosità ridotta nelle versioni con dissipatore attivo e nulla in quelle con cooler passivo.

Le nuove GeForce 9400 GT implementano il supporto delle tecnologie Shader Model 4.0 e DirectX 10, al pari delle sorelle maggiori. Inoltre permettono la decodifica in hardware, mediante PureVideo HD (H.264 e VC-1), del contenuto multimediale in High Definition presente nei dischi Blu-ray e HD-DVD.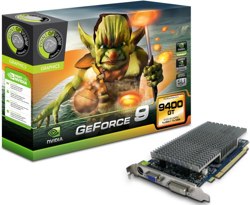 [Immagine ad alta risoluzione]

POINT OF VIEW, well known for its range of NVIDIA based Graphics cards, is launching today a new GeForce 9 series graphics card, the GeForce 9400 GT.

This graphics card will be available both in a passive and active version. Especially the passive version is perfectly suitable for Media Center use due to its low power consumption, cool temperatures and silent operation.

Also the shader model 4.0 and DirectX 10 support, hardware decoding possibilities of High definition video with NVIDIA PureVideoHD, this card is a definite keeper.

The GeForce 9400 GT will be available with 512MB up to 1GB of DDR2 memory. Its core has a speed of 550 MHz and its shader processors are kicking it on 1375 MHz. The memory runs on a speed of 800MHz or 666MHz, respectively for the 512MB and 1024MB version.
The board's been equipped with a dual link DVI connector, allowing resolutions up to 2560x1600!

Characteristics of GeForce 9 graphics cards:
 - Native support for Blu-ray and HD-DVD decoding through PureVideo HD (H.264 and VC-1)
 - Support for Microsoft DirectX 10 and 9 and Shader model 4.0
 - All efficiency improving functions of Vista such as Windows vSidebar

This midrange graphics card will be available from today. Visit the "Where to Buy" section of our website for a sales point in your country.

Product numbers
R-VGA150915        GeForce 9400 GT 1024MB, Active, DVI + VGA
R-VGA150914        GeForce 9400 GT 512MB, Active, DVI + VGA
R-VGA150915-P    GeForce 9400 GT 1024MB, Passive, DVI + VGA
R-VGA150914-P    GeForce 9400 GT 512MB, Passive, DVI + VGA





Source: Point of View Press Release
Links


Tags: card | geforce | geforce 9400 gt | gt | nvidia | point of view | pov | variante