Con il comunicato stampa di seguito allegato Creative ha annunciato il nuovo player multimediale Zen X-Fi. Disponibile in due versioni, Zen X-Fi e Zen X-Fi con Wireless Lan, in funzione della capacità di connessione alle reti Wi-Fi, il lettore portatile di Creative è il primo in assoluto a vantare la dotazione della tecnologia Xtreme Fidelity X-Fi.
Tutti i nuovi Zen includono un display TFT da 2.5-inch, uno slot per la lettura di una memory card di tipo SD, una radio FM, un microfono, il supporto dei formati WMV, AVI, MJPEG, MPEG4-SP, DivX 4, DivX 5 e XviD, la sincronizzazione con i contatti di Outlook e l'Instant Messenger (per la sola variante Wi-Fi).
Il Creative ZEN X-Fi con Wireless LAN e capacità di memorizzazione di 32Gb è disponibile sul mercato di Singapore con un MSRP pari a circa $293 mentre quello da 16Gb ha un MSRP di circa $241. La versione da 8Gb, che non include peraltro la connettività Wi-FI, sarà commercializzata a fine mese con un MSRP di circa $168.
Creative non ha reso nota la tempistica che guiderà l'arrivo sul mercato di questa linea di prodotti.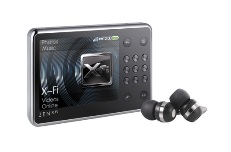 [Immagine ad alta risoluzione]

SINGAPORE - 10 July, 2008 - Creative Technology Ltd., a worldwide leader in digital entertainment, today announced the Creative ZEN® X-Fi® and Creative ZEN X-Fi with Wireless LAN digital media players for music, video and photos. The only players to feature award-winning Xtreme Fidelity™ X-Fi audio technology, the Creative ZEN X-Fi with Wireless LAN is available today at The CREATIVE Stores at Marina Square, Plaza Singapura and International Business Park, the online store at sg.store.creative.com and authorised dealers in Singapore. The Creative ZEN X-Fi will be available later this month.
The Creative ZEN X-Fi and Creative ZEN X-Fi with Wireless LAN provide a breakthrough in sound quality for MP3, WMA and unprotected iTunes music with the X-Fi Crystalizer, a proprietary audio technology developed at Creative's Advanced Technology Center that restores the highs and lows to music during playback that were lost during the ripping to MP3, WMA or AAC formats. This allows you to listen to your music at a higher quality than was previously possible on any MP3 player.
The Creative ZEN X-Fi with Wireless LAN introduces a new way to experience music in your home. The Creative ZEN X-Fi's Wireless LAN capability enables you to wirelessly stream and download music from your PC to your player over your wireless home network, and playback in X-Fi audio quality. From the living room to the bedroom, the Creative ZEN X-Fi with Wireless LAN can access the music on your home PC, which can be played through the built-in speaker, a home speaker system, or even the Creative ZEN X-Fi Docking Speaker System accessory, which provides room-filling X-Fi audio quality in a portable speaker. You can also stream and download your video files in supported formats and your photos directly to your Creative ZEN X-Fi with Wireless LAN from your PC. In addition, you can stream a variety of ZENcast and podcast channels to the player.
With the Creative ZEN X-Fi, you can really experience your music with the sound quality of the original recordings. To truly deliver the ideal music listening experience, Creative is including a set of premium EP-830 in-ear earphones with every Creative ZEN X-Fi and Creative ZEN X-Fi with Wireless LAN player.
"We're very excited to achieve this breakthrough of adding our X-Fi audio technology to a ZEN player, setting the highest standard in audio quality for portable music players," said Craig McHugh, President and COO of Creative. "Some of the top recording artists in the music industry are very outspoken about the poor quality of digital music. We addressed the issue of the poor quality of digital music by inventing X-Fi technology, which restores the quality of music that is lost during the digital ripping process, and now for the first time ever we've been able to implement this technology in a ZEN."
"We also give you the freedom and flexibility of being able to listen to music, watch videos and view photos on your Creative ZEN X-Fi with Wireless LAN that are stored on your PC," continued McHugh. "You can also wirelessly add your favourite music, videos and photos to your player from your PC, so you'll always have them with you wherever you go."
The Creative ZEN X-Fi and Creative ZEN X-Fi with Wireless LAN also feature:

A built-in speaker so you can listen to favourite songs with friends
X-Fi Expand to move and expand the sound forward for a natural listening experience over headphones that simulates the sound from stereo speakers
An SD card slot so you can add more music, video or photos to the player
A vibrant 2.5-inch TFT display with 16.7 million colour support for an excellent viewing experience with videos and album art
Built-in FM radio with 32 presets
Built-in microphone for voice recording
The new Creative Centrale application for organising, CD and playlist creation, and transfer of a wide variety of video formats, including WMV, AVI, MJPEG, MPEG4-SP, DivX 4 and 5 and XviD
Using Creative Centrale, player syncs with Microsoft Outlook - contact, calendar, "To Do" list and more
Creative ZEN X-Fi Video Converter, which converts video files to formats suitable for wireless streaming, will be made available for web download early August 2008
Exclusively on the Creative ZEN X-Fi with Wireless LAN models, enjoy free instant messaging over popular IM services including Yahoo! Messenger and Windows Live! Messenger. Chat with friends and express yourself using personalised emotive avatars with different facial expressions and hair styles
Creative ZEN X-Fi Accessories

The Creative TravelSound ZEN X-Fi Docking Speaker System, available end September for S$79.00
An elegantly designed leather case, available this month for S$29.90
A silicone skin which protects the player, available this month for S$19.90
An armband which holds the player, available this month for S$29.90
A three-pack of screen protector, available this month for S$12.90
Pricing and Availability
The Creative ZEN X-Fi with Wireless LAN is available today in a 32GB model for S$399.00 and a 16GB model for S$329.00. The Creative ZEN X-Fi 8GB model which does not include the Wireless LAN function will be available later this month for S$229.00. The Creative TravelSound ZEN X-Fi Docking Speaker System will be available end September for S$79.00.

For more information about the Creative ZEN X-Fi and Creative ZEN X-Fi with Wireless LAN players, please visit www.creative.com/zenxfi.






Source: Creative Press Release
Links


Tags: creative | creative zen | player | wi-fi | x-fi