Con il comunicato stampa di seguito allegato, Matrox Graphics ha annunciato la disponibilitÓ della serie di schede grafiche M. La denominazione scelta dal board-maker canadese Ŕ strettamente connessa alla principale peculiaritÓ di tali controller, pensati per i collegamenti multi-monitor. Queste schede, tutte compliant con il bus PCI-Express x16 e dotate di 512Mb di memoria on board (che Matrox indica come da tradizione con il termine "frame buffer", ndr), possono controllare simultaneamente fino a quattro monitor.
Segue l'elenco delle nuove video card, ciascuna delle quali Ŕ accompagnata da presso consigliato dal produttore:
M9120 PCIe x16 $259 USD
M9125 PCIe x16 $399 USD
M9120 Plus LP PCIe x16 $329 USD
M9120 Plus LP PCIe x1 $329 USD
M9140 LP PCIe x16 $599 USD
Matrox M9140 LP PCIe x16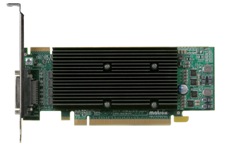 [Immagine ad alta risoluzione]

Montreal, Canada, June 25 /PRNewswire - Matrox Graphics announces the availability of its M-Series multi-monitor graphics cards. These quad-capable display cards offer 512MB of memory, native PCIe x16 performance, and support for independent or stretched mode on up to four monitors simultaneously.
"Many applications require the ability to drive multiple monitors - from two to eight displays per seat - especially in high-end corporate, government, and industrial environments," states Alan Vandenbussche, VP Sales and Marketing, Matrox Graphics. "The M-Series represents next-generation Matrox graphics technology specifically designed for these display-hungry professionals."
The M-Series cards are WHQL-certified on both Microsoft=C2=AE Windows=C2=AE XP and Windows Vista=C2=AE, and ship with unified drivers for easy deployment across a wide variety of systems.
Matrox M-Series Highlights
Multi-Monitor Features:
Native digital quad-monitor support with PCIe x16 performance (M9140)
Dual digital output cards offer low-cost instant upgrade to quad analog output via external cable (M9120 Plus)
Drive up to two monitors per card at maximum resolutions of 2560 x 1600 (M9125 - digital) or 2048 x 1536 (M9120 - analog) per display
Pristine image quality for the highest resolution monitors
Advanced Multi-Monitor Desktop Management:
Support up to four widescreen monitors (DVI or analog) in portrait and landscape simultaneously as one large desktop or with independent resolutions
Matrox PowerDesk software for configuring and managing program windows on multiple monitors
Passive Cooling:
Fanless design eliminates noise and increases product reliability.
Availability and Pricing
The Matrox M-Series graphics cards will be available in Q3/08.
M9120 PCIe x16 $259 USD
M9125 PCIe x16 $399 USD
M9120 Plus LP PCIe x16 $329 USD
M9120 Plus LP PCIe x1 $329 USD
M9140 LP PCIe x16 $599 USD
Quad analog upgrade cable $99 USD




Source: Matrox Press Release
Links


Tags: card | gamma | matrox | multi-monitor | video