Point of View, uno tra i maggiori costruttori di schede grafiche basate su gpu NVIDIA, ha aggiunto al suo listino la card GeForce 8800GTX Exo Edition. Questo prodotto Ŕ una sorta di GeForce 8800GTX in versione speciale essendo caratterizzato da un maggiore velocitÓ di elaborazione dei frame.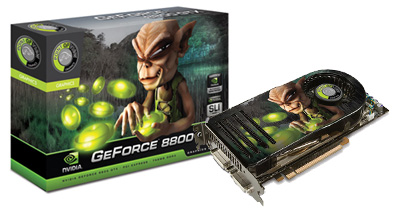 L'incremento prestazionale Ŕ stato ottenuto mediante l'innalzamento della frequenza di clock della gpu, il cui core lavora a 600MHz mentre il valore standard Ŕ di 575MHz, e dei chip di memoria RAM G-DDR3 installata on board, operanti a 1900MHz contro i 1800MHz standard.

Segue l'elenco dettagliato delle specifiche della GeForce 8800GTX Exo Edition, diffuso da Point of View mediante il proprio il sito web.
| | |
| --- | --- |
| Graphics Engine | : NVIDIA 8800 GTX GPU |
| Video Memory | : 768 MB |
| Core Clock | : 600 Mhz |
| Memory Clock | : 1900 Mhz |
| Memory Speed | : 1.1 ns GDDR 3 |
| Memory Bus | : 384 bit |
| Interface | : PCI Express 16x |
| RAMDAC | : Dual 400 Mhz |
| D-Sub | : No |
| DVI-I | : 2x |
| TV-Out | : Yes |
| Video-In | : No |
| HDTV | : Yes |
| Unified Shaders | : 128 |




Collegamenti


Tags: geforce | geforce 8800 gtx | nvidia | point of view | pov