EVGA risponde a BFG, che ha di recente lanciato una GeForce 8800GTS con 320Mb di RAM e clock del core fuori standard essendo fissato a 550MHz (cfr. questa notizia), annunciando due nuove GTS siglate e-GeForce 8800 GTS Superclocked e e-GeForce 8800GTS EGS 320Mb.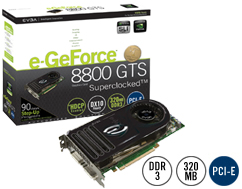 EVGA e-GeForce 8800 GTS Superclocked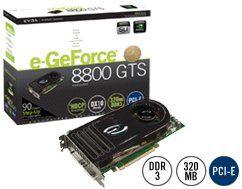 EVGA e-GeForce 8800GTS EGS 320Mb
Mentre la EGS è sostanzialmente un prodotto fortemente aderente al design reference curato da NVIDIA, la versione Superclocked si fa notare per gli elevati valori della frequenza di clock sia del core della gpu (576MHz) che della memoria locale (1.7GHz), naturalmente molto lontani dalle specifiche di riferimento (500MHz, 1.6GHz) ma anche superiori a quelli della GeForce 8800 GTS OC di BFG (550MHz, 1.6GHz).
Il prezzo della e-GeForce 8800 GTS Superclocked suggerito dal produttore è di €349 mentre quello della e-GeForce 8800GTS EGS 320MB è pari a €329.

Brea, California and Munich, Germany - February 12, 2007 — EVGA, a market leader and premier provider of high-performance graphics solutions and mother boards today an-nounced the release of two new NVIDIA e-GeForce 8800 GTS series graphics cards with 320MB of fast GDDR3.
EVGA is the first in the market to introduce the e-GeForce 8800 GTS Superclocked (P/N: 320-P2-N815-AR in the US and P/N: 320-P2-E815-AR in Europe). It has been carefully tuned and thoroughly tested to "Superclocked" at a blazing Core Clock speed of 576MHz and an amazing 1.7GHz Memory Clock. It has a recommended retail price of 349€ in Europe.
Also being announced; the e-GeForce 8800GTS EGS 320MB (P/N: 320-P2-N811-AR in the US and P/N: 320-P2-E811-AR in Europe) running at 500 MHz core clock and 1.6GHz mem-ory clock has a recommended retail price of € 329 in Europe.
Both e-GeForce 8800 GTS EGS, running at EVGA's genuine specs, and the Superclocked version, running at enhanced settings. have undergone vigorous and thorough in-house testing and burn-in procedures to meet our own stringent quality, performance and reliability requirement providing the ultimate gaming experience for gamers and power users.
It was this passion for excellence that enabled Vince "k|ngp|n" Lucido to set the world record for 3DMark 2006 at over 24,000 points with a pair of EVGA 8800GTX's and an EVGA 680i premium motherboard!
Both e-GeForce 8800 GTS EGS and Superclocked are available for immediate shipping from major distributors, retailers and on-line etailers.
The EVGA Difference
Known for offering value and performance, as well as top notch customer service, EVGA is recognized through customer loyalty and the highest levels in customer satisfaction. In addition to the expanded product lines, consumers and channel partners will also benefit from increased sales and technical support programs:

The EVGA Limited 10 Year Warranty in Europe - available for all retail EVGA Graphics Cards.
24/7 Phone Technical Support - to assure users that courteous and friendly assistance will always be available at anytime of the day or night.
Step-Up™ Program - for the ability to trade up existing EVGA products for newer technology.
Community Message Boards -full of thousands of knowledgeable, friendly and satis-fied EVGA customers.