Il produttore taiwanense A-DATA ha annunciato, mediante il comunicato stampa di seguito allegato, la realizzazione della prima memory card al mondo dotata di un display che visualizza lo spazio disponibile.
La card, che è di tipo Secure Digital, è indicata dal produttore con la sigla info SD: essa offre il vantaggio di fornire una precisa indicazione della capacità di memorizzazione senza richiedere la connessione al pc o a un lettore.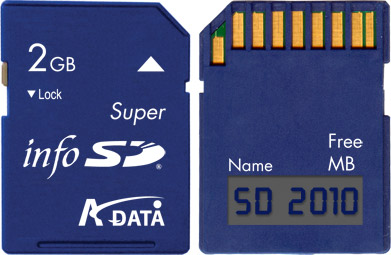 Il display visualizza due caratteri che sintetizzano il nome del prodotto e quattro digit che indicano lo spazio libero in megabyte.

New York, November 8, 2006 – The Consumer Electronics Association (CEA®) today announced A-DATA Technology as an International CES Best of Innovations 2007 Design and Engineering Awards Honoree for "info SD" at the International CES New York Press Preview. The Best of Innovations awards are given to the most highly honored products in each of the 31 product categories within the Innovations Design and Engineering Awards.
Products entered in this prestigious program are judged by a preeminent panel of independent industrial designers, engineers and members of the trade press to honor outstanding design and engineering in cutting edge consumer electronics products.
A-DATA' info SD is the world's first SD card that utilizes bi-stable display technology, allowing the independent display of the available space on the card at any time without additional power. In addition, info SD is capable of showing 2 characters for name and 4 digits for free capacity via auto-calculation.
As a widely renowned consumer technology awards program that began in 1989, the prestigious Innovations Design and Engineering Awards recognize achievements in product design and engineering. It is sponsored by CEA, the producer of the International CES, the world's largest consumer technology tradeshow, and endorsed by the Industrial Designers Society of America (IDSA), the voice of industrial design, committed to advancing the profession through education, information, community and advocacy.
A-DATA's info SD will be displayed at the 2007 International CES, which runs January 8-11, 2007 in Las Vegas, Nevada. The Innovations Design and Engineering Showcase will feature honorees by product category at Innovations Plus at the Sands Expo and Convention Center, Booth #68747. New for 2007: High-Performance Audio (HPA) Innovations Honorees will also be exhibited in The Venetian on the third floor, across from the San Polo Ballroom. Best of Innovations honoree products will also displayed at the Grand Lobby of Las Vegas Convention Center, next to Experience CEA, and at CES Unveiled: The Official Press Event of the International CES. Visit www.CESweb.org/innovations for details on Innovations 2007 Design and Engineering Honorees.
Products entered into Innovations 2007 must be available to market to U.S. retail outlets or the company website between January 1, 2006 and June 30, 2007. The Innovations entries are judged based on the following criteria:
Engineering qualities of the product, including technical specifications and
materials used
The product's intended use/function and user value
Aesthetic and design qualities (using visuals provided)
Unique and novel features
Contributions to consumers' quality of life
Impact on the manufacturer's business model
Products chosen as an Innovations honoree reflect innovative design and engineering of the entries. Examples may include the first time various technologies are combined in a single product or dramatic enhancements to previous product designs.
Innovations honoree products are featured on www.CESweb.org/Innovations, where you can see a list of product categories, as well as each product name, manufacturer information, designer, description, photo and URL.


Source: A-DATA Press Release
Links