NVIDIA ha annunciato, mediante il comunicato stampa allegato di seguito, la gpu siglata GeForce Go 7950 GTX (cfr. foto seguente), destinata all'impiego nei sistemi mobile e caratterizzata, in accordo alle dichiarazioni del produttore, da prestazioni al top di gamma.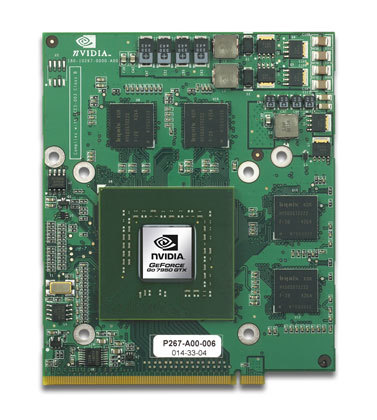 La GeForce Go 7950 GTX avvicina sempre più i notebook al realistico mondo dell'High Definition Gaming, essendo forte del supporto per DirectX 9c, Shader Model 3.0 e High Dynamic Range (HDR) Lighting; è inoltre in grado di assicurare l'accelerazione hardware per i formati video HD, tra cui H.264, grazie alla tecnologia proprietaria PureVideo.
E' già possibile ordinare notebook equipaggiati con la nuova gpu sia in Nord America che in Europa. Tra i system builder più attivi segnaliamo Dell che propone la soluzione Dell XPS M1710 (cfr. foto seguente) sia nel nuovo che nel vecchio continente.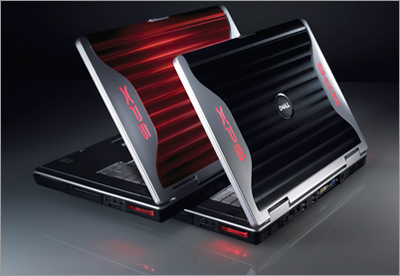 DIGITALLIFE—NEW YORK, NY—OCTOBER 12, 2006— NVIDIA Corporation (Nasdaq: NVDA) has once again raised the bar for notebook graphics performance with the release of the NVIDIA GeForce Go 7950 GTX graphics processing unit (GPU)—the world's fastest notebook GPU on the market. Notebooks with the new GPU are available for order from select top gaming notebook makers in North America and Europe. Gamers can experience the power of this new GPU in Dell notebooks at DigitalLife 2006 in New York City.
"Dell is fully committed to delivering the most intensely realistic gaming and entertainment experience to PC gamers," said Brett Faulk, director of Inspiron and mobile XPS product marketing. "Dell XPS notebooks have swept the awards thanks to their sheer gaming performance and the Dell XPS M1710 with GeForce Go 7950 GTX is our best yet."
The NVIDIA GeForce 7 series of notebook GPUs, with their superior performance per watt, have become the overwhelming choice of the top gaming notebook makers and notebook gamers worldwide. The new flagship GeForce Go 7950 GTX GPU further extends the Company's performance and market leadership in notebook GPUs with advanced features including:
Rapid performance driver updates direct from NVIDIA that offer superior performance, stability and compatibility for the latest 3D games and applications.


Support for the latest games and applications with DirectX 9.0, Shader Model 3.0 and film quality high dynamic range (HDR) lighting, delivering vivid realism to HD games.


GPU acceleration of HD video formats like H.264 through NVIDIA PureVideo technology - the combination of GPU hardware and software delivers a high-definition home theater video experience to the PC.


NVIDIA PowerMizer® technology, with advanced power management features that enable the dramatic performance enhancements in the same power budget as the previous generation of NVIDIA mobile GPUs.


A high performance 3D architecture built for Microsoft Windows Vista— the industry's first operating system to require a dedicated GPU to realize its full potentialiii.
"2006 is a phenomenal year of growth and technology leadership for NVIDIA notebook GPUs. The efficient NVIDIA GeForce 7 series GPU architecture continues to deliver the ultimate visual experience in notebooks of every class—from lightweight ultra-portables to HD DVD multimedia machines," says Jeff Fisher, Senior Vice President of the GPU Business Unit at NVIDIA. "Notebooks based on our flagship GeForce Go 7950 GTX GPU will deliver the premiere visceral experience for gamers."
Notebooks featuring the NVIDIA GeForce Go 7950 GTX GPU are available for order from these select industry leading notebook partners in North America and Europe:
North America: Dell, Sager, ABS, Falcon Northwest, Hypersonic, ProStar, and Voodoo


Europe: Dell, Chiligreen, Cybersystem, Evesham, Multirama, Rock, and XS2.




Source: NVIDIA Press Release
Links


Tags: geforce | geforce 7950 gtx | gpu | gtx | nvidia