Con il comunicato stampa di seguito allegato Microsoft ha annunciato la data di lancio sul territorio statunitense del suo primo digital media player siglato Zune (cfr. foto seguente) e dei servizi on line ad esso collegati (nel complesso indicati dal produttore con l'acronimo "Zune Experience", ndr) nonchè il prezzo del lettore.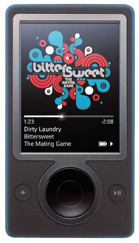 Il player, che è in grado di aprire i file audio in formato WMA, MP3, AAC, le foto in formato JPEG ed i video in formato WMV, MPEG-4 e H.264, sarà disponibile il 14 Novembre e costerà $249.99: esso si pone in chiara competizione con l'iPod di Apple, la cui versione da 30Gb (quest'ultima è la sola capacità di memorizzazione disponibile per Zune, ndr) costa infatti $249.

REDMOND, Wash. — Sept. 28, 2006 — Microsoft Corp. is putting the social into digital music, starting this holiday. Today the company announced that the Zune™ digital media player and online service will be available to consumers in the U.S. on Nov. 14, 2006, just in time for the holidays. The Zune device will retail for $249.99 U.S. (ERP) and will create new ways for entertainment fans to connect and share media experiences device-to-device through the use of wireless technology and new software scenarios.
For $249.99, consumers will get an incredible entertainment experience right out of the box:
| | |
| --- | --- |
| • | 30GB digital media player will come equipped with wireless functionality for Zune-to-Zune sharing of music, pictures and home recordings; a bright, three-inch LCD video screen that works in portrait or landscape mode to view pictures and videos; and a built-in FM tuner. The device will be available in three colors: black, brown and white. |
| • | A selection of preloaded content including songs, music videos and film shorts are installed on the device's hard drive to help consumers discover new artists and entertainment. |
Zune makes it easy to find music you love — whether it's songs in your existing library or new music from the Zune Marketplace:
| | |
| --- | --- |
| • | Its dynamic music service will be continually updated with new content and experiences so there is always something to discover. The Zune Marketplace lets users browse and purchase songs individually. |
| • | A Zune Pass subscription gives consumers access to millions of songs for $14.99 per month. |
| • | Users can purchase songs individually using Microsoft® Points for 79 points per track. Similar to a pre-paid phone card, Microsoft Points is a stored value system that can be redeemed at a growing number of online stores, including the Xbox Live® Marketplace. |
In addition, consumers can choose from a full line of accessories to enhance the Zune experience and help Zune users enjoy their entertainment where they want to, at home or on the road. Accessories range in price from $19.99 to $99.99.
"On Nov. 14 we're delivering not only a device, but a shared, social experience that will be shaped by the collective imagination of consumers," said Chris Stephenson, general manager of global marketing for Zune. "We're infusing the spirit of discovery and sharing into everything we do — from the experience we crafted around the device and service to pre-loading music and videos on every device to expose people to something new."
Pre-Loaded Content
Zune is a vehicle to explore new sounds and experiences. With that in mind, Microsoft pre-loaded each Zune device with a variety of songs and music videos from hot, new artists as well as some fun films and images. With something for everyone, the pre-loaded Zune content may just help you discover your new favorite band. Zune preloaded content includes the following:
Audio Tracks
| | |
| --- | --- |
| • | Band of Horses, "Wicked Gil" (Sub Pop Records) |
| • | Bitter:Sweet, "The Mating Game" (Quango Music Group) |
| • | CSS, "Alala (Microsoft edit)" (Sub Pop Records) |
| • | Darkel, "At The End of The Sky (edit)" (Astralwerks) |
| • | Every Move a Picture, "Signs of Life" (V2) |
| • | Small Sins, "Stay" (Astralwerks) |
| • | The Adored, "Tell Me Tell Me" (V2) |
| • | The Rakes, "Open Book" (V2) |
| • | The Thermals, "A Pillar of Salt" (Sub Pop Records) |
Music Video
| | |
| --- | --- |
| • | 30 Seconds to Mars, "The Kill" (Virgin Records) |
| • | BT, "1.618" (DTS Entertainment) |
| • | Chad VanGaalen, "Red Hot Drops" (Sub Pop Records) |
| • | Coldcut featuring Roots Manuva, "True Skool" (Ninja Tune) |
| • | CSS, "Let's Make Love and Listen to Death From Above" (Sub Pop Records) |
| • | Fruit Bats, "Live: The Wind That Blew My Heart Away" (Sub Pop Records) |
| • | Grandaddy, "Elevate Myself" (V2) |
| • | Hot Chip, "Over and Over" (Astralwerks Records) |
| • | Kraak & Smaak featuring Dez., "Keep Me Home" (Quango Music Group) |
| • | Kinski, "Live: The Snowy Parts of Scandinavia" (Sub Pop Records) |
| • | Paul Oakenfold, "Faster Kill Pussycat (Featuring Brittany Murphy)" (Maverick Records) |
| • | Serena-Maneesh, "Drain Cosmetics" (Playlouderecordings) |
Film Shorts
| | |
| --- | --- |
| • | 5 Boro: "A New York Skateboarding Minute" (Skateboarding) |
| • | Radical Films: "Kranked — Progression" (Mountain Biking) |
| • | TGRTV The North Face (Skiing/Snowboarding) |
Images
| | |
| --- | --- |
| • | A variety of images to personalize a Zune device, including 12 classic rock posters from "Art of Modern Rock" |
Zune Accessories
For entertainment fans who want to experience their media from anywhere, Microsoft will offer the following accessories:
| | |
| --- | --- |
| • | Zune Home A/V Pack. The Home A/V Pack includes everything you need to amplify your Zune experience. This set of five products integrates Zune with your big-screen TV and the best speakers in your house. The wireless remote puts you in control from virtually anywhere in the room. When you buy the Zune Home AV Pack, you'll get the AV Output Cable, Zune Dock, Zune Wireless Remote with Lithium Battery, Zune Sync Cable and Zune AC Adapter for $99.99. |
| • | Zune Travel Pack. The Travel Pack includes everything you need to travel with your Zune device in style. This set of five products is designed to keep you and your friends and family entertained while you travel. When you buy the Zune Travel Pack, you'll get the Zune Dual Connect Remote, Zune Premium Earphones, Zune Gear Bag, Zune Sync Cable and Zune AC Adapter for $99.99. |
| • | Zune Car Pack. The Car Pack includes everything you need to hit the road with your Zune device. With AutoSeek, setup is easy, and you can enjoy your music on the go and charge at the same time. When you buy the Zune Car Pack, you'll get the FM tuner with AutoSeek and the Zune Car Charger for $79.99. |
Sold Individually
| | |
| --- | --- |
| • | Zune AV Output Cable. The A/V Output Cable lets you connect your Zune device to a TV and home stereo. Ideal for listening to music and showing pictures and video, the A/V Output Cable is simple to set up and use, and will retail for $19.99. |
| • | Zune AC Adapter. The AC Adapter lets you charge your Zune device without a PC. For convenience, the AC Adapter will charge your Zune device in about three hours and will retail for $29.99. |
| • | Zune Sync Cable. The Sync Cable lets you connect your Zune device to your PC or the Zune AC Adapter (sold separately). It works as a replacement for your original sync cable or as a spare for travel and charging, and will retail for $19.99. |
| • | Zune Car Charger. The Car Charger lets you charge your device in the car while listening to your favorite music and even while using the FM tuner with AutoSeek (sold separately). The Car Charger will retail for $24.99. |
| • | Zune Dock. The Dock elegantly displays your Zune device anywhere in your home or office. Featuring a connector port and an audio/video output, the Dock is ideal for syncing, charging and connecting with home A/V equipment. (A/V connectivity requires the Zune A/V Output Cable, sold separately.) The Dock will retail for $39.99. |
| • | Zune Wireless Remote for Zune Dock. Designed for use with Zune Dock (sold separately), the Wireless Remote lets you control your device from across the room. The Wireless Remote gives you quick access to your current playlist as well as full control over menu navigation and volume. The Wireless Remote will retail for $29.99. |
| • | Zune Dual Connect Remote. The Dual Connect Remote offers convenient playlist control and two headphone jacks with independent amplifiers and volume controls so you can listen with a friend or family member. The Dual Connect Remote will retail for $29.99. |
| • | Zune FM tuner With AutoSeek. The FM tuner with AutoSeek lets you wirelessly listen to music through your car's stereo through the FM radio. AutoSeek automatically finds the optimal station so it's easy to set up, and will retail for $69.99. |
| • | Zune Gear Bag. The Gear Bag lets you bring Zune and related accessories with you wherever you go. The Gear Bag comes with a rugged exterior and fitted compartments to protect your device while you travel. The Gear Bag will retail for $29.99. |
| • | Zune Premium Earphones. Designed exclusively for use with Zune, the Premium Earphones produce superior sound and feature a noise-isolating, in-ear design. With a convenient storage case and three earpiece sizes to choose from, you can listen to your music with added comfort and quality. The Premium earphones will retail for $39.99. |
The Next Step in Connected Entertainment

In addition to the rich service and Zune-to-Zune sharing capabilities available at launch, the built-in wireless technology and powerful software provide a strong foundation for Zune to continue to build new shared experiences around music and video. "We're offering a compelling experience right out of the box and providing customers with a solid base to customize and personalize their entertainment," Stephenson said. "This is just the beginning."





Source: Microsoft Press Release
Links


Tags: microsoft | prezzo | zune