nVIDIA ha reso noto di aver avviato una collaborazione con Sun che ha portato alla integrazione nelle workstation a 64 bit della linea Sun Ultra 40 (cfr. foto seguente, questi sistemi sono tipicamente impiegati in ambito CAD, cinema, imaging e digital content creation, ndr) dei processori grafici della serie Quadro FX, chip progettati per il segmento professionale e rappresentanti la massima espressione attuale della tecnologia nVIDIA.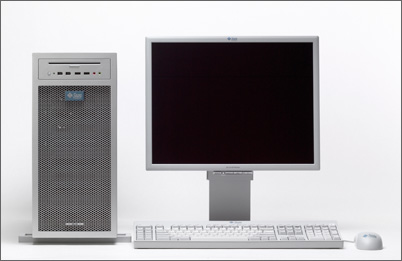 Queste workstation di Sun sono dotate, in base alla richiesta del cliente, di una tra le seguenti unità di calcolo grafiche: Quadro FX 5500 (top di gamma, viene abbinata a 1Gb di memoria video G-DDR2), Quadro FX 3500, Quadro FX 1500 e Quadro FX 560.

SANTA CLARA, CA—August 24, 2006—NVIDIA Corporation (Nasdaq: NVDA), the worldwide leader in programmable graphics processor technologies, today announced an array of NVIDIA Quadro FX graphics are now available in the high-performance 64-bit Sun Ultra 40 workstations. Prominent in the film and broadcast, digital content creation, oil and gas, geosciences, mechanical computer-aided design (CAD) and medical imaging industries, Sun Ultra 40 workstations deliver record-setting performance in many industry benchmarks and offer ultra-fast processing for large, complex datasets.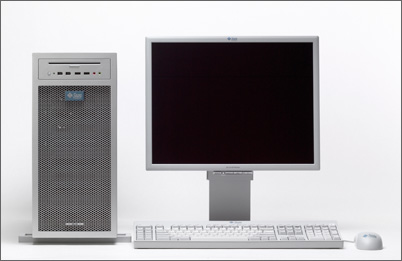 "Sun is offering a range of NVIDIA graphics solutions as standard configurations in our Sun Ultra 40 workstations, including the flagship NVIDIA Quadro FX 5500 GPU, which delivers impressive scalability, performance and features for mission-critical applications in the CAD, DCC and Visualization markets," said Graham Lovell, senior director, x64 Systems and Networking Business at Sun. "Through our partnership with NVIDIA, Sun Ultra 40 workstation customers have access to some of the industry's most advanced professional graphics solutions, as soon as they are available, to quickly deliver on the most visually demanding projects."
The Sun Ultra 40 workstation offerings include:
NVIDIA Quadro FX 5500 – Offers 1GB DDR2, two dual-link DVI-I connectors and a stereo connector; also includes SLI technology, SDI and is G-Sync capable


NVIDIA Quadro FX 3500 – Delivers 256MB GDDR3 frame buffer, two dual-link DVI connectors, a stereo connector and industry leading 42.2GB/s memory bandwidth


NVIDIA Quadro FX 1500 – Provides high performance coupled with two dual-link DVI connectors, 256MB GDDR3 frame buffer memory and HD video output


NVIDIA Quadro FX 560 – Presents compelling price performance, featuring dual-DVI connectors with 128MB of graphics memory


"NVIDIA Quadro FX graphics offer a range of high-end features for professional graphics, providing Sun customers with a variety of solutions to meet their individual needs," said Jeff Brown, general manager, NVIDIA Professional Solutions Group. "When coupled with the high-performance Sun Ultra 40 workstations, NVIDIA Quadro FX graphics help users quickly realize the most complex visualization challenges."





Source: nVIDIA Press Release
Links


Tags: fx | nvidia | quadro | sun | ultra 40 | workstation