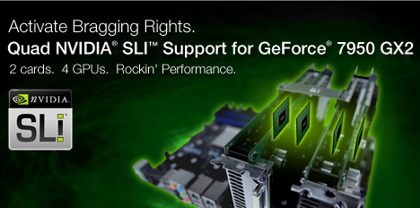 nVIDIA ha reso noto, mediante il comunicato stampa allegato di seguito, di aver rilasciato la prima final release del driver ForceWare in grado di supportare la tecnologia proprietaria Quad SLI. Con ForceWare v. 91.45 è infatti possibile utilizzare sullo stesso computer due schede grafiche GeForce 7950 GX2 (ciascuna delle quali ospita due gpu in SLI) connesse a loro volta in SLI.
Ricordiamo che una configurazione hardware di questo tipo, che con ForceWare 91.45 diviene anche forte del supporto del software di controllo, è possibile eseguire i game compatibili in modalità High-Definition Gaming (XHD) ovvero alla risoluzione di 2560x1600 e con un dettaglio grafico non ottenibile con nessun altra soluzione di pari ambito attualmente in commercio.
Il comunicato del chip-maker americano termina con le indicazioni inerenti i chip-set per motherboard e le cpu in grado di ottimizzare la resa del Quad SLI: si tratta rispettivamente dei chip-set nForce4 SLI X16 e nForce 590/570 SLI e dei processori AMD Athlon FX-62 e Intel Core 2 Duo.
Per il download del driver consultare questo documento.


SANTA CLARA, CA—AUGUST 9, 2006—NVIDIA Corporation (Nasdaq: NVDA), the worldwide leader in programmable graphics processor technologies, has made extreme high-definition PC gaming a reality for everyone with the release of the new NVIDIA ForceWare 91.45 graphics driver with Quad NVIDIA SLI technology support. For the first time, users in the do-it yourself (DIY) segment have access to Quad SLI technology, which utilizes the power of four GPUs to make extreme high-definition gaming (XHD)—with resolutions of up to 2560x1600—a possibility for hardcore gamers and computer enthusiasts.
Enthusiasts can now build their own ultimate gaming PC by combining:
ForceWare 91.45 graphics driver


Two NVIDIA SLI-Ready GeForce 7950 GX2 graphics cards


An NVIDIA nForce4 SLI X16- or a new NVIDIA nForce 590/570 SLI-based motherboard


An AMD Athlon FX- 62 or Intel Core 2 Duo processor
"By offering this level of graphics performance to the innovative minds of PC enthusiasts who prefer to build and tune their own systems, we expect to see 'maximum performance' redefined," said Ujesh Desai, general manager of desktop GPUs at NVIDIA. "For the ultimate gaming platform, you can't go wrong with a system built around a NVIDIA nForce SLI MCP-based motherboard and a pair of NVIDIA GeForce 7950 GX2 graphics cards and completing the set-up with a top-of-the-line CPU and a widescreen display."

The NVIDIA ForceWare 91.45 graphics driver is available now on www.nvidia.com/drivers.

NVIDIA SLI technology is a revolutionary platform innovation that allows users to intelligently scale graphics performance by combining multiple NVIDIA graphics solutions in a single system with an NVIDIA nForce SLI MCP-based motherboard. By using SLI technology, users can put two GeForce 7950 GX2 graphics cards to work in parallel, harnessing the power of four GPUs to deliver XHD resolutions, including an incredible 2560x1600, while still maintaining ultra smooth frame rates, stunning visuals and pristine image quality for an immersive gaming experience.

For further information on NVIDIA SLI technology, the GeForce 7 Series GPUs, or to download the ForceWare 91.45 graphics driver, please visit http://www.nvidia.com.





Source: nVIDIA Press Release
Links