Apple, con il comunicato stampa di seguito allegato, ha presentato le nuove workstation Mac Pro basate sull'architettura Intel Core a 64 bit. La notizia è particolarmente rilevante poichè queste soluzioni sostituiscono quelle siglate Power Mac G5 Quad (basate su cpu G5, ndr) e, in accordo alle parole del costruttore, sono in grado di offrire performance "mozzafiato" (fino a due volte superiori a quelle dei Power Mac G5 Quad, ndr) e una maggiore "efficienza" nella gestione della potenza.
I nuovi Mac Pro (cfr. foto seguente) sono basati su due processori dual-core della linea Xeon 5100 di Intel: il clock di questi chip raggiunge il valore massimo di 3GHz per core. Inoltre, ogni core utilizza una memoria cache L2 di 4Mb mentre la frequenza di FSB è fissata a 1.33GHz. La memoria centrale è di tipo DDR2 fully-buffered a 667MHz, il che fornisce una larghezza di banda per il flusso binario pari a 256 bit.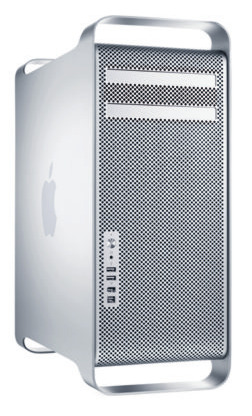 [Immagine ad alta risoluzione]
Ogni Mac Pro include quattro slot PCI-Express al fine di garantire un'ampia espandibilità: la scheda grafica fornita di serie è basata sulla gpu GeForce 7300 GT di nVIDIA ed è dotata di 256Mb. Essa assicura il supporto per il doppio display e per il monitor Cinema HD di Apple (cfr. foto seguente).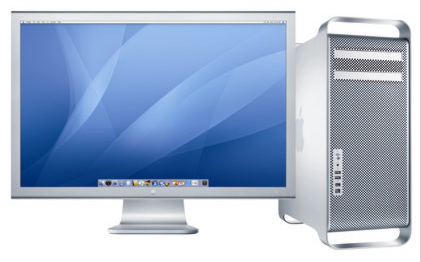 [Immagine ad alta risoluzione]
Tuttavia le configurazioni sono altamente personalizzabili dagli utenti: è infatti possibile ordinare il pc con un controller grafico alternativo, come la Radeon X1900 XT di ATI e la Quadro FX 4500 di nVIDIA, per fruire di High Definition ai massimi livelli.
Apple, simultaneamente all'annuncio ufficiale, ha anche avviato la commercializzazione delle workstation: per fissare le idee quella in versione base, con due Xeon a 2.66MHz, 1Gb di DDR2 667 e scheda grafica GeForce 7300 GT, è acquistabile nei negozi ad un prezzo pari a $2,499.

WWDC 2006, SAN FRANCISCO—August 7, 2006—Apple today unveiled the new Mac Pro, a quad Xeon, 64-bit desktop workstation featuring two new Dual-Core Intel Xeon processors running up to 3.0 GHz and a new system architecture that delivers up to twice the performance of the Power Mac G5 Quad*. With advanced performance, greater expansion, higher performance graphics options and unprecedented customization, the newly designed Mac Pro is the ideal system for the most demanding user. The introduction of the Mac Pro marks the completion of a rapid and seamless transition for Apple, with the entire Mac family now using Intel's latest processors.
"Apple has successfully completed the transition to using Intel processors in just seven months—210 days to be exact," said Steve Jobs, Apple's CEO. "And what better product to complete it with than the new Mac Pro, the workstation Mac users have been dreaming about."
The new Mac Pro features the new Dual-Core Intel Xeon 5100 series processor based on the revolutionary Intel Core microarchitecture, delivering breakthrough performance and power efficiency. The new Mac Pro is up to twice as fast as the Power Mac G5 Quad running industry standard benchmarks and features two Dual-Core Intel Xeon processors running up to 3.0 GHz, each with 4MB of shared L2 cache and independent 1.33 GHz front-side buses. With 667 MHz DDR2 fully-buffered memory, the Mac Pro also boasts a 256-bit wide memory architecture for amazing bandwidth.
With more than 4.9 million possible configurations, the Mac Pro delivers unprecedented customization to meet even the most demanding performance, expansion and storage needs. The newly redesigned Mac Pro features an all new, direct attach storage solution for cable free, snap in installation of up to four 500GB Serial ATA hard drives for a total of 2TB of internal storage—the most ever on a Mac—and support for two optical drives to simultaneously read and/or write to CDs and DVDs. Every Mac Pro includes three full-length PCI Express expansion slots and one double-wide PCI Express graphics slot to support high-powered, double-wide graphics cards without sacrificing multiple slots. Providing quick and convenient access to connect the most popular external devices, the front panel of the Mac Pro includes a FireWire 800 port, a FireWire 400 port and two USB 2.0 ports with additional FireWire 800, FireWire 400 and three USB 2.0 ports on the back panel. Mac Pro also includes dual Gigabit Ethernet ports, optical digital input and output, analog audio input and output, and optional built-in support for AirPort Extreme and Bluetooth 2.0+EDR.
Every Mac Pro comes standard with the NVIDIA GeForce 7300 GT with 256MB of video memory, providing built-in support for dual-displays and Apple's 30-inch Cinema HD Display. The ATI Radeon X1900 XT and the NVIDIA Quadro FX 4500, both with 512MB of video memory, are available as build to order options and provide built-in support for up to two 30-inch Apple Cinema HD Displays. The Quadro FX 4500 also includes a stereo 3D port to connect goggles for stereo-in-a-window applications and is ideal for the most demanding animation, special effects and scientific visualization applications. The Mac Pro supports up to four PCI Express graphics cards to drive up to eight displays at once for advanced visualization and large display walls.
The latest release of the world's most advanced operating system, Mac OS X version 10.4.7 Tiger, comes with every new Mac Pro, including Safari™, Mail, iCal and iChat AV, running natively. Tiger includes an innovative software translation technology called Rosetta that lets customers run most Mac OS X PowerPC applications seamlessly.** Intel-based Mac customers have more than 3,000 Universal applications to choose from including all of Apple's own consumer and professional applications. Universal Mac software includes versions of Xsan, a high performance, enterprise class Storage Area Network (SAN) file system and Mac OS X Server, Apple's award-winning server operating system. An updated list of Universal applications for Mac OS X is available at guide.apple.com/universal and is growing each day with hundreds of developers announcing support for Mac OS X Intel-based applications.
Apple's award-winning widescreen flat panel Cinema Displays offer the perfect match for the Mac Pro and are now more affordable than ever. The 30-inch Cinema HD Display with an industry-leading 2560-by-1600 pixel resolution and the 23-inch Cinema HD Display with a 1920-by-1200 pixel resolution, ideal for editing High Definition Television (HDTV) content, are now priced at $1,999 and $999, respectively. The 20-inch Cinema Display is now just $699 and offers a 1680-by-1050 pixel resolution, more than enough space to edit full size images with plenty of room for on-screen palettes.
Pricing & Availability
The Mac Pro is shipping today with the standard prebuilt configuration, including two 2.66 GHz Dual-Core Intel Xeon processors and priced at $2,499 (US), through the Apple Store (www.apple.com), Apple's retail stores and Apple Authorized Resellers. The 20-inch Cinema Display, 23-inch Cinema HD Display and the 30-inch Cinema HD Display are available through the Apple Store (www.apple.com), at Apple's retail stores and Apple Authorized Resellers for a suggested retail price of $699 (US), $999 (US) and $1,999 (US), respectively.
The Mac Pro, with a suggested retail price of $2,499 (US), includes:
two 2.66 GHz Dual-Core Intel Xeon processors;
1GB of 667 MHz DDR2 fully-buffered ECC memory expandable up to 16GB;
NVIDIA GeForce 7300 GT with 256MB of GDDR2 SDRAM;
250GB Serial ATA (3Gb/s) hard drive running at 7200 rpm;
16x SuperDrive™ with double-layer support (DVD+R DL/DVD±RW/CD-RW);
four PCI Express slots: one double-wide graphics slot and three full-length expansion slots; and
ships with Mighty Mouse and Apple Keyboard.
In addition to the standard configuration, the Mac Pro offers more than 4.9 million build-to-order options including: two 2.0 GHz or 3.0 GHz Dual-Core Intel Xeon processors; up to 16GB of 667 MHz DDR2 fully-buffered ECC memory; up to four 500GB Serial ATA hard drives running at 7200 rpm; up to two 16x SuperDrives with double-layer support; ATI Radeon X1900 XT and NVIDIA Quadro FX 4500 graphics cards, both with 512MB of GDDR3 SDRAM; AirPort Extreme module, Bluetooth 2.0+EDR module; Apple USB Modem; Apple Wireless Keyboard and Apple wireless Mighty Mouse; Mac OS X Server Tiger; Apple Xsan; and Apple Fibre Channel PCI Express Card. Complete build-to-order options and pricing are available at www.apple.com/macpro.

*Based on estimated results of industry-standard SPECint and SPECfp rate tests. SPEC is a registered trademark of Standard Performance Evaluation Corporation (SPEC); see www.apple.com/macpro for more information.

**See www.apple.com/rosetta/ for information on Rosetta supported Apple software. Contact the manufacturer directly for third party software.





Source: Apple Press Release
Links