Il rilascio dei recente driver GeForce 358.50 pare aver invertito i rapporti di forza tra le GPU di NVIDIA e AMD in ambito DirectX 12 o, pių in dettaglio, con il benchmark del gioco, peraltro non ancora in commercio, Ashes of the Singularity.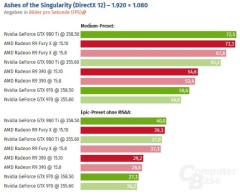 [Immagine ad alta risoluzione]
Infatti, al suo esordio on line, l'applicativo di testing di cui sopra aveva evidenziato un consistente gap prestazionale a favore delle Radeon rispetto alle GeForce. A giudicare, invece, dai test condotti dal sito tedesco ComputerBase, utilizzando la risoluzione video Full HD pari a 1920 x 1080 pixel, ora la GeForce 980 Ti di NVIDIA č pių veloce della Radeon R9 Fury X (a dire il vero, il divario č molto limitato in quanto inferiore al punto percentuale), anche se entrambe le card evidenziano un boost prestazionale con il driver update.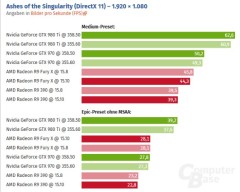 [Immagine ad alta risoluzione]

In ambiente DirectX 11, invece, il benchmark di Ashes of the Singularity premia nettamente le GPU di NVIDIA, e i rapporti di forza in questo caso non sono cambiati in funzione del driver video configurato.





Collegamenti


Tags: amd | ashes of the singularity | benchmark | directx 12 | driver | geforce | nvidia | radeon