Corsair ha annunciato nuovi moduli di memoria DDR4 pronti per la prossima piattaforma Core i7 Haswell-E di Intel e il chipset X99 Express su cui si basa.

Si tratta più in dettaglio dei moduli Vengeance LPX e Dominator Platinum, progettati per equipaggiare in entrambi i casi i nuovi desktop di fascia alta Intel-based e anche ottimizzati per l'overclocking nel caso delle soluzioni Vengeance LPX.

In accordo al comunicato stampa di Corsair che vi proponiamo di seguito in lingua originale e versione integrale, i moduli di RAM DDR4 Vengeance LPX e Dominator Platinum sono realizzati con DIMM a 288-pin e sono destinati alla commercializzazione mediante kit la cui capacità varia come segue: 8GB (2x4GB), 16GB (4x4GB), 32GB (4x8GB) e 64GB (8x8GB).

I nuovi moduli DDR4 di Corsair, a seconda del modello considerato, sono caratterizzati da una velocità effettiva pari a 2666MHz, 2800MHz e 3000MHz: in tutti i casi supportano la tecnologia Intel XMP 2.0 (Extreme Memory Profile) e vantano, come da specifiche DDR4, consumi ridotti e tensioni di polarizzazione più basse rispetto alle soluzioni equivalenti appartenenti alla precedente generazione DDR3.

L'arrivo sul mercato delle DDR4 Vengeance LPX e Dominator Platinum di Corsair è fissato per la fine del mese corrente.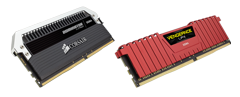 [Immagine ad alta risoluzione]

Corsair, a leader in high-performance PC hardware, today announced the availability of Corsair Vengeance LPX and Dominator Platinum lines of high-speed DDR4 computer memory. This new generation of memory ushers in a new age of ultrafast computing with optimizations such as increased DRAM bandwidth, higher bus frequencies, lower power usage, and higher reliability.
Corsair Vengeance LPX and Dominator Platinum DDR4 memory kits are validated with motherboard partners (ASUS, ASRock, EVGA, Gigabyte, and MSI) and use the new XMP 2.0 profile to deliver easy, reliable overclocking performance with the upcoming next-generation Intel X99 platforms and Intel Core i7 processors (codenamed Haswell-E). The Vengeance LPX and Dominator Platinum memory kits are supplied with a limited lifetime warranty.
Vengeance LPX
Vengeance LPX memory is a new Corsair memory line designed for high-performance overclocking with a low-profile heatspreader is made of pure aluminum for faster heat dissipation and the eight-layer PCB helps manage heat and provides superior overclocking headroom. The memory kits are available in black, red, white, or blue so that enthusiasts, gamers, and modders can add a touch style to match the color scheme of their PC.
Dominator Platinum
Like the DDR3 memory versions, the new Dominator Platinum DDR4 memory kits have a striking industrial design for good looks, patented DHX technology for cooler operation, user-swappable colored "light pipes" for customizable downwash lighting, and Corsair Link compatibility for real-time temperature monitoring. Dominator Platinum memory is built with hand-screened ICs, undergoes rigorous performance testing, and incorporates state-of-the-art cooling for reliable performance in demanding environments.
Vengeance LPX and Dominator Platinum DDR4 Specifications
Unbuffered DDR4 SDRAM in 288-pin DIMM
Capacities at launch: 8GB (2x4GB), 16GB (4x4GB), 32GB (4x8GB) and 64GB (8x8GB)
Speeds at launch: 2666MHz, 2800MHz, and 3000MHz
Intel XMP 2.0 (Extreme Memory Profile) support
About DDR4

DDR4 is faster.

Even at the baseline speed of DDR4 delivers twice the bandwidth with 2133 MT/s (million transfers per second) compared with the base DDR3 1600 MT/s. With optimizations games and applications have the potential to load faster and run more smoothly.

DDR4 uses a lot less power and runs cooler.

Like the DDR3 memory versions, the new Dominator Platinum DDR4 memory kits have a striking industrial design for good looks, patented DHX technology for cooler operation, user-swappable colored "light pipes" for customizable downwash lighting, and Corsair Link compatibility for real-time temperature monitoring. Dominator Platinum memory is built with hand-screened ICs, undergoes rigorous performance testing, and incorporates state-of-the-art cooling for reliable performance in demanding environments.

DDR4 memory modules can get bigger.

Like the DDR3 memory versions, the new Dominator Platinum DDR4 memory kits have a striking industrial design for good looks, patented DHX technology for cooler operation, user-swappable colored "light pipes" for customizable downwash lighting, and Corsair Link compatibility for real-time temperature monitoring. Dominator Platinum memory is built with hand-screened ICs, undergoes rigorous performance testing, and incorporates state-of-the-art cooling for reliable performance in demanding environments.

Pricing, Availability, and Warranty

Corsair Vengeance LPX Series and Dominator Platinum DDR4 memory kits will be available at the end of August from Corsair's worldwide network of authorized distributors and resellers. The Vengeance LPX and Dominator Platinum memory kits are supplied with a limited lifetime warranty and are backed up by Corsair's customer service and technical support.





Source: Corsair Press Release
Links


Tags: corsair | ddr4 | dominator platinum | haswell-e | intel | vengeance lpx | x99 express | xmp 2.0