NVIDIA ha annunciato oggi che diversi vendor di server stanno sfruttando le prestazioni degli acceleratori GPU NVIDIA per lanciare i primi sistemi di sviluppo ARM a 64 bit per l'high performance computing (HPC) al mondo.
Progettati principalmente per i micro-server e i web server, in virtù della loro elevata efficienza energetica, i processori per server ARM64 sono ora in grado di affrontare anche carichi di lavoro di classe HPC, se abbinati ad acceleratori GPU e alla piattaforma di programmazione parallela NVIDIA CUDA 6.5, che supporta i processori ARM a 64-bit.
Le GPU offrono ai produttori di server ARM64 la potenza necessaria per affrontare carichi di lavoro HPC, permettendo loro di realizzare sistemi ad alte prestazioni, in grado di trarre i massimi benefici dall'efficienza energetica dell'architettura ARM e dalle possibilità di configurazione. A seguire sarà riportato un elenco dei primi sistemi ARM64 disponibili sul mercato internazionale.
HPC Computing a elevata efficienza
Basati su CPU ARM 64 Applied Micro X-Gene e acceleratori GPU NVIDIA Tesla K20, i nuovi server ARM64 offriranno una vasta gamma di opzioni per il computing ad alte prestazioni ed elevata efficienza, destinate soprattutto al calcolo intensivo HPC e ai carichi di lavoro dei Data Center di classe Enterprise. Gli utenti saranno, inoltre, immediatamente in grado di sfruttare centinaia di applicazioni scientifiche e di ingegneria HPC già esistenti e accelerate da CUDA, semplicemente ricompilandole per i sistemi ARM64.
"NVIDIA ha dato vita alla più completa piattaforma per il calcolo accelerato del settore, tra cui server, software, strumenti di sviluppo, processori e tecnologie correlate, tutte ottimizzate per il settore HPC.", ha dichiarato Ian Buck, vice president of Accelerated Computing di NVIDIA, "Le GPU sono la tecnologia che consentirà ai produttori di server di creare sistemi di classe HPC con i processori ARM64. Il risultato sarà quello che avremo soluzioni per l'HPC nuove e altamente innovative."
Utilizzo di ARM per favorire la ricerca scientifica
"Puntiamo a sfruttare gli ultimi progressi della tecnologia, sia all'interno sia all'esterno del mercato HPC, per far avanzare le scienze in modi completamente nuovi", ha dichiarato Pat McCormick, senior scientist presso il Los Alamos National Laboratory. "Stiamo lavorando con NVIDIA per capire come possiamo unire l'accelerazione GPU con tecnologie insolite come ARM per contribuire all'avanzamento della ricerca scientifica e dell'innovazione."
"La possibilità di accelerare server ARM a 64 bit è uno degli sviluppi più significativi che quest'anno ha segnato il mercato HPC.", ha dichiarato Earl Joseph, IDC program vice president per l'HPC, "IDC ritiene che vi sia un notevole interesse all'interno della comunità HPC per i sistemi ARM a 64-bit con accelerazione GPU nell'ambito del calcolo di prossima generazione."
Disponibili dal prossimo mese
Le prime piattaforme di sviluppo ARM64 con accelerazione GPU saranno rese disponibili nel mese di luglio da Cirrascale Corp. e E4 Computer Engineering, mentre per i sistemi di produzione si prevede la disponibilità entro la fine dell'anno. Anche il Gruppo Eurotech prevede la disponibilità dei primi sistemi entro la fine del 2014.
Dettaglio dei sistemi:
Cirrascale RM1905D - Server 1U ad alta densità due-in-uno con due acceleratori GPU Tesla K20; offre elevate prestazioni, bassi costi di gestione per il cloud privato, il public cloud, l'HPC e per applicazioni enterprise.
E4 EK003 - Un server appliance 3U dual-motherboard a basso consumo, pronta per la produzione con due acceleratori GPU Tesla K20, progettato principalmente per sismica, signal e image processing, video e track analysis, applicazioni web e il MapReduce processing.
Eurotech - Aurora è un Server HPC modulare ad alta efficienza energetica e a ultra-elevata densità, basato su tecnologia proprietaria Brick e dotato di sistema per il raffreddamento a liquido caldo diretto.
NVIDIA mostrerà i nuovi sistemi di sviluppo ARM presso l'International Supercomputing Conference (ISC), dal 23 al 26 Giugno, presso lo stand 230.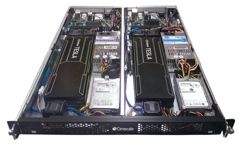 [Immagine ad alta risoluzione]

NVIDIA today announced that multiple server vendors are leveraging the performance of NVIDIA GPU accelerators to launch the world's first 64-bit ARM development systems for high performance computing (HPC).
ARM64 server processors were primarily designed for micro-servers and web servers because of their extreme energy efficiency. Now, they can tackle HPC-class workloads when paired with GPU accelerators using the NVIDIA CUDA 6.5 parallel programming platform, which supports 64-bit ARM processors.
GPUs provide ARM64 server vendors with the muscle to tackle HPC workloads, enabling them to build high-performance systems that maximize the ARM architecture's power efficiency and system configurability. A list of initial ARM64 systems is provided below.
Highly Efficient HPC Computing Options
Featuring Applied Micro X-GeneARM64 CPUs and NVIDIA Tesla K20 GPU accelerators, the new ARM64 servers will provide customers with an expanded range of efficient, high-performance computing options to drive compute-intensive HPC and enterprise data center workloads. In addition, users will immediately be able to take advantage of hundreds of existing CUDA-accelerated scientific and engineering HPC applications by simply recompiling them to ARM64 systems.
"NVIDIA has built the industry's most comprehensive accelerated computing platform -- including servers, software, development tools, processors, and related technologies -- optimized for the HPC industry," said Ian Buck, vice president of Accelerated Computing at NVIDIA. "GPUs are the enabling technology that allow server vendors to build HPC-class systems around flexible ARM64 processors. The result is new, highly innovative computing solutions for HPC."
Using ARM to Drive Scientific Discovery
"We aim to leverage the latest technology advances, both within and beyond the HPC market, to move science forward in entirely new ways," said Pat McCormick, senior scientist at Los Alamos National Laboratory. "We are working with NVIDIA to explore how we can unite GPU acceleration with novel technologies like ARM to drive new levels of scientific discovery and innovation."
"The availability of accelerated 64-bit ARM servers is one of the most significant developments to hit the HPC market this year," said Earl Joseph, IDC program vice president for HPC. "IDC believes there is substantial interest within the HPC community in evaluating GPU-accelerated 64-bit ARM systems for next-generation computing projects."
Availability Next Month
The first GPU-accelerated ARM64 development platforms will be available in July from Cirrascale Corp. and E4 Computer Engineering, with production systems expected to ship later this year. The Eurotech Group also plans to ship production systems later this year. System details include:
Cirrascale RM1905D - High-density two-in-one 1U server with two Tesla K20 GPU accelerators; provides high-performance, low total cost of ownership for private cloud, public cloud, HPC, and enterprise applications.
E4 EK003 - Production-ready, low-power 3U, dual-motherboard server appliance with two Tesla K20 GPU accelerators, designed for seismic, signal and image processing, video analytics, track analysis, web applications and MapReduce processing.
Eurotech - Ultra-high density, energy efficient and modular Aurora HPC server configuration, based on proprietary Brick Technology and featuring direct hot liquid cooling.




Source: NVIDIA Press Release
Links


Tags: arm64 | comunicato stampa | gpu | high performance computing | hpc | nvidia | press release