Oggi è stato aggiunto un nuovo capitolo a quello che sul Web viene definito senza mezzi termini come un vero e proprio scandalo dal nome particolarmente significativo di resolutiongate.
Quest'ultimo è legato alla differente risposta prestazionale, e quindi alla differente giocabilità, che si riscontra considerando le edizioni per PlayStation 4 e Xbox One di alcuni titoli particolarmente in voga. In generale è emerso, infatti, che alcuni game girano con una risoluzione differente sulle console di nuova generazione, e più in dettaglio a 1080p sulla PS4 e a 720p sulla Xbox One.
[Immagine ad alta risoluzione]
Sono segnalati, tuttavia, anche dei casi, come quello della edizione per le console next gen di Tomb Raider, denominata Tomb Raider: Definitive Edition, che si fanno notare non tanto per la risoluzione video, pari a 1080p per entrambe le console, ma per la diversità dei frame rate in valore medio e massimo.
Dei recenti rumor segnalati da Rocket Chainsaw, connessi in qualche modo con la fase di testing, che è in corso, di Tomb Raider: Definitive Edition, hanno evidenziato che il game sarebbe eseguito con un frame rate medio pari a 35fps su Xbox One e a 45fps su PS4.
In accordo al report di Rocket Chainsaw, inoltre, non ci sarebbe partita nemmeno in termini di frame rate massimo, ovvero dei valori di picco del frame rate, che raggiunge la soglia dei 60fps con la PS4 e non supera quella dei 45fps con la nuova console di Microsoft.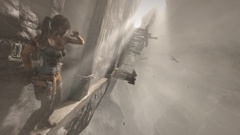 [Immagine ad alta risoluzione]
Non essendo il game ancora in commercio, il sito Videogamer ha cercato di fare luce sulla vicenda interpellando direttamente Square Enix, il publisher di Tomb Raider: Definitive Edition, e ottenendo questa risposta.
---
"Both platforms offer the same outstanding Tomb Raider experience. Delivering the core Tomb Raider gameplay at native 1080p and running at 30fps was always our primary goal given the type of experience Tomb Raider is and the exploration we want players to do. Anything beyond 30fps for this version is gravy."
---
Secondo Square Enix, quindi, "l'esperienza di gioco è identica su entrambe le piattaforme". Il publisher, inoltre, mostra non poca soddisfazione poichè "consentire il gameplay con la risoluzione di 1080p e il frame rate di 30fps rappresentava un obiettivo primario per assicurare ai player l'esperienza di gioco pianificata."
Tuttavia, l'impressione di essere di fronte a una risposta fin troppo diplomatica diviene (quasi) una certezza se si considera che, sempre al sito Videogamer, il produttore esecutivo di Tomb Raider: Definitive Edition, Scot Amos, aveva rivelato con fierezza quanto segue.
---
"Looking here, this is the PS4 version running at 60fps, again at 1080p...That's awesome for that to be able to showcase because when you get your hands on it you can feel it."
---
E dunque, Tomb Raider: Definitive Edition gira a 60fps su PlayStation 4, nonostante le omissioni con le quali si tenta, se non una sorta di smentita ufficiale, almeno una opera di minimizzazione del fenomeno. Che invece è significativo poichè, a parità di risoluzione video, tra l'edizione di Tomb Raider: Definitive Edition per PS4 e quella per Xbox One vi sarebbe un divario pari 10fps in termini di valore medio e a 15fps in termini di valore massimo.

Troppo per non attendersi una diversa giocabilità tra le due edizioni per evidenti ragioni di natura tecnica e abbastanza per spingere un publisher di primo piano, come Square Enix, a cercare di gettare acqua sul fuoco con un messaggio che, in ultima analisi, rischia esclusivamente di alimentare il resolutiongate.





Collegamenti