SUNNYVALE, Calif., 14 gennaio 2014 — AMD (NYSE: AMD) presenta le unità di elaborazione accelerata (Accelerated Processing Units, APU) AMD A-Series 2014, le APU ad alte prestazioni più evolute e facili da programmare mai realizzate da AMD. Le APU A-Series (nome in codice: Kaveri) con grafica AMD Radeon R7 sono state progettate includendo nuove caratteristiche che permettono di offrire un'esperienza PC senza precedenti e prestazioni mozzafiato in ambito gaming.

Tra le nuove caratteristiche e i miglioramenti presenti nelle nuove APU A-Series di AMD troviamo:
fino a 12 Compute Core (4 CPU e 8 GPU) che permettono alla APU di esprimere il suo massimo potenziale[i];
l'Heterogeneous System Architecture (HSA), una nuova architettura intelligente che permette alla CPU e alla GPU di lavorare in modo armonico ottimizzando l'assegnazione dei vari compiti all'elemento più adatto per la sua elaborazione, con un conseguente miglioramento in termini di prestazioni e di efficienza sia per gli utenti che per gli sviluppatori;
la premiata architettura Graphics Core Next (GCN) alla base della grafica AMD Radeon R7 Series, per prestazioni di altissimo livello e supporto alle DirectX 11.2[ii];
le apprezzate API Mantle di AMD, che semplificano l'ottimizzazione dei giochi permettendo agli sviluppatori di spingere le prestazioni dei titoli compatibili, a livelli mai visti prima [iii];
AMD TrueAudio, una tecnologia audio surround a 32 canali in grado di offrire il massimo in termini di realismo e di "immersione" audio[iv];
supporto alle risoluzioni UltraHD (4K) e migliorie nell'elaborazione video post-produzione per consentire ai video con risoluzione 1080p ulteriori miglioramenti quando upscalati su monitor o TV UltraHD[v];
compatibilità con il socket FM2+ per un'infrastruttura in grado di funzionare con le APU e le CPU.
"AMD conferma la sua leadership tecnologica con le APU A-Series 2014, una rivoluzionaria generazione di APU che segna una nuova era nel mercato del PC", osserva Bernd Lienhard, corporate vice president e general manager, Client Business Unit, AMD. "Grazie alla presenza di tecnologie grafiche e di elaborazione di prima classe all'interno di un singolo chip, le APU A-Series di AMD rappresentano una soluzione efficace ed efficiente per gli utenti, in grado di offrire un'esperienza PC di altissimo livello".

Le APU A10-7850K e A10-7700K verranno commercializzate in bundle con Battlefield 4 di EA, per offrire l'esperienza di gioco su APU migliore della categoria[vi].

I PIB (processor-in-a-box) AMD A-Series per le APU AMD A10-7850K e AMD A10-7700K sono in distribuzione a partire dall'ultimo trimestre 2013 e sono da oggi disponibili per la vendita, mentre l'APU AMD A8-7600 seguirà nel corso del primo trimestre di quest'anno. La memoria AMD Radeon R9 2400 Gamer Series è stata inoltre testata e certificata per le APU AMD A10, che sono così in grado di esprimere tutto il loro potenziale grazie alla tecnologia AMD Memory Profile (AMP), offrendo velocità fino a 2400MHz. Per maggiori informazioni, visitare la pagina Radeon Memory.

Le APU AMD A-Series sono inoltre disponibili all'interno dei PC realizzati dai partner di AMD. Per ulteriori informazioni, visitare la pagina dedicata.


[i] AMD defines a "Radeon Core" as one Shader/Shader Array. The term "GPU Core" is an evolution of the term "Radeon Core". "GPU Core" is defined as having 4 SIMDS each comprising of 64 Shaders/Shader Arrays. For example, 512 "Radeon Cores" equals 8 "GPU Cores" (8 GPU Cores x 4 SIMDs x 16 Shader Arrays = 512 Radeon Cores). Visit www.amd.com/computecores for more information.

[ii] The GCN Architecture and its associated features (AMD Enduro, AMD ZeroCore Power technology, DDM Audio, and 28nm production) are exclusive to the AMD Radeon HD 7700M, HD 7800M and HD 7900M Series Graphics and select AMD A-Series APUs. Not all technologies are supported in all system configurations—check with your system manufacturer for specific model capabilities.

[iii] Mantle application support is required.

[iv] AMD TrueAudio technology is offered by select AMD Radeon R9 and R7 200 Series GPUs and select AMD A-Series APUs and is designed to improve acoustic realism. Requires enabled game or application. Not all audio equipment supports all audio effects; additional audio equipment may be required for some audio effects. Not all products feature all technologies—check with your component or system manufacturer for specific capabilities.

[v] Requires 4K display and content. Supported resolution varies by GPU model and board design; confirm specifications with manufacturer before purchase.

[vi] Battlefield 4 is valued at MSRP $59.99 USD. Bundle offered while supplies last. For more information, please visit: www.amd.com/battlefield4offer.

[vii] SEP as of January 14, 2014.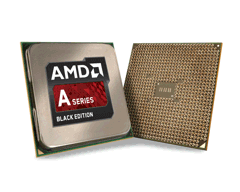 [Immagine ad alta risoluzione]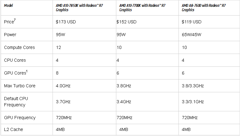 [Immagine ad alta risoluzione]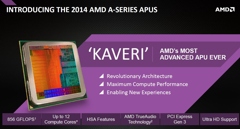 [Immagine ad alta risoluzione]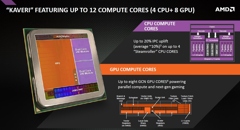 [Immagine ad alta risoluzione]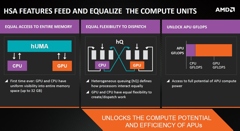 [Immagine ad alta risoluzione]

AMD (NYSE: AMD) today launched the 2014 AMD A-Series Accelerated Processing Units (APUs), the most advanced and developer friendly performance APUs from AMD to date. The AMD A-Series APUs with AMD Radeon R7 graphics, codenamed "Kaveri", are designed with industry-changing new features that deliver superior compute and heart-pounding gaming performance.

New and improved features of the AMD A-Series APUs include:
Up to 12 Compute Cores (4 CPU and 8 GPU) unlocking full APU potential1;
Heterogeneous System Architecture (HSA) features, a new intelligent computing architecture that enables the CPU and GPU to work in harmony by seamlessly streamlining right tasks to the most suitable processing element, resulting in performance and efficiency for both consumers and developers;
Award-winning Graphics Core Next (GCN) Architecture with powerful AMD Radeon R7 Series graphics for performance that commands respect and with support for DirectX 11.22;
AMD's acclaimed Mantle, an API that simplifies game optimizations for programmers and developers to raise gaming performance to unprecedented levels when unlocked3;
AMD TrueAudio Technology, 32-channel surround audio delivering the best in audio realism and immersion4;
Support for UltraHD (4K) resolutions and new video post processing enhancements that will make 1080p videos look even better when upscaled on UltraHD-enabled monitor or TV5;
FM2+ socket compatibility for a unifying infrastructure that works with APUs and CPUs.
"AMD maintains our technology leadership with the 2014 AMD A-Series APUs, a revolutionary next generation APU that marks a new era of computing," said Bernd Lienhard, corporate vice president and general manager, Client Business Unit, AMD. "With world-class graphics and compute technology on a single chip, the AMD A-Series APU is an effective and efficient solution for our customers and enable industry-leading computing experiences."

The A10-7850K and A10-7700K APUs will be bundled with EA's Battlefield 4, to bring a first-in-class APU gaming experience6.

The AMD A-Series APU processor-in-a-box (PIBs) for the AMD A10-7850K and AMD A10-7700K, which started shipping in Q4 2013, are available starting today. The AMD A8-7600 will be shipping in Q1 2014. Additionally, the AMD Radeon R9 2400 Gamer Series memory is tested and certified for AMD A10 APUs, unleashing their full potential with AMD Memory Profile technology (AMP) offering speeds up to 2400MHz. For more information, please visit the Radeon Memory product page.

The AMD A-Series APUs are also available today in PCs from our partner system builders. For more information, please visit our product information page.





Source: AMD Press Release
Links


Tags: a10-7700k | a10-7850k | amd | amd a8-7600 | apu | fm2+ | kaveri | ultrahd