Samsung ha annunciato il tablet da 7-inch denominato GALAXY Tab 3, una soluzione con la quale il gigante coreano dell'elettronica di consumo punta a offrire un prodotto superiore al precedente GALAXY Tab 2 da 7-inch sia in termini di prestazioni e numerosità delle funzionalità offerte all'utente finale, da un lato, che di leggerezza e manegevolezza, dall'altro.

Il nuovo GALAXY Tab 3 da 7-inch è basato su un SoC ARM di tipo dual-core, la cui frequenza di clock per core è pari a 1.2GHz. Il vendor ha abbinato a tale chip 1GB di RAM e una memoria di massa, di tipo flash, pari a 8GB, o a 16GB, in funzione del modello specifico considerato.

Il display del GALAXY Tab 3 da 7-inch è di tipo TFT WSVGA: lavora alla risoluzione video di 1024 x 600 con una densita di pixel, o Pixels Per Inch (PPI), pari a 169, e dunque buona ma non eccezionale.

Tra le altre dotazioni hardware di rilievo citiamo una camera anteriore da 1.3 Megapixel e una camera posteriore da 3 Megapixel; il Sistema Operativo pre-installato è Google Android 4.1 (nome in codice: Jelly Bean).

Il GALAXY Tab 3 di Samsung può eseguire il playback dei filmati in 1080p Full HD a 30fps; inoltre è in grado di riprodurre i formati multimediali video MPEG4, H.264, H.263, WMV, e audio MP3, OGG, AC3, AAC, AAC, eAAC, WMA, WAV e FLAC.

Il GALAXY Tab 3 7-inch sarà disponibile in versione con connettività WiFi nel corso del mese di maggio, mentre a giugno sarà la volta della variante con connettività 3G.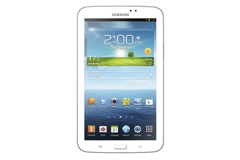 [Immagine ad alta risoluzione]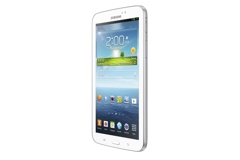 [Immagine ad alta risoluzione]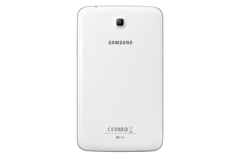 [Immagine ad alta risoluzione]

Samsung Electronics Co., Ltd, a global leader in digital media and digital convergence technologies, today announced the introduction of the GALAXY Tab 3 - 7-inch tablet featuring sleek design and enhanced capabilities that bring better performance and multimedia experiences to your fingertips.
With the new GALAXY Tab 3, Samsung has evolved its range of innovative tablets, making them smaller and easier to carry, while increasing the user experience overall.
Easy Handgrip and Portability: Its compact, one-hand grip form factor ensures users can hold comfortably for hours as well as store in a pocket or small bag for reading and entertainment on the go. The sleek and stylish design encompasses thinner bezel than the previous GALAXY Tab 2 (7.0).
Better Multimedia Performance: Powered by a 1.2GHz Dual Core processor, the device allows for faster downloads and sharing, while providing easy access to videos, apps, games, and the web. Offered with either 8/16 of internal storage plus up to 64GB of expandable memory, the device has plenty of space to hold your favorite photos, music, apps, videos and more.
Enhanced User Experience: The GALAXY Tab 3 7-inch is equipped to better capture life's moments in stunning clarity and resolution with its 3-megapixel camera rear camera and 1.3 -megapixel front camera. Combined with the latest Android 4.1 (Jelly Bean), it allows users to share photos, videos, and life's special moments through a few quick taps and swipes.
The GALAXY Tab 3 7-inch WiFi version will be available globally beginning May and 3G version will follow in June. The product availability varies by market and will be rolled out gradually.





Source: Samsung Electronics Press Release
Links


Tags: 7-inch | galaxy tab 3 | samsung | tablet