La rivelazione ufficiale sul prossimo game Grand Theft Auto V, promessa nei giorni scorsi dal suo publisher Rockstar Games, è finalmente disponibile. Con un messaggio sul sito ufficiale Rockstar, infatti, ha reso noto che Grand Theft Auto V, in edizione per le console Xbox 360 e PlayStation 3, sarà lanciato nel corso della primavera del 2013.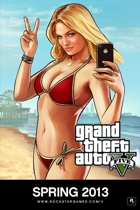 [Immagine ad alta risoluzione]
Inoltre, il publisher ha aggiunto che il game è attualmente in fase di sviluppo presso Rockstar North, lo studio che ha creato la serie di GTA, ed è ambientato in una regione ispirata alla California meridionale, anche se opportunamente ridisegnata dagli sviluppatori. Inoltre, a partire dal prossimo 5 novembre Grand Theft Auto V sarà prenotabile on line.
Alle numerose richieste giunte in relazione alla eventualità di una edizione per la piattaforma PC, Rockstar ha risposto come segue.
" Hey guys, glad to see so much enthusiasm about the release announcement. For those asking about the PC platform, we're currently focused on the Xbox 360 and PS3 versions of the game and don't have any details to share about a PC version at this time. Anyone that continues to spam the comments section will have their commenting privileges suspended. "
In soldoni, al momento per l'azienda il focus è rappresentato esclusivamente dalle edizioni per Xbox 360 e PS3; di conseguenza non sono disponibili dettagli relativi alla versione per PC. Che a questo punto non può nemmeno dirsi confermata ufficialmente.





Collegamenti


Tags: game | grand theft auto v | lancio