Galaxy ha ampliato di recente la prestigiosa serie di video card HOF (Hall Of Fame) con la seguente GeForce GTX 680 HOF, una soluzione non reference e factory-overclocked, basata sulla gpu GTX 680 "Kepler" di NVIDIA.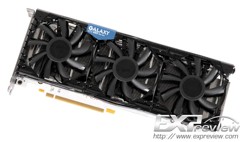 [Immagine ad alta risoluzione]
La Galaxy GTX 680 HOF si fa notare innanzitutto per il suo PCB, che è di colore bianco e, soprattutto, di tipo a 10-layer (nell'ambito dell'attuale generazione di GeForce GTX 6xx un simile circuito stampato è impegato soltanto per l'implementazione delle dual-gpu GTX 690 , ndr), e il cooler, costituito da una ampia struttura lamellare, di tipo dual-slot, e da tre ventole.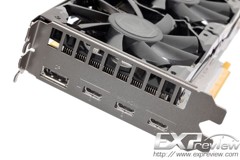 [Immagine ad alta risoluzione]
La frequenza di clock del core è pari a 1202MHz in condizioni di default e può raggiungere il valore di 1268MHz in modalità Boost; l'ampiezza del bus che collega la gpu alla RAM (2GB di G-DDR5) è invece a 256-bit.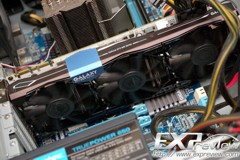 [Immagine ad alta risoluzione]
Il kit di porte di uscita è composto da tre connettori mini-HDMI e uno di tipo DisplayPort (DP); naturalmente questa scheda può essere collegata ai monitor con ingresso DVI utilizzando l'adattatore "DP to DVI", che è peraltro in dotazione.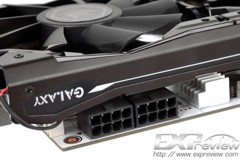 [Immagine ad alta risoluzione]

La GeForce GTX 680 HOF di Galaxy assorbe potenza dalla PSU attraverso due connettori PCI-E a 8-pin, ciascuno dei quali può ricevere in ingresso una potenza massima pari a 150W. In totale la card gestisce quindi una potenza pari a 300W, pari al doppio di quella assorbita dalla versione reference, dotata di due connettori a 6-pin (2 x 75W). Un simile delta è connesso evidentemente con la marcata natura "overclocking-oriented" del prodotto.





Collegamenti