Il CEO di Panasonic Europa, Laurent Abadie, ha rivelato il progetto di portare anche sul mercato europeo l'intera gamma di smartphone Panasonic - contestualmente alla presentazione del primo modello - durante l'annuale convention ad Amburgo. Abadie ha indicato un obiettivo di vendite di 1,5 milioni di telefoni in Europa entro la chiusura del prossimo anno fiscale (dal 1 aprile 2012 al 31 marzo 2013), che si inserisce all'interno delle recenti previsioni di crescita per il settore della telefonia mobile Panasonic a livello mondiale, che hanno fissato a 15 milioni di unità l'obiettivo di vendita da raggiungere entro la fine dell'anno fiscale 2015, che termina il 31 marzo 2016.

"Panasonic è uno dei principali protagonisti del mercato giapponese della telefonia mobile. In Europa la domanda di telefoni cellulari - specialmente smartphone - per il mercato consumer è in continua crescita e maturazione. Noi crediamo che nel panorama attuale manchi una gamma di telefoni che sappia combinare con successo bellezza, engineering di alta qualità e tecnologie all'avanguardia capaci di migliorare lo stile di vita", ha dichiarato Abadie.

Toshiya Matsumura, General Manager, Mobile Communications, ha aggiunto: "La forza del nostro brand internazionale e la capacità di fornire ai nostri clienti apparecchi perfettamente rispondenti alle esigenze quotidiane - incluso il lavoro che stiamo svolgendo per far comunicare tra loro la connettività mobile e le apparecchiature consumer di casa - ci consente di essere fiduciosi che il lancio in Europa del nostro smartphone business riscuoterà un enorme successo".

Durante la convention Panasonic, Abadie ha presentato ELUGA, uno smartphone Android ultra-sottile, resistente all'acqua e alla polvere, dotato di tecnologia NFC, rapporto schermo/telefono maggiore del mercato europeo, e tecnologia 'Swipe and Share' (trascina e condividi) che funziona con i televisori VIERA Panasonic. Grazie ai suoi 103 grammi, Panasonic ELUGA è anche uno dei piu' leggeri smartphone Android d'Europa.

ELUGA - derivante da 'elegant user gateway' - è il modello che lancia la gamma di apparecchi Panasonic progettati per essere ultra-sottili e al tempo stesso dotati di tecnologia all'avanguardia per gli utenti più esigenti. Questo modello presenta le seguenti caratteristiche:
Corpo super sottile e ampio display da 4,3 pollici QHD (960x540) per una visione di qualità eccezionale. Il design ultra-slim a forma di 'D' si infila facilmente in tasca, senza intaccare la linea degli abiti.
La resistenza alla polvere (standard IP5X) e all'acqua (standard IPX7) fa sì che questo apparecchio sia estremamente robusto: è infatti in grado di funzionare anche dopo 30 minuti sott'acqua a 1 metro di profondità.
La tecnologia NFC (Near-Field Communication) consente interazioni 'no touch' con altri apparecchi compatibili, e permette, ad esempio, pagamenti senza contatto.
Lo 'Swipe and Share' permette di 'lanciare' wireless le immagini dal telefono al TV, o di trasferire servizi cloud o filmati in streaming sempre dal telefono al televisore. Il telefono funziona anche da telecomando per altri apparecchi elettronici presenti in casa (ad esempio TV Viera, lettori e recorder DIGA Blu-ray*1, sistemi home cinema, o fotocamere digitali).
I modelli della gamma dispongono di 'modalità eco', una tecnologia Panasonic di risparmio energetico che garantisce significativi benefici per l'ambiente spegnendo le funzioni non essenziali quando il telefono è quasi scarico.
Panasonic esporrà la gamma europea di smartphone al Mobile World Congress 2012 di Barcellona (stand CY31) a partire dal 27 febbraio.

Panasonic è un'azienda globale che produce e vende in tutto il mondo. Nel gennaio 2012 è stata creata Panasonic Systems Communications Europe (PSCEU), per la gestione di prodotti e servizi specificamente dedicati alle comunicazioni system, network e mobile del continente.

"Continueremo ad impiegare le nostre risorse globali, inclusi i centri R&D in Giappone e Gran Bretagna, per uno sviluppo continuo dei prodotti e per perseguire l'obiettivo di fondere le avanzate tecnologie di comunicazione mobile con quelle audio-visive, rispondendo così ai bisogni dei nostri clienti", ha commentato Matsumura.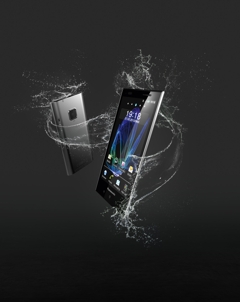 [Immagine ad alta risoluzione]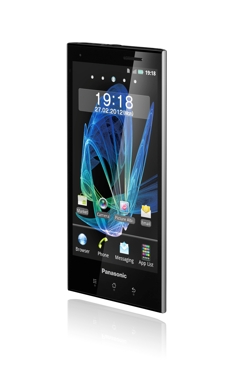 [Immagine ad alta risoluzione]

Panasonic Europe has unveiled its new smartphone - the ELUGA - an ultra-slim, high specification waterproof smartphone for the style conscious.

The ELUGA - whose name stems from the phrase 'elegant user-oriented gateway' - weighs in at just 103g, making it one of the lightest Android smartphone in Europe. As well as being waterproof, the ELUGA packs one of the largest screen ratio on the market - with a display comprising 66% of the phone's body, thanks to its super-thin frame.

With a 7.8mm profile along the entire length of the phone, the ultra-slim D shape is designed not to ruin the line of clothes - even the ELUGA's high quality 8MP camera lens lies flat against the phone's chassis.

The phone specifications include:
An ultra-slim D shaped design, with a slender 123x62.0x7.8mm frame.
International standard IP57 water and dustproofing. Protected for up to a depth of 1 metre for up to 30 minutes in water, and protected against dust (75 micrometers or less in diameter/no harmful deposit) if left near or in it for eight hours or less.
Near-field communication (NFC) technology, meaning the phone is ready for 'no touch' interactions, including contactless payments.
A 4.3 inch, 960x540, capacitive OLED QHD screen with one of the largest display area ratio on the market.
Swipe and Share, letting users wirelessly 'throw' pictures from their phone to a TV or cloud service, or stream movies from their phone to a TV. The VieraRemote app also enables the phone to be used as a remote control for other electronic devices in the home (such as a Viera TV, DIGA Blu-ray player and recorder, home cinema system, or digital still camera).
An 8MP autofocus camera, with 8GB of integrated memory.
A 1GHz dual-core processor ( OMAP4430 ), with Android Gingerbread (version 2.3.5) on-board, to be upgraded to Ice Cream Sandwich from summer 2012.


The ELUGA will also feature 'eco mode', Panasonic's unique power-saving technology which provides significant environmental benefit by shutting down non-essential features when the phone is running low on battery power.

Toshiya Matsumura, General Manager, Head of Mobile Communications, Panasonic System Communications Europe, said: "Despite the unprecedented increase in the number of smartphone devices appearing over the last few years, we don't believe anyone has yet managed to truly bridge the gap between style and substance. With the launch of the ELUGA, we're aiming to prove it is possible to deliver style, function, form, and the very best underlying technology, all in a competitively-priced package."



Source: Panasonic Press Release
Links


Tags: android | panasonic | smartphone