MSI ha ufficializzato che l'intera linea delle proprie motherboard Z68 (G3) e H61 (G3) supportano ufficialmente i prossimi processori a 22nm di Intel tipicamente indicati con il nome in codice di "Ivy Bridge".

La compatibilità con i processori di nuova generazione di Intel con le schede madri MSI di cui sopra è ottenibile mediante l'aggiornamento del bios, che è peraltro in fase di sviluppo per tutti i modelli interessati, ad eccezione delle mobo H61M-G35 (G3), H61M-P31 (G3) e H61M-P20 (G3), per le quali MSI è già in grado di indicare la revisione a partire dalla quale l'hardware è a tutti gli effetti "Intel Ivy Bridge Ready" (cfr. la tabella che segue).

MSI mette in evidenza che con i nuovi bios è possibile, ovviamente in abbinamento alle nuove cpu a 22nm di Intel, far lavorare le motherboard in maniera aderente allo standard PCI Express Gen 3.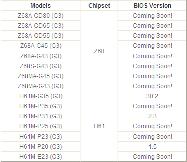 [Immagine ad alta risoluzione]

(Taipei-Taiwan) MSI announces today that MSI's Z68 (G3)/H61 (G3) series of motherboards offers official support of Intel's next-generation CPU based on the 22nm manufacturing process. Users can download the corresponding BIOS listed below at no charge to upgrade their existing MSI Intel Z68/H61 motherboard, allowing a full experience of superior performance and powerful features found on the next-generation 22nm Intel CPU. MSI G3 motherboards also fully support the latest PCI Express Gen 3 specification, reaching twice the current bandwidth and maximizing performance from next-generation PCI Express Gen 3 video cards. Via MSI's unique intelligent update tool – Live Update – your computer will automatically download and update the latest BIOS for next-generation CPU compatibility, providing an immediate upgrade without spending extra money on a new motherboard purchase!
MSI motherboard features several models that allows usage of Intel's next-generation 22nm processor. Additionally, MSI's Intel Z68 (G3)/H61 (G3) series of motherboards fully complies with next-generation PCI Express Gen 3 design specifications. All that is required by the user is a simple update to the newest BIOS via MSI's proprietary Live Update tool, and next-generation 22nm CPU support is instantly available. Additionally, up to 32GB/s of amazing bandwidth and support for next-generation PCI Express Gen 3 graphics cards is unlocked, enhancing the enthusiast's ultimate performance experience.
MSI motherboard models that supports Intel's new generation 22nm processor: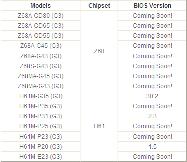 [Immagine ad alta risoluzione]

MSI suggest users to update to the latest available BIOS for the better user experience.





Source: MSI Press Release
Links


Tags: h61 | ivy bridge | motherboard | msi