ZOTAC International rende ancora più veloci i mini-Pc ZBOX grazie all'introduzione delle tecnologie USB 3.0 e DDR3.
"le espansioni esterne sono vitali per un mini-Pc. Con l'introduzione della tecnologia USB 3.0 siamo in grado di garantire una velocità di connessione fino a 5.0 Gb/s," dice Carsten Berger, direttore marketing.
La tecnologia DDR3, combinata al processore Intel Atom D525 e il processore grafico Next-Generation NVIDIA ION, permette di ottenere prestazioni brillanti con un ridotto consumo energetico anche nella riproduzione streaming di contenuti video in alta definizione e film in Blu-ray.
La serie ZOTAC ZBOX ID41 comprende due modelli - ZBOX ID41, un mini-Pc personalizzabile con due slot per hard disk 2.5-inch SATA HDD o SSD e due slot SO-DIMM DDR3 - e lo ZBOX ID41 Plus, che include un hard disk da 250GB e 2GB di memoria DDR3. Gli utenti devono solo installare il sistema operativo che preferiscono.It's time to play con la nuova serie ZOTAC ZBOX ID41.
Dettagli generali
Nuovi e ultraveloci ZOTAC ZBOX
ZBOX ID41
o 2 slot SO-DIMM DDR3-800
o 1 slot 2.5-inch SATA 3.0 Gb/s HDD/SSD
o 2GB DDR3
o 250GB 5400RPM HDD
Processore Intel Atom D525 (1.8 GHz, dual-core)
Intel NM10 Express chipset
Processore grafico Next-Generation NVIDIA ION
o 16 unified shaders
o 512MB di memoria DDR3
NVIDIA CUDA technology
NVIDIA PureVideo HD technology
Tecnologia USB 3.0
WiFi 802.11n integrata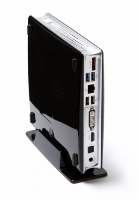 [Immagine ad alta risoluzione]

ZOTAC International, a leading innovator and the world's largest channel manufacturer of graphics cards, motherboards and mini-PCs, today takes the award-winning ZBOX to SuperSpeed with the new ID41 series. The ZOTAC ZBOX ID41 series introduces SuperSpeed USB 3.0 and DDR3 technologies to the ZBOX mini-PC.
"External expansion is vital with mini-PCs. By adding SuperSpeed USB 3.0 technology to our award-winning ZBOX mini-PCs, we are able to offer external connectivity capable of speeds up to 5.0 Gb/s," said Carsten Berger, marketing director.
DDR3 memory technology combined with an Intel Atom D525 processor and Next-Generation NVIDIA ION graphics deliver outstanding energy-efficiency with plenty of processing power capable of flawless high-definition streaming video and Blu-ray playback on the ZOTAC ZBOX ID41 series.
Two models are available in the ZOTAC ZBOX ID41 series - the customizable ZBOX ID41 with room to accommodate one 2.5-inch SATA HDD or SSD and two DDR3 SO-DIMM slots and the ZBOX ID41 Plus, which includes a 250GB hard drive and 2GB of DDR3 memory. Users can supply their choice of operating system for the ZBOX ID41 series.
It's time to play with the ZOTAC ZBOX ID41 series.
General details
ZOTAC Takes ZBOX Series to SuperSpeed
ZBOX ID41
o 2 x DDR3-800 SO-DIMM slots
o Support 1 x 2.5-inch SATA 3.0 Gb/s HDD/SSD
o 2GB DDR3
o 250GB 5400RPM HDD
Intel Atom D525 processor (1.8 GHz, dual-core)
Intel NM10 Express chipset
Next-Generation NVIDIA ION graphics processor
o 16 unified shaders
o 512MB DDR3 memory
NVIDIA CUDA technology
NVIDIA PureVideo HD technology
USB 3.0 technology
Onboard 802.11n WiFi




Source: ZOTAC Press Release
Links


Tags: compatibilità | ddr3 | mini-pc | usb | zbox | zotac