ZOTAC International oggi presenta la nuova serie di mini-Pc ZOTAC ZBOX DVD con tecnologia Next-Generation NVIDIA ION. Il processore grafico Next-Generation NVIDIA ION e il processore dual-core Intel Atom D525 permettono alla serie ZOTAC ZBOX DVD di garantire prestazioni grafiche eccellenti, l'accelerazione hardware per il decoding e la riproduzione online e offline di contenuti video in high-definition grazie alla tecnologia Adobe Flash acceleration.
Un lettore DVD integrato permette alla serie ZOTAC ZBOX DVD di leggere e scrivere DVD fino a 8x con DVD, DVD ± R e DVD ± RW. Standard CD-ROM, CD-R e CD-RW vengono letti e scritti alla velocità di 24x.     
"la nostra serie ZOTAC DVD è il mini-PC perfetto per gli utenti che pretendono il meglio in fatto di prestazioni e risparmio energetico e che necessitano di usufruire sia di contenuti multimediali in streaming che della riproduzione di DVD della collezione personale. dice Carsten Berger, direttore marketing ZOTAC International.
La tecnologia NVIDIA PureVideo HD offre una nitidezza superba delle immagini, una straordinaria fluidità di riproduzione, colori vivaci e una grande precisione di scalatura delle immagini di video e film in formato HD DVD e Blu-ray. PureVideo HD offre un'accelerazione e un perfezionamento dei video ad alta definizione.
Due porte USB 3.0 sono disponibili sul mini-Pc ZOTAC ZBOX Blu-ray per connettere hard-disk esterni, periferiche video e altri dispositivi, mentre all'interno troviamo uno slot mini-PCI Express.
La scheda WiFi 802.11n dual-stream integrata supporta una velocità fino a 1000Mb/s via cavo e 300Mb/s in wireless.
La serie ZOTAC ZBOX DVD comprende due modelli – il modello ID31 e ID31 Plus – il modello ZOTAC ZBOX DVD ID31 è un mini-PC personalizzabile che richiede l'installazione della memoria e dell'hard disk da parte dell'utente mentre il modello ZBOX DVD ID31 Plus include un hard disk da 250GB e 1GB di memoriaDDR2.
It's time to play con la serie ZOTAC ZBOX DVD.         
Dettagli generali
ZOTAC espande la linea ZBOX con la nuova serie ZBOX DVD
ZBOX DVD ID31
o   2 slot DDR2-800 SO-DIMM
o    Supporto  2.5'' SATA 3.0 Gb/s HDD/SSD
o   1GB DDR2-800
o   250GB 5400RPM HDD
Processore Intel Atom D525 (1.8 GHz, dual-core)
Intel NM10 Express chipset
Processore grafico Next-Generation NVIDIA ION
o   16 unified shader
o   512MB di memoria DDR3
Uscite HDMI, DVI e VGA (con adattatore incluso)
NVIDIA CUDA technology
NVIDIA PureVideo HD technology
SuperSpeed USB 3.0 technology
eSATA 3.0 Gb/s port
1 slot Mini-PCI Express
Slot-load DVD drive
o   8x DVD / 24x CD read/write
WiFi 802.11n integrata (300 Mb/s)
Gigabit Ethernet (1000 Mb/s)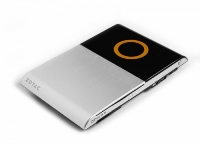 [Immagine ad alta risoluzione]

ZOTAC International, a leading innovator and the world's largest channel manufacturer of graphics cards, motherboards and mini-PCs, today reinvigorates the DVD-format with the new ZBOX DVD series mini-PCs powered by Next-Generation NVIDIA ION technology. The new ZOTAC ZBOX DVD series packs energy-efficiency, hardware high-definition streaming acceleration and advanced video processing capabilities into a slim chassis to create the perfect home theater PC for DVD aficionados.
A power-packed combination of Next-Generation NVIDIA ION graphics processor and dual-core Intel Atom D525 processor power the ZOTAC ZBOX DVD series for superior graphics performance, system responsiveness and energy-efficiency. The Next-Generation NVIDIA ION graphics processor is the heart of the ZBOX DVD series and delivers hardware decode acceleration and Adobe Flash acceleration for smooth playback of online and offline high-definition media.
An integrated DVD drive provides the ZOTAC ZBOX DVD series with DVD read and write capabilities at speeds up to 8x with DVD, DVD±R and DVD±RW media. Standard CD-ROM, CD-R and CD-RW media are read and written to at speeds up to 24x with the ZOTAC ZBOX DVD series.
"Our ZOTAC DVD series are the perfect mini-PCs for users that demand the best performance and energy-efficiency from a home theater PC for streaming high-definition Internet media while maintaining compatibility with their existing DVD collection," said Carsten Berger, marketing director, ZOTAC International.
NVIDIA PureVideo HD technology with advanced video processing algorithms enables the ZOTAC DVD series to render existing DVD movies like never before with stunning details and vibrant colors for near-high-definition visuals.
HDMI and DVI outputs ensure the ZOTAC ZBOX DVD series support the latest Full HD high-definition television sets. Users with only VGA ports can use an included DVI-to-VGA adapter to connect the ZOTAC ZBOX DVD series to existing displays analog displays.
USB 3.0 technology equips the ZOTAC ZBOX DVD series with SuperSpeed expansion capabilities for compatibility with external accessories that rival performance of internal devices. An internal mini-PCI Express slot is available for superior expansion capabilities with the ZOTAC DVD series.
Integrated 802.11n WiFi with dual-stream technology enables the ZOTAC ZBOX DVD series to connect to wireless networks at speeds up to 300 Mb/s for a high-speed network free of wires. Onboard Gigabit Ethernet delivers speeds up 1000 Mb/s for lightning-fast network performance for those that prefer to connect the ZOTAC DVD series to a wired network.
"Whether it's DVD playback capabilities, connectivity to the latest and greatest or older displays, internal and external expansion capabilities, or wired and wireless network support, the ZOTAC ZBOX DVD series is a flexible mini-PC that will accommodate your home theater PC demands," Mr. Berger added.
Two models are available in the ZOTAC ZBOX DVD series – the ID31 and ID31 Plus -- the ZOTAC ZBOX DVD ID31 is a customizable mini-PC that requires user-installed memory and hard drive while the ZBOX DVD ID31 Plus includes a 250GB hard drive and 1GB of DDR2 memory.
It's time to play with the ZOTAC ZBOX DVD series. 
General details
ZOTAC Expands ZBOX Lineup with New ZBOX DVD series
ZBOX DVD ID31
o   2 x DDR2-800 SO-DIMM slots
o   Support 1 x 2.5-inch SATA 3.0 Gb/s HDD/SSD
o   1GB DDR2-800
o   250GB 5400RPM HDD
Intel Atom D525 processor (1.8 GHz, dual-core)
Intel NM10 Express chipset
Next-Generation NVIDIA ION graphics processor
o   16 unified shaders
o   512MB DDR3 memory
HDMI, DVI and VGA (with included adapter) outputs
NVIDIA CUDA technology
NVIDIA PureVideo HD technology
SuperSpeed USB 3.0 technology
eSATA 3.0 Gb/s port
1 Mini-PCI Express expansion slot
Slot-load DVD drive
o   8x DVD / 24x CD read/write
Onboard 802.11n WiFi (300 Mb/s)
Gigabit Ethernet (1000 Mb/s)




Source: ZOTAC International Press Release
Links


Tags: