ZOTAC ha annunciato la video card GeForce GTX 460 3DP, una soluzione fortemente orientata all'ambito multi-monitor che si distingue tra le schede grafiche basate sull'architettura DirectX 11 "Fermi" poichè è la prima in grado di gestire fino a quattro monitor simultaneamente mediante quattro uscite video.

Queste coincidono più in dettaglio con tre DisplayPort (o DP, ndr) e una dual-link DVI: le prime tre supportano una risoluzione combinata pari a 4800*1200 che, unita a quella assicurata dalla dual-link DVI (1600x1200), permette il rendering dei frame alla risoluzione di 6400×1200.

Per il resto la GeForce GTX 460 3DP è una GTX 460 "overclocked by factory"; la sua gpu NVIDIA GF104, operante a 710MHz, integra 336 CUDA core, che lavorano a 1420MHz, mentre la memoria locale, implementata mediante 1GB di G-DDR5, ha una frequenza pari in valore effettivo a 3600MHz.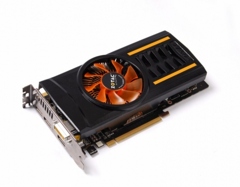 [Immagine ad alta risoluzione]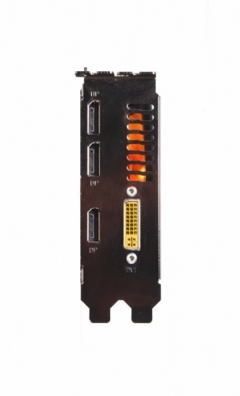 [Immagine ad alta risoluzione]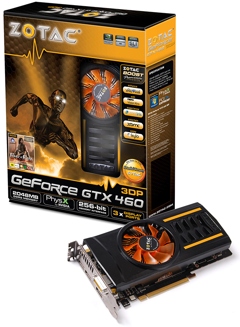 [Immagine ad alta risoluzione]

ZOTAC International, a leading innovator and the world's largest channel manufacturer of graphics cards, motherboards and mini-PCs, today unleashes the ZOTAC GeForce GTX 460 3DP – the world's first NVIDIA Fermi-powered graphics card capable of up to four native display outputs. The ZOTAC GeForce GTX 460 3DP enables multi-monitor computing with up to four simultaneous displays from a single graphics card for enhanced productivity, gaming and multimedia.
The ZOTAC GeForce GTX 460 3DP packs three DisplayPort and one dual-link DVI connectors that are capable of driving up to four independent displays simultaneously with a combined resolution up to 6400x1200. Three DisplayPort connectors enable the ZOTAC GeForce GTX 460 3DP to support resolutions up to 4800x1200 across three independent displays for true spanned triple-monitor computing. A dual-link DVI output enables connectivity to extreme high-definition displays with the ZOTAC GeForce GTX 460 3DP for connectivity to a single monitor at resolutions up to 2560x1600 for users without DisplayPort capable displays.
"Quadruple-display computing is becoming more popular for gaming and office use. With the new ZOTAC GeForce GTX 460 3DP we can deliver quadruple-display computing with NVIDIA Fermi architecture from a single graphics card, a world's first," said Carsten Berger, marketing director, ZOTAC International.
Beneath the ZOTAC GeForce GTX 460 3DP is a tweaked NVIDIA GeForce GTX 460 graphics processor overclocked to 710 MHz for an extra performance boost. A large 1GB of graphics memory coupled with a 256-bit wide memory interface works with the graphics processor to deliver phenomenal visuals and details in Microsoft DirectX 11-based games and applications.
The ZOTAC GeForce GTX 460 3DP ships with a Prince of Persia: The Forgotten Sands game bundle to let users instantly take advantage of the gaming capabilities of the graphics card. The Forgotten Sands is the latest adventure in the Prince of Persia universe that leads gamers through an epic storyline to save the kingdom of Azad with stunning visuals and large-scale battles.
It's time to play with the ZOTAC GeForce GTX 460 3DP!
General details
New ZOTAC GeForce GTX 460 3DP graphics card
ZOTAC GeForce GTX 460 3DP
Engine clock: 710 MHz
336 Unified Shaders
Shader clock: 1420 MHz
1GB GDDR5 memory
256-bit memory interface
Memory clock: 3600 MHz
Prince of Persia: The Forgotten Sands game bundle
Dual-link DVI & 3 DisplayPort outputs
PCI Express 2.0 interface (Compatible with 1.1)
Microsoft DirectX 11 with Shader Model 5.0 and DirectCompute support
OpenGL 4.0 compatible
NVIDIA CUDA & PhysX ready
NVIDIA SLI ready (2-way)
NVIDIA PureVideo HD technology
ZOTAC Boost Premium software bundle included