Con il comunicato stampa di seguito allegato, SAPPHIRE Technology ha annunciato la video card SAPPHIRE Radeon HD 5670 ULTIMATE Edition (cfr. le foto seguenti). In accordo al produttore, la scheda riesce a conseguire i medesimi livelli prestazionali delle Radeon HD 5670 ordinarie, pur essendo dotata di un cooler di tipo passivo, e dunque capace di garantire l'assenza di rumore operativo, e non attivo.

Per il resto le specifiche della scheda sono allineate a quelle dei prodotti reference; la gpu lavora infatti a 775MHz mentre la memoria locale (1GB di G-DDR5) a 1Ghz (valore fisico, da cui consegue il valore effettivo di 4Ghz, ndr).

Risulta inoltre molto completa la dotazione in termini di porte di uscita, dal momento che essa include una Dual-Link DVI, una HDMI e una DisplayPort (naturalmente la card può gestire anche un monitor VGA tramite un adattatore DVI to VGA, oppure un secondo monitor DVI tramite adapter HDMI to DVI).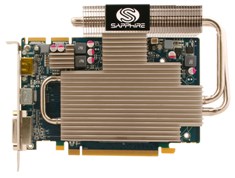 [Immagine ad alta risoluzione]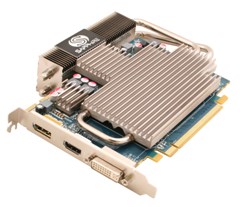 [Immagine ad alta risoluzione]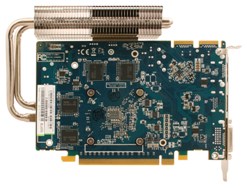 [Immagine ad alta risoluzione]

Building on its reputation for special editions and silent cooled graphics cards, SAPPHIRE Technology has just introduced the ULTIMATE Edition of the SAPPHIRE HD 5670, boasting the full performance and features of the fan cooled models, but with a totally silent heatpipe cooler.

The SAPPHIRE HD 5670 ULTIMATE has 400 Stream Processors and sports 1GB of the latest DDR5 memory. With clock speeds of 775MHz core and 1000MHz (4GHz effective) for the memory, it delivers the same performance as fan cooled models, but with a totally silent heatpipe cooler, making it the fastest silent cooled graphics card available today.

The output configuration on the bracket is Dual-Link DVI, HDMI and DisplayPort. In addition to a DVI to VGA adapter, an HDMI to DVI adapter is included, allowing two DVI monitors to be supported. The SAPPHIRE HD 5670 ULTIMATE will also support three monitors in ATI Eyefinity mode with a suitable DisplayPort monitor or active display adapter. Native CrossFire support allows two or more cards to be used together for additional performance on a suitable CrossFireX compatible mainboard.

The SAPPHIRE HD 5670 series is fully DirectX 11 and Windows 7 compatible. It not only boosts performance in current DirectX10.1, DirectX 10 and DirectX 9.0 games and applications, but will support stunning new levels of detail, transparency and lighting effects in newer releases of software using DirectX 11. All of this comes with low active power consumption and Dynamic Power Management delivering super low-power operation in 2D or idle. As the core technology is low power, no external power connection is required, making this series ideal for system upgrades or mainstream PCs that do not have high end power supplies.

All products in the SAPPHIRE HD 5000 series have an on board hardware UVD (Unified Video decoder) considerably reducing CPU load and delivering smooth decoding of Blu-ray and HD DVD content for both VC-1 and H.264 codecs, as well as Mpeg files. In the SAPPHIRE HD 5000 series the UVD has been enhanced to be able simultaneously to decode two 1080p HD video streams and to be able to display HD video in high quality with Windows Aero mode enabled. HDMI capability has also been upgraded to HDMI 1.3a with Dolby TrueHD and DTS-HD Master Audio.

This series of cards supports all the latest features demanded by Microsoft DirectX 11, including DirectCompute 11 instructions, hardware Tessellation and multi-threaded communications with the system CPU. These combine to provide new capabilities for the interaction between transparent objects, new lighting and accelerated post processing effects as well as physics calculations and accelerated video transcoding. They also support ATI Stream, accelerating supported applications such as video transcoding and rendering tasks by executing instructions on the GPU architecture rather than the system CPU.

The SAPPHIRE HD 5000 series is supported by AMD's Catalyst DirectX 11 WHQL certified graphics driver which delivers support for all of the key DirectX 11 level features required for new gaming experiences and acceleration of next generation high performance applications.





Source: SAPPHIRE Technology Press Release
Links


Tags: