Il 3D è ormai sempre più padrone della scena anche nel segmento mainstream. Per sfruttare appieno questa tendenza, gli sviluppatori di giochi e gli animatori possono creare immagini più accattivanti e realistiche utilizzando la nuova soluzione di creazione di contenuto digitale Autodesk Softimage 2011, che integra due imprescindibili tecnologie NVIDIA; il motore NVIDIA PhysX e NVIDIA CUDA.
La nuova release del software di modellazione e animazione 3D Autodesk Softimage permette la creazione di simulazioni in tempo reale che si avvalgono di NVIDIA PhysX — una potente interfaccia di programmazione di applicazioni (API) di fisica, o 'motore', accelerata dalle unità di elaborazione grafica (GPU) professionali NVIDIA Quadro e da NVIDIA CUDA, l'architettura su cui si basano le GPU di NVIDIA. Le nuove e perfezionate simulazioni permettono di perfezionare gli effetti visivi relativi ad acqua e liquidi in genere ma anche di creare personaggi molto più credibili ed esplosioni di eccezionale verosimiglianza.
"Grazie all'integrazione delle tecnologie CUDA e PhysX nella nuova release di Softimage, Autodesk può offrire un enorme gamma di novità e opzioni creative ai professionisti della creazione di contenuti", ha dichiarato Jeff Brown, General Manager del Professional Solutions Group di NVIDIA. "Le soluzioni di grafica professionale Quadro permettono agli artisti che usano Softimage di ottenere un livello di realismo nettamente superiore, aggiungendo le simulazioni fisiche al proprio lavoro."
Softimage include la Interactive Creative Environment (ICE), una potente piattaforma di Autodesk che fornisce una gamma di strumenti ed effetti visivi personalizzati. ICE è progettata per aiutare gli artisti a esplorare le proprie idee creative con maggiore semplicità e senza l'esigenza di complicate procedure di programmazione. Lavorando con i corpi rigidi dell'interfaccia di programmazione di PhysX, ICE è in grado di sfruttare l'enorme potenza di elaborazione in parallelo delle GPU NVIDIA per incrementare l'interattività di Softimage 2011.
"L'integrazione di Autodesk Softimage 2011 e PhysX crea uno dei migliori ambienti di produzione per videogiochi", ha dichiarato Mark Schoennagel, Senior 3D Evangelist di Autodesk. "Ora che l'architettura di NVIDIA CUDA e le capacità di PhysX sono integrate in Softimage, gli sviluppatori di giochi e gli altri creativi rimarranno sbalorditi dalla possibilità di creare animazioni dei personaggi più verosimili ed effetti visivi davvero credibili."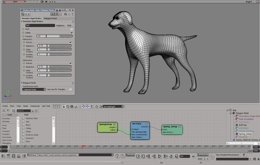 [Immagine ad alta risoluzione]

With 3D moving squarely into the mainstream, game developers and animators can now create more compelling and realistic imagery by utilizing the new Autodesk Softimage 2011 digital content creation solution, which integrates two key NVIDIA technologies; the NVIDIA PhysX Engine and NVIDIA CUDA .

This latest release of Autodesk Softimage 3D modeling and animation software enables real-time simulations using NVIDIA PhysX—a powerful physics application programming interface (API), or 'engine', accelerated by NVIDIA Quadro professional graphics processing units (GPUs)—and NVIDIA CUDA, the architecture behind NVIDIA GPUs. These improved simulations include the ability to create more realistic water-related visual effects, lifelike characters, and explosions that behave with exceptional realism.
"By integrating CUDA and PhysX technologies into the new release of Softimage, Autodesk has opened up a new world of creative options for content creation professionals," said Jeff Brown, general manager, Professional Solutions Group, NVIDIA. "With Quadro professional graphics, artists using Softimage can now achieve a higher level of realism, by adding physical simulations to their work."
Softimage includes the Interactive Creative Environment (ICE), a powerful platform from Autodesk which provides a range of custom tools and visual effects. ICE is designed to help artists explore creative ideas with greater ease without the need of complicated programming. When working with PhysX programming interface rigid bodies, ICE leverages the massively parallel processing power of NVIDIA GPUs to boost interactivity in Softimage 2011.
"The integration of Autodesk Softimage 2011 with PhysX results in one of the best production environments for game developers," said Mark Schoennagel, senior 3D evangelist, Autodesk. "Softimage customers will be impressed by the ability to create more lifelike character animation and believable visual effects, now that NVIDIA's CUDA architecture and PhysX capabilities are integrated in Softimage."