Con il comunicato stampa di seguito allegato, AMD ha annunciato la nuova scheda grafica ATI Radeon HD 5450, che va ad arricchire la già ampia gamma di gpu e video card DirectX 11 Ready siglata ATI Radeon HD 5000.

Pur essendo caratterizzata da un MSRP che per le configurazioni reference equipaggiate con 512MB di RAM è inferiore alla soglia dei $60, questa soluzione low-profile può vantare il supporto di tutte le tecnologie innovative esibite dai modelli superiori, come ad esempio quelli della prestigiosa linea ATI Radeon HD 5800.

Oltre al supporto di DirectX 11, la ATI Radeon HD 5450 può vantare anche quello delle tecnologie ATI Eyefinity, che ne esalta l'operatività in modalità "multi-display", e ATI Stream.

La gpu ATI Radeon HD 5450 è una low-power che ha permesso la progettazione di una variante della scheda grafica senza cooler attivo, accanto a quella con cooler attivo di tipo single-slot. Tra i partner di AMD che hanno già a catalogo una ATI Radeon HD 5450 il chip maker ha citato ASUS, ASK, Club 3D, DMM, GBT, HIS, LDLC.com, MSI, Sapphire, TUL, VT e XFX.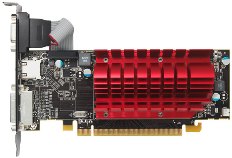 [Immagine ad alta risoluzione]

SUNNYVALE, Calif. —2/4/2010 AMD (NYSE: AMD) today announced the introduction of the ATI Radeon HD 5450 graphics card, the latest addition to the award-winning line-up of ATI Radeon HD 5000 Series graphics cards. The ATI Radeon HD 5450 graphics card delivers a state-of-the-art HD multimedia and game experience at a value price. Sharing the same leading edge features found in the critically-acclaimed ATI Radeon HD 5800 Series - support for DirectX 11, ATI Eyefinity multi-display technology and ATI Stream technology - the ATI Radeon HD 5450 provides an uncompromising Microsoft Windows 7 experience.
Cutting-edge technology for today's software: The ATI Radeon HD 5450 graphics card offers great performance, allowing users to get the true Windows 7 experience with full DirectX 11 support, for less than USD $60 for a 512MB memory configuration.
Expanded productivity with multi-display technology: Featuring support for ATI Eyefinity multi-monitor technology, the ATI Radeon HD 5450 graphics card helps users be more productive in today's visually rich applications by expanding their on-screen real estate, putting more information at their fingertips.
Silent running: Offering leading-edge performance per watt, the ATI Radeon HD 5450 redefines entry level performance and ultra-low power consumption, making it possible for AIB partners to deliver passive cooling models to market in addition to whisper-quiet, single slot fan-cooled versions.
Rich HD multimedia experience: Home theater buffs will particularly appreciate the ATI Radeon HD 5450 graphics product. This passively-cooled, ultra-quiet card is a home theater PC builder's dream, enabling high quality, high-definition home theater experiences. The home theater experience is enriched with features such as HDMI 1.3a with Dolby TrueHD and DTS-HD Master Audio for the ultimate media PC.
"The ATI Radeon HD 5450 offers consumers another next-generation graphics product from AMD, and further reinforces our price-performance value at a wide range of price points," said Matt Skynner, vice president and general manager, AMD Graphics Division. "With the addition of the ATI Radeon HD 5450, home theater enthusiasts and casual gamers have access to cutting-edge features and solid performance at an incredible value."

The ATI Radeon HD 5450 is available immediately from a number of partners, including ASUS, ASK, Club 3D, DMM, GBT, HIS, LDLC.com, MSI, Sapphire, TUL, VT and XFX.

Supporting Resources



Source: AMD Press Release
Links


Tags: